10-ton ice making machine exported to Hai Phong for Ms Det
With the urgent need for clean ice issues of people in Hai Phong. This has led to a thriving ice industry. However, compared to demand, the supply is not sufficient. So the market for producing ice cubes is very "fertile". Knowing this is the best potential for economic development. Ms Det decided to study and buy 10 tons of ice making machines - IVA10T industrial of Viet An General Trading Joint Stock Company.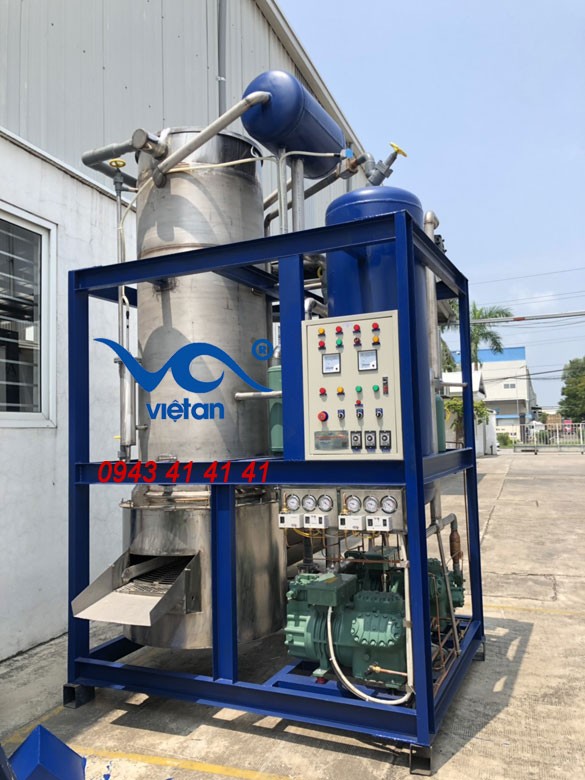 Ice making machine 10 tons - IVA10T exported to Ms Det
On July 23, 2019, Viet An has exported 10-ton ice-making machine - IVA10T with the size chosen by Ms Det is 34x40 under the contract of 175/2019.
About Viet An, the No. 1 supplier of 10 quality industrial ice cube machines in Vietnam
With nearly 20 years of experience. Viet An is a leading enterprise in manufacturing ice making machine, water filtration line, filling machine ... Vietnam's No. 1 quality. We always put quality and customer benefits first. That has helped Viet An affirmed its prestige and many awards at home and abroad.
In addition to the first and only certification of international quality management standard ISO9001: 2015 for VA5T stainless steel ice cube making machine in Vietnam in 2015, Viet An also received many certificates or brand certificates. exclusive for the products of purified water filtration line, etc., typical customers at home and abroad of Viet An must be mentioned as Vietnam Dairy Products Joint Stock Company (Vinamilk), Diana Bac Joint Stock Company. Ninh, Samsung Vietnam Co., Ltd., Lusun Saigon Co., Ltd., Shinhan Vina Co., Ltd.

Viet An is honored to be the 19th leading enterprise in the list of 100 leading brands in Vietnam. Under the auspices of the Office of the National Assembly - Southern Affairs Department, Southern Affairs Department - Ministry of Science - Technology, Vietnam Television (VTV9), Vietnam Association of Small & Medium Enterprises (VINASME) , Vietnam Union of Science and Business Development (VEDSU) honored VA Brand of Viet An Joint Stock Company in the ceremony "Honor the leading brand in Vietnam 2015", was broadcast live on 8:30 on November 15, 2015, on VTV9 - Vietnam Television.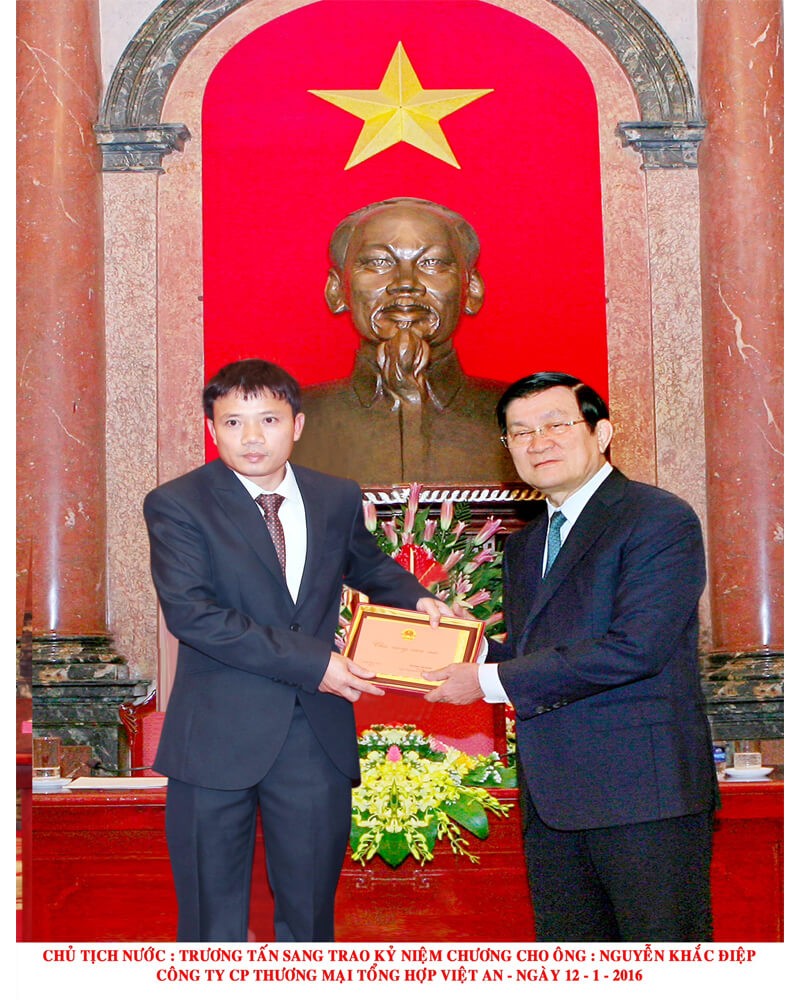 January 12, 2016 Viet An honoured to represent the Vietnam Association of Small and Medium Enterprises to receive the medal of President Truong Tan Sang at the Presidential Palace, this is a great honour for all employees of Viet An Joint Stock Company, We promise to do better to deserve the trust of our customers.
Ice maker 10 tons of new technology - energy saving for her business
In 2019, 10-ton ice cube making machine - IVA10T Viet An has made new breakthroughs in application technology as well as solving long-term problems to save costs for businesses. This will be covered in detail by the following outstanding advantages:
The compressor used in Viet An 10 tons ice making machine is 100% new compressor. We order it separately with rigorous testing. Considered the "soul" of an ice making machine. The first highlight we want to mention is that there are no new compressors in the market, they are all old compressors, which is why Viet An ice cube making machine has a long service life more than the other models, the error also occurs very rarely. Manufactured on fully automated CNC systems, automatic cutting, stamping, and molding. It is then transferred to the high pressure testing section of the compressor. This unit uses the best high pressure testing technology in the world imported from Germany.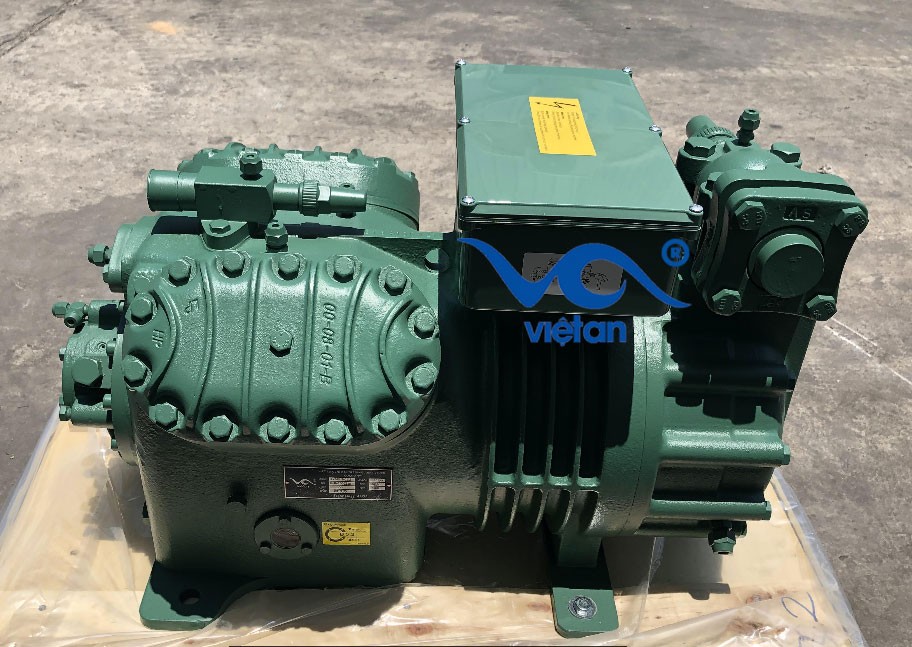 The compressor is 100% new
Uses of the compressor
The use of cooling capacity control for industrial ice making machines
Control and save power consumption for you
Helps make the service life of the device more durable, longer
Control the temperature and keep safety of the cooling system stable
Making ice cube machine works smoothly, runs smoothly, makes less noise.
The unique liquid and gas separation system are applied in Viet An industrial ice machine. Viet An's liquid and gas separation system has the ability to remove fluid and return it to the air way. Keep the compressor from being contaminated to avoid the risk of failure and save maximum power. You can see the old technology ice machine is quite clunky and troublesome in terms of design. Especially the pipes, but coming to Viet An you will find this ice machine is completely different in design. Not only that, this technology also has the function of protecting the compressor so that the air going to the machine according to the suction tip going to the machine according to the fluid path of the compressor will not be liquid infected, helping the process of creating ice takes place quickly - the service life of the machine Compression will be more durable.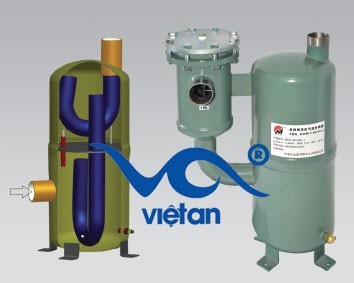 liquid and gas system
The electrical system for Viet An industrial ice machine is programmed fully automatically. Make sure the ice machine runs smoothly in one button. Automatically disconnect when something goes wrong. With an array of LED lights to accurately indicate the status of your device. Just by looking, you can quickly know which machine is working at what stage. At the same time detect errors arising to take the initiative in operating and troubleshooting.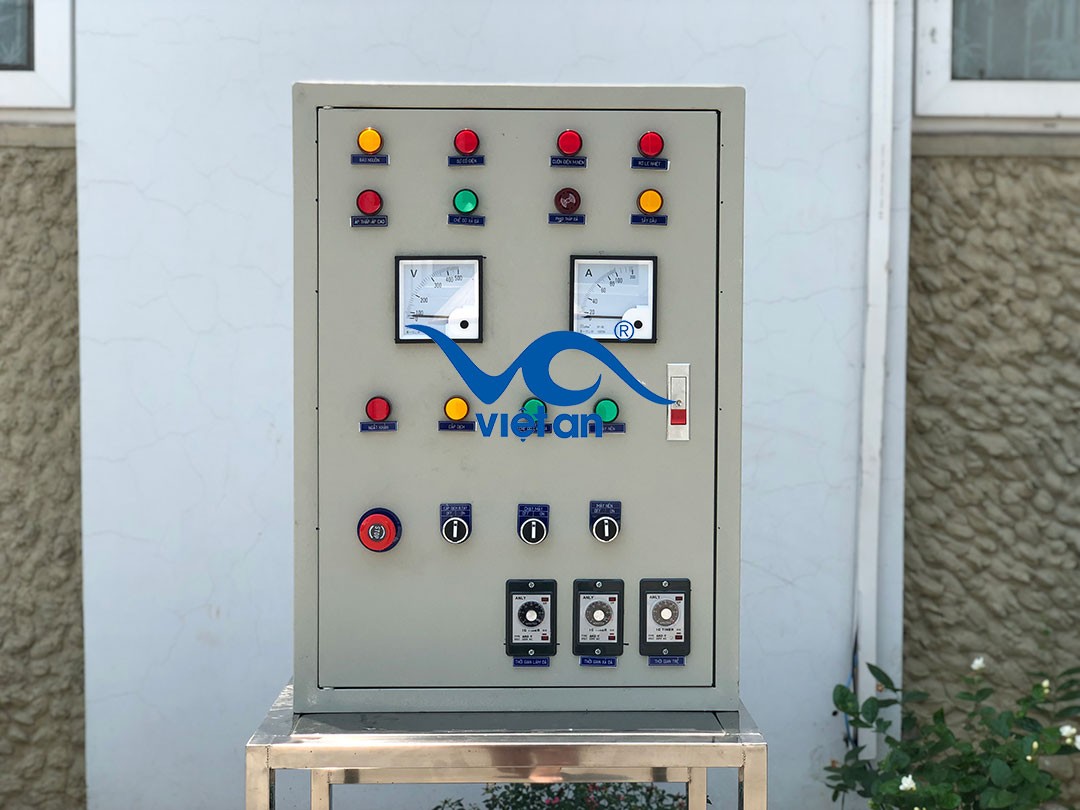 Cooling tower helps transfer excess heat of water to help cool quickly and save energy.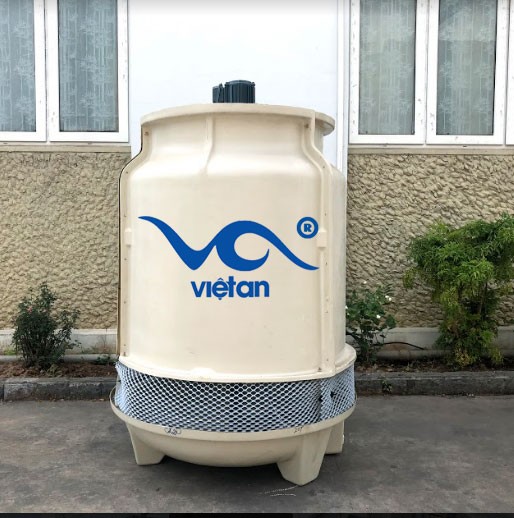 The new imported stop valve system is in charge of regulating water flow. Directly imported - Not a machining valve in Vietnam.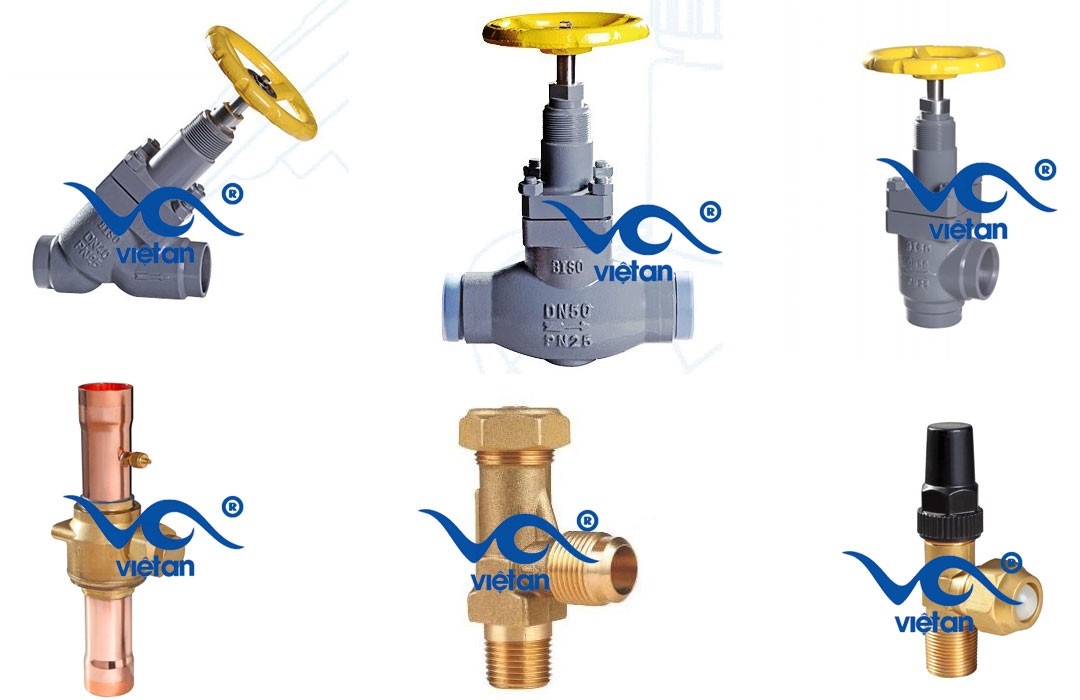 Water pump: made of 304 stainless steel, imported exclusively by Viet An. Only the 10-ton ice cube maker of Viet An is using this iNox 304 pump system to circulate the water that will be frozen many times and create a transparent crystal ice film.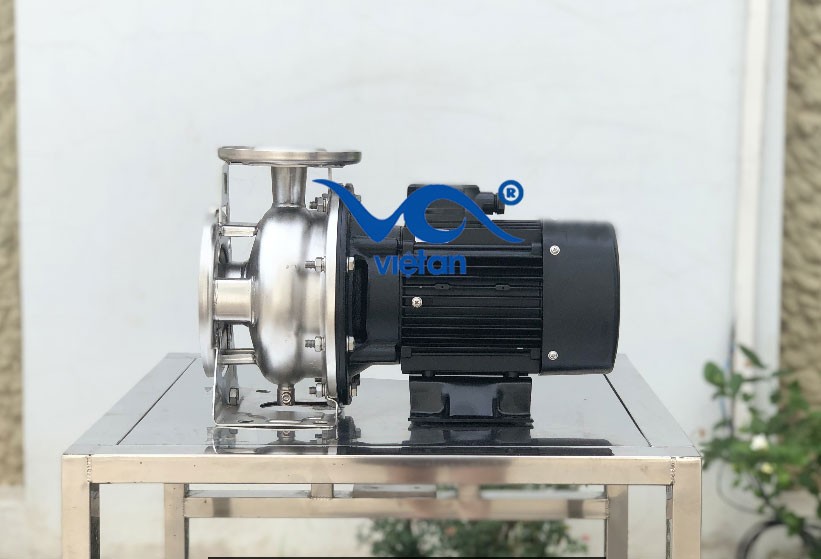 Condenser: 100% new imported goods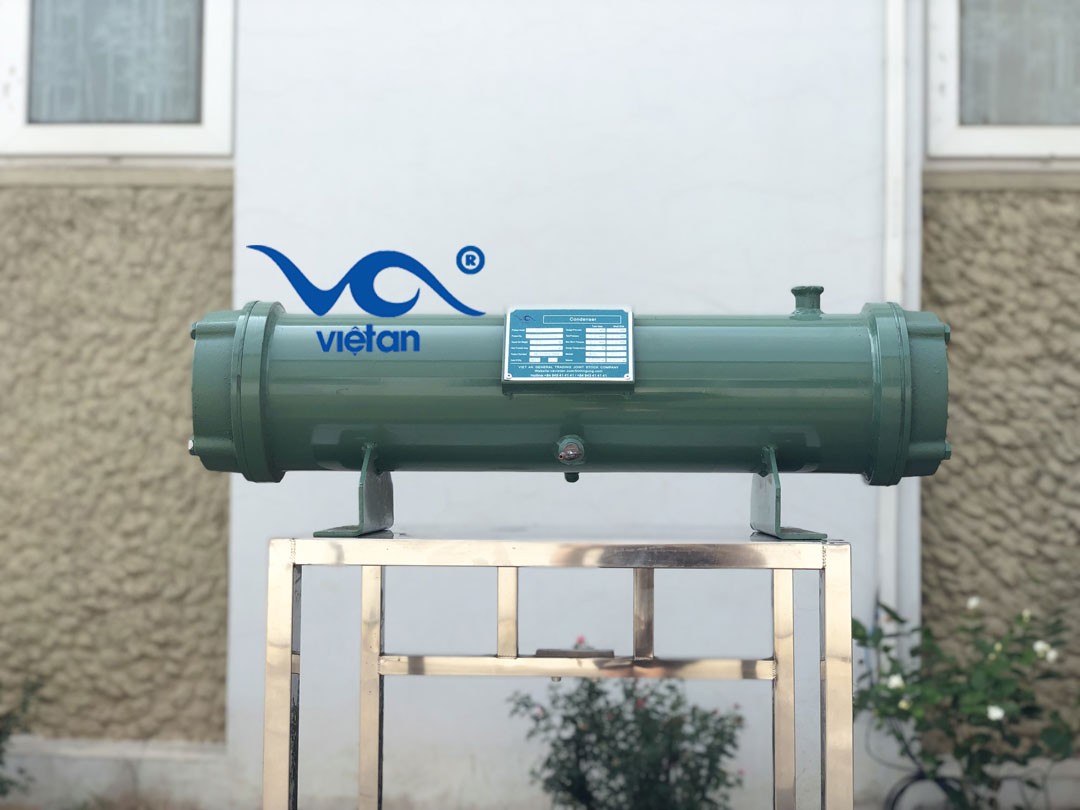 Exclusive components of IVA10T ice machine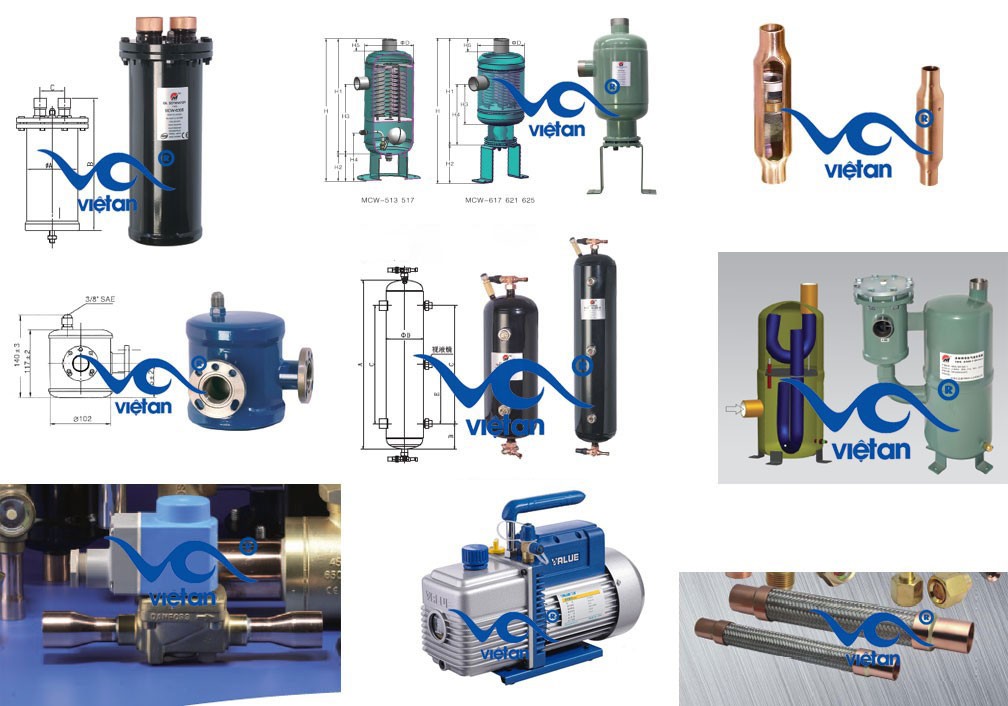 Machine frame made entirely of steel powder-coated with durable over time.
The device made from stainless steel 304 is thick, easy to clean, and ensures food safety
Pure ice cutting knife: Bucket motor and ice cutting system used are 100% new. Unlike the commercially available ice making machines that use secondhand motor and old ice cutter. Controlled by gearbox motor is specially designed for the production of cylindrical ice or crushed ice by reversing the cutting motor and using switches to control this function.
Ice cutting motor: Designed to take on the heavy function of cutting ice in the standard size.
Viet An is the unit that meets Ms Det's needs as well as all the most demanding customers. That is why our prices are a little higher, but in return, we have the trust of our customers and the quality of our products is the clearest evidence. The equipment and components of the 10 ton ice machine are 100% new without using old equipment. New equipment, new technology, the ability to save electricity will be much better. Because of these benefits, the annual IVA10T ice machine can save hundreds of millions of costs for Ms Det's business, she will recover capital and profit quickly.
Thank you for choosing the 10-ton ice making machine - IVA10T Viet An Industrial - We will certainly do as committed, to bring our customers quality products as well as post-production that nowhere to be.
With incentives such as:
Warranty: 12 months and long-term maintenance. When handing over the products, Viet An will provide all papers, machines, equipment, and accessories to facilitate the needs of Ms Det such as: Checking the machines, transporting running and testing, then when the machine is stable, we carry out instructions and transfer it to her, so that she can rest assured our products.
Preferential regimes: Periodic maintenance checks, free of charge for all warranties, repairs for Ms Det during the warranty period.
If you want to buy 10 tons ice making machine - IVA10T, you can contact the hotline directly: 0949.41.41.41 for advice, appropriate guidance according to the needs of the business, as well as the appropriate size of ice with business areas in provinces and localities. Viet An would like to thank!