Contract to supply an old 4 ton ice cube making machine in Bac Giang
In addition to providing new stainless steel ice making machine products, Viet An also provides high quality old ice making machines. Typically, on March 13 in Bac Giang, Mr. Ngo Van Binh signed a contract to buy an old 4-ton ice making machine with Mr. Nguyen Khac Diep - a representative of Viet An General Trading Joint Stock Company.
Bac Giang is a midland province in the Northeast region of Vietnam. Bac Giang currently has hundreds of historical and cultural relics with many famous temples, pagodas and festivals. The rich history and culture has given Bac Giang the potential to develop cultural tourism. With that development, the demand for ice cubes has been increasing, so Mr. Binh decided to invest in making ice machine to open production facilities to serve citizens and tourists in Yen Dung, Bac Giang.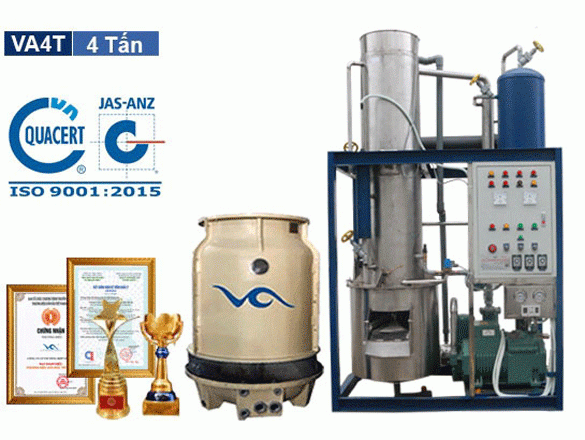 Viet An - Unit supplying old 4-ton ice making machine
Viet An General Trading Joint Stock Company is a leading enterprise in importing, distributing pure RO water filtration lines, producing stainless steel ice making machines, ... brand VA, USApec, Vinaro with high quality 1 Vietnam.
Viet An with experienced technical staff always put themselves in the case of customers, in order to meet the different needs of domestic and foreign customers.
Ice standard of 4-ton old Viet An ice cube making machine
The quality of ice making water must reach 40 criteria for heavy metals, and the finished ice must reach 22 criteria, including 6 criteria for microorganisms to be granted a quality standard certificate by the Department of Health. However, according to the inspection of the Hanoi Department of Health, even at the facilities that have been certified, the ice quality still has a difference, because some establishments have reached the minimum threshold, some have reached the maximum threshold, even reach international standards. Thus, with outsourcing production facilities, the quality is not guaranteed (but how can distinguish between processed ice and pure ice)?
Normal ice cubes when dissolved to leave sediment, cloudy. Pure ice cubes into the glass of water is still transparent, can see through to the other. When dissolved, the water is clear like mineral water.
Pure ice cubes last 4 to 5 times longer than processed ice.
The old 4-ton ice-making machine line of Viet An can be used in daily living or cooling systems, most commonly used in restaurants, fast food stores, supermarkets and medical centers. , schools,…
Pure ice products are safe for the environment when using the R22 refrigerant. All machine parts in contact with water are made of stainless steel (inox).
Electric system of VA4T 4 tons of old ice making machine
VA4T ice making machine uses the latest US energy-saving technology to save up to 45% of power consumption compared to other ice machines on the market.
The ice making process is completely closed, automatically so the finished ice of pure purity meets Vietnamese standards 6-1 / 2010 / BYT of the Ministry of Health on food hygiene and safety, up to FDA international standards. of the United States should be eligible for export to the community of Asean countries.
The old 4-ton ice making machine has an automatic electrical system that helps the machine operate the entire process of ice making, automatically disconnects when there is an electrical problem, automatically adjusts ice making time to have a satisfied hollow ice.
In addition to buying old VA4T ice cube making machine, Mr Binh also uses it in combination with the water filtration line to get cleaner and more pure ice.
Benefits when installing the 300 liter / h filtration system - VACC300
When first introduced to Vietnam, the first time these machines were not widely known due to the long habit of the Vietnamese people to use the water wells directly. However, as life is enhanced, more awareness of health protection, they are increasingly favored, becoming an indispensable device in life - due to its benefits:
 + Water filtered through RO technology can be used immediately, no need to boil but still ensure safety, prevent disease. Water is fortified with minerals for the body, has a natural sweet taste.
 + The price is not too high, so it will save you money, and still have a source of pure drinking water compared to using bottled water.
 + All kinds of 300-liter pure water filtration lines are integrated with the automation mode of the stages, so it will limit manual stages.
 + Very convenient to use, the ability to filter fast, outstanding capacity ensures the amount of filtered water in accordance with the committed goal.
 + Maximum power savings along with noise and heat resistance help the machine work smoothly.
Please contact Viet An at hotline: 0949.41.41.41 when you want to own an old 4-ton ice machine like Mr Binh! Viet An is pleased to serve customers.