Viet An exports 1,000 liter water filtration line to customers in Dak Lak
1000 liter water filtration line is being interested in many organizations and individuals to buy and install in the past time. On March 12, 2019, Viet An General Trading Joint Stock Company exported VACA1000 - 1000 liter water filtration system to Mr Tuan Anh in Dak Lak according to the signed contract of January 5, 2019.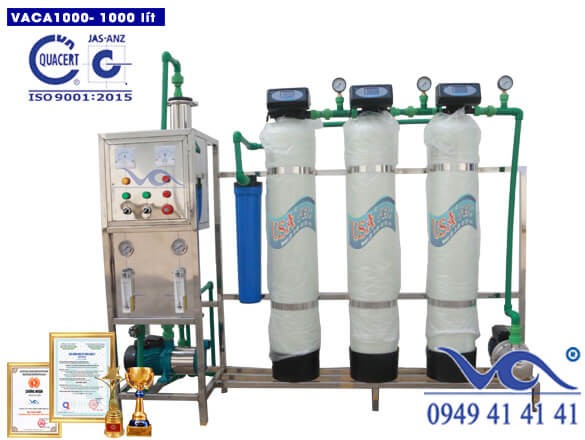 1000 liter water filter system
The reason why Mr. Tuan Anh chose to buy the 1000 liter water filtration line of Viet An
Today, in Dak Lak, modern life with developed scientific and technological foundation, people's lives improve, economic life develops but it is also accompanied by environmental pollution and air pollution and especially water pollution. That motivates people to choose the best for the body, choosing green foods, and safe, natural drinking water that is healthy and beautiful. To solve the most urgent problem, Mr Tuan Anh has decided to sign a contract to buy a 1000 liter - VACA1000 water filtration line with Viet An to ensure the supply of clean water meeting food safety standards in Dak Lak.
Viet An is one of the experienced companies in the field of water filtration. Established in 2008, after more than 10 years of operation, Viet An's products have always received good feedback and trust from customers. Viet An water filtration system is trusted by many companies, factories, hospitals and schools, ... and is supported to install nationwide. So Mr Luan trusted and chose Viet An as a co-operative unit in installing water filtration lines.
The process of installing 1000 liter water filtration line in Dak Lak
Viet An after receiving the information will send its staff to the location in Dak Lak to conduct a survey and advise on specific and reasonable options for the situation at the installation site. Carry out water testing.
Shipping and installation: All shipping and installation costs are free nationwide with the time agreed in the contract.
The water filtration process of VACA1000 water filtration line
The operation process of a 1000 liter water filtration line is quite simple, not complicated compared to other traditional water filtration line equipment:
Step 1: Untreated water will be taken to the tank through the piping system to the coarse filter column. Here, the coarse filter column contains versatile filtration equipment with activated carbon will completely remove impurities, heavy metals and detoxify, deodorize to create a sweet taste for water.
Next, the water will be transferred to refining columns to remove limestone, magnesium and convert from hard to soft form to get the best water quality.
Step 2: The water source will be put through the RO membrane filter system to completely eliminate harmful bacteria and viruses.
Step 3: After going through the RO membrane, water continues to flow through the tank and aerate Ozone to kill the remaining bacteria. After bubbling with Ozone, the water will be sterilized by UV light. Here, the bacterial system, microorganisms are destroyed. Then continue to water through the bacterial filtration system to make sure the water is completely clean, does not contain any impurities and goes to bottled.
Warranty when installing Viet An products
Coming to Viet An, you will receive transportation support, free installation.
Currently, all products provided by Viet An are warranted within the period stated in the warranty card. Usually, there will be a 12 month warranty period.
Conditions to apply warranty:
 + Product information on the warranty card clearly full, intact not torn, crushed, erased.
 + Apply warranty and replace components if the machine fails due to the manufacturer.
To avoid buying fake, counterfeit and shoddy goods, customers should pay attention to the following points:
 + All products of Viet An are labeled aluminum products. The label clearly states the product brand is USApec, Vinaro, company name, Viet An's branch, hotline, warranty phone number, factory address ... If customers cannot find the label of the product, The above information should not be purchased.
 + On the label are printed with the code in the lower right corner, customers can take a phone to take photos to see details about the company. For products without code is not a product provided by Viet An.
If you want to buy Viet An 1000 liter water filtration line, please contact us at the hotline: 0949.41.41.41