Specializing in providing 5-ton ice making machine for customers in Kien Giang
On March 13, 2019, Mr. Nguyen Trong Tan - Representative of Viet An General Trading Joint Stock Company signed a contract to supply IVA5T - 5 tons ice machine for Mr. Dang Thanh Chien - Kien Giang.
Bac Giang possesses the potential of converging tourism with historical sites, attractive landscapes such as Bo Da pagoda, Cat Bridge, monuments and landscapes of West Yen Tu, ... Thanks to the potentials Due to the fact that tourism is large, service industries in Bac Giang also have opportunities to develop. This place is considered a "golden land" for investors that the opportunity will bring those who are one step ahead "to gain the upper hand".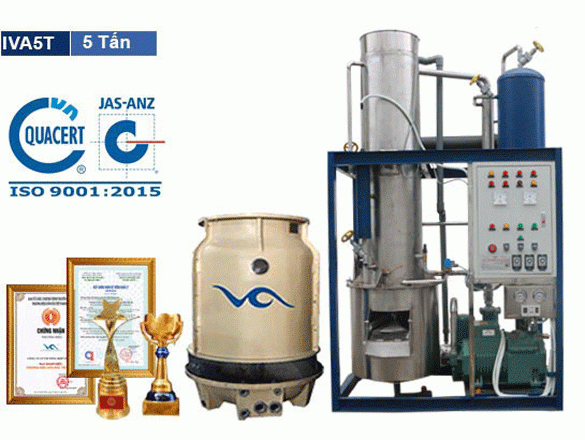 Establishment producing ice machine of Mr Chien - Bac Giang
Witnessing the changing skin of this land in Bac Giang during the period of development, integration, with a sharp mindset urged Mr Chien to come to the decision to open a clean ice tube production facility to provide places travel in here as well as nearby areas.
Through the process of reference and research, Mr Chien chose Viet An as the supplier, installation and technology transfer unit of IVA5T ice machine - 5 tons.
Mr Chien always keeps in mind: "Every profession must put our morality and our mind first. Moreover, the ice tubes are directly related to the health of the people, so it is not possible for the immediate profit to steal and provide customers with poor quality products. "
Benefits received when installing ice maker machine of Viet An
Viet An ice cube making machine is favored on the Vietnamese market by the following highlights:
+ The components of the ice machine used in 304 stainless steel should increase the life of the machine, at least 15 years and not corroded by oxidation, or rust. Therefore suitable use in severe weather in Vietnam.
+ Using R22 refrigerant imported directly to ensure safety for users' health. The refrigeration method is of international standard so it is safe for the finished ice to be used in daily living and eating.
+ Thanks to a good silencer system, IVA5T - 5 ton Viet An ice cube machine has small noise, less affected by people around.
+ Compact design, light weight, industrial but still high aesthetics makes the process of installing ice making machine simpler and more efficient. The device is suitable for 24-hour use without worrying about damage.
+ Automatic electrical system helps the machine automatically disconnect when something goes wrong or adjust the time to be able to make ice of different widths and operate the machine easily and simply.
+ RO pure water filtration system helps our ice cubes meet standards and ensure food hygiene and safety.
The main function of Viet An 5 tons ice cube making machine
Ice machine has cabinets made of stainless steel.
Viet An stainless steel ice cube making machine makes ice water fast, safe and clean.
Stable performance, famous imported compressor.
Low noise and strong cold.
Air-cooled system.
Automatic control system.
Water is cleaned by sterilization technology.
The ice making machine is made of stainless steel and heat treatment ensures the best heat transfer performance.
Corrosion-resistant, easy to clean.
You should choose a reputable supplier to buy the machine
On the market today, there are many business units and ice-making machines installed, but because of running after profit, not every unit is a supplier of good quality products.
Viet An General Trading Joint Stock Company is a long-standing construction contractor in the field of water filtration, industrial ice making machines and is very reputable in the market.
He is a typical example of individuals who dare to think and dare to do, dare to pursue their goals and dreams and devise strategies to turn that dream into reality. Still knowing the way ahead is still difficult and difficult, but Viet An believes that on the development momentum of Bac Giang province and with the right direction, the production facility of Mr Chien's ice-making machine will be increasingly strong.