2-ton ice making machine is exported to Mr Vu in Tien Giang
2-ton ice cube making machine - VA2T iNox is the choice of many businesses in the food and beverage business. On the market today there are many facilities offering ice machines with all types of capacity and different prices. But to choose for yourself a unit of quality ice making machine manufacturer is not an easy problem.
As life became more prosperous, health problems and clean ice - became more and more concerned. Because of that necessity, Mr. Vu in Tien Giang turned to the product of 2-ton ice machine of Viet An - the only company in Vietnam, which has been granted ISO 9001: 2015 certificate for the ice machine product. High-quality ice cubes, clear manufacturing processes, ice during freezing is not modified.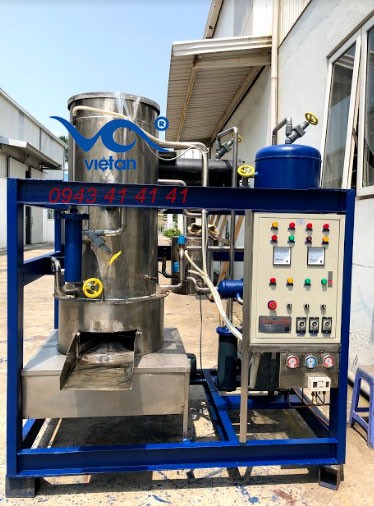 Ice maker 2 tons - VA2T exported to Mr. Vu
On August 24, 2019 under the contract of 188/2019, Viet An Trade Joint Stock Company signed a contract to export 2-ton ice machine - VA2T for Vu, with the size of ice he chose is 18x27.  This is a small size. For the purpose of drinking coffee, ice tea ... etc.
Viet An is committed to bringing Mr. Vu the product of 2-ton ice machine - VA2T quality
Not only focus on investing methodically and professionally in researching, producing and distributing product lines of high quality pure ice machine, in order to minimize the errors that may arise in operation process that Viet An Company is also a pioneer in the market for after-sales services such as warranty, maintenance as well as repairing ice machines of customers. Therefore, Viet An is known as a strong brand in the domestic market and other markets in ASEAN countries.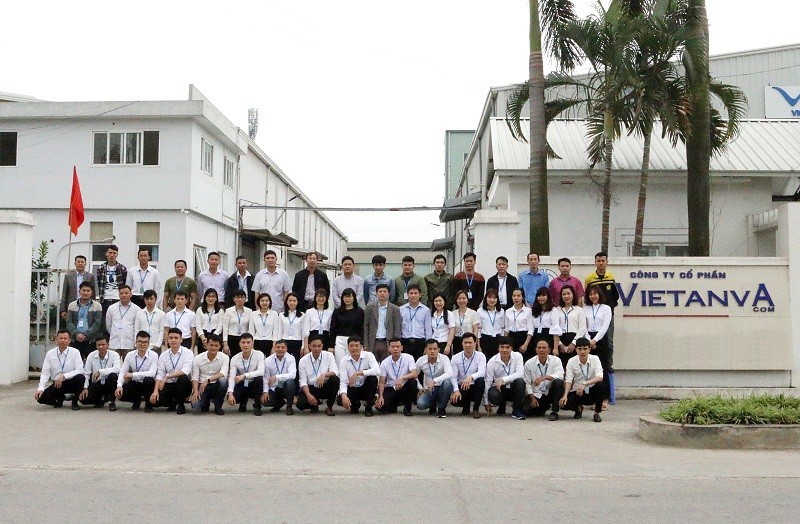 Viet An General Trading Joint Stock Company was established under the business license No. 0103039539 issued by Hanoi Department of Planning and Investment. Registration of the 3rd change, number 0102966635 on November 4, 2015.
Before 2008: Specializing in importing and distributing water purification equipment with the name "Viet An General Trading Co., Ltd".
In 2009, expanded production and business activities to the industry pure water treatment industry, providing equipment and water treatment construction for many large projects in the North - Vietnam and transformed into a  Viet An general trading joint stock company.
In 2015 Viet An received the award of '' Top 100 leading brands in Vietnam in 2015 '' by Consumer Newspaper.
In addition to the first and only certification of international quality management standard ISO9001: 2015 for VA5T stainless steel ice cube making machine in Vietnam in 2015, Viet An also received many certificates or brand certificates exclusive for RO purified water filtration line products, etc.

The excellent advantages of 2-ton ice making machine
Thanks to the stainless steel mortar system will make the product sustainable - can withstand the process of OXI (this process will reduce the life of the product is significantly reduced).
In iNox 2-ton ice cube making machine, ice making pipes are made of 304 stainless steel so it has high durability of the machine over 15 years, besides, this material also helps you easily clean and clean.  stability and always guaranteed hygiene.
The machine operates in a completely automated closed process - Mr. Vu does not take too many workers to carry out production, but from operation to producing ice, only one worker is needed.
Ice making speed is fast and strong, only from 40-45 minutes, there is a batch of pure ice.
INox 2 ton ice cubes making machine with modern technology saves up to 45% of power consumption compared to other models outside the market.
Thanks to a good silencer system, the machine has small noise, less affecting people around.
2-ton ice-making machine - VA2T tons iNox is designed with compact design, easy to transport and save space for your workshop.
The modern water cooling system helps the machine work most enduring.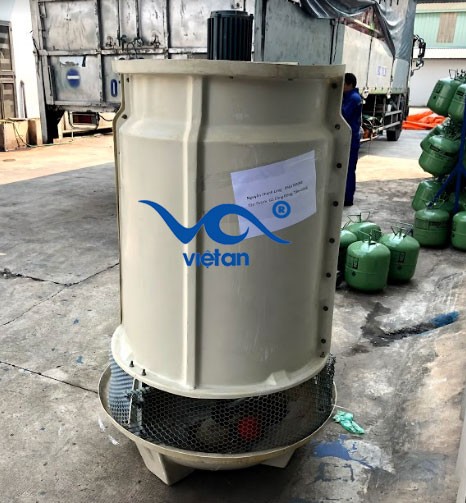 Cooling tower exported with 2-ton ice machine
The control buttons are simple, very easy to use - you can customize the size of the ice cubes, the type of ice made is "old" or "young" and gives a satisfied hollowness.
Basic specifications of 2 ton ice machine - VA2T
Model: VA2T
Capacity: 2 tons / day
Compressor: USA / Germany / Japan
Power consumption: F12HP
Refrigerant: R22 / R404A
Cooling type: water
Size of ice: 18 x 30/23 x 30 mm
Machine weight: 650 Kg.
Machine product size: 1250 x 1000 x 2700 (mm)
Voltage used: 3-phase electricity - 380V
Viet An Company is committed to providing Mr Vu with the best service quality
Ice machine 2 tons iNox VA2T provided by Viet An always guaranteed the quality and origin of the components that make up the machine, Mr. Vu can be assured of the quality as well as the care, warranty, after-sales maintenance of us. When your ice cube making machine has technical and operational problems, we will be there as soon as possible to help you ensure the production progress.
In addition, Mr. Vu can refer to some RO water purification systems, Nano water filters, and especially the common water filtration line price to guide the treatment of his water source to ensure the requirements. on food hygiene that the Ministry of Health has requested.
Comes with packaging system for Mr. Vu so that he can be more convenient in his production process.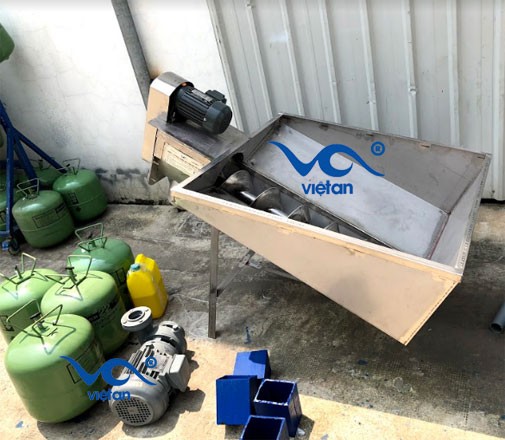 The packing system comes with a 2-ton ice machine
In order to serve Mr. Vu as well as all customers, Viet An receives delivery and installation nationwide. We are completely confident about our products:
Viet An always has promotions, discounts on special ice machines according to each type, quantity, and time of purchase.
Free shipping, installation and taking place nationwide (except islands).
iNox VA2T ice block making machine is made of high grade 304 stainless steel over time and heat treatment ensures the best heat transfer performance.
With the extremely high speed of making ice, customers save a lot of time and money and take the initiative in meeting the ice making demands of business owners.
The good cooling system helps ice machine operate stably and durable.
Enthusiastic consultants, answer all questions of customers 24/7.
Please contact us via the hotline: 0943 41 41 41 to enjoy preferential prices, purchase advice and installation of iNox VA2T 2 tons ice cube making machine most accurately. Thank you for your interest in Viet An's products!