The end party year of 2018 and welcome spring Ky Hoi in 2019
Sharing the air and breaking up the old year and celebrating the new year on 1/2/2019, Viet An General Trading Joint Stock Company held a party for the 2018 year and offered the Lunar New Year in 2019 for all staff. The company's staff is located at Lot 43D1, Quang Minh Industrial Park, Me Linh, Hanoi.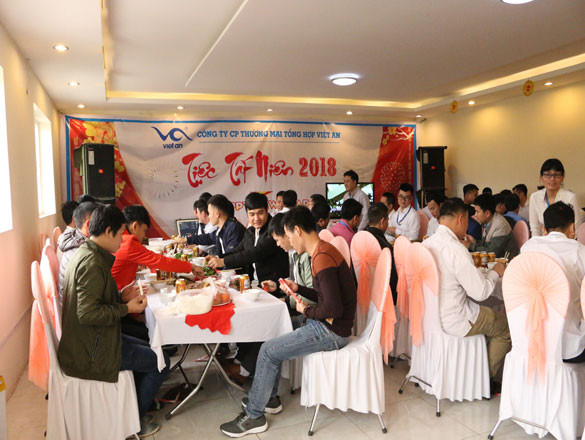 Ending party of the year 2018
The end of the year is an opportunity for Viet An's staff members to look back on the past year, the sincere gratitude of the leadership to the group of brothers and sisters who have put their best efforts to the development of The company also wishes to wish health, success, luck to Viet An family group, which is the message of Mr. Nguyen Khac Diep - Chairman of the Company in his speech
The cozy party in the happy atmosphere welcomes many partners and guests such as Mr Nguyen Duc Hai - representative of Essential Oils and Aromatherapy Company, Mr Nguyen Sy Luc - representative of Dai Luc Joint Stock Company Quang Minh, ... together join.
Thanks to the Board of Directors of the Company for successfully organizing the 2018 year party and the Ky Hoi Spring Festival 2019. This is a great opportunity for the company's employees to have fun after a year of stressful work, prepare to prepare. god for a new year with many challenges ahead, this is also an opportunity to share with each other the joys and sorrows in work as well as in daily life with the sincerity of brotherhood, not stop at term. Common colleague relations.
Closing the party of the 2018 year and the spring of Ky Hoi 2019, Viet An wishes all of our partners, customers and all employees of the new year a lot of health, full of joy and success in the event. living and working together to build Viet An more and more strongly and further.