About the contract 018/2019 ice cube making machine 0.4 ton in Kien Giang
Ice cube making machine 0.4 ton of Viet An is specialized to produce pure ice cubes with advanced modern technology, the machine has RO water filtration system that can completely remove the sediment, so ice cubes are produced to meet 100% purity. Recently, Viet An General Trading Joint Stock Company signed a contract No. 018/2019 to install IVA0.4T ice making machine - 0.4 tons with Mr Luong Van Dien in Kien Giang.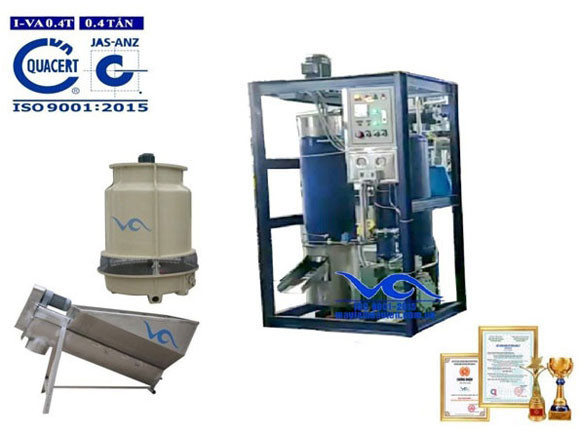 Today the demand for ice making machines in Kien Giang is increasing. Pure ice is used in daily-life eating or cooling systems, most commonly used in restaurants, fast food stores, supermarkets, medical centres, schools, clubs/bars. , ... With the demand for using such large pure ice, the opening of the pellet production facility in Kien Giang is a very suitable work.
The reason why Mr. Dien chose 0.4 ton Viet An ice cube machine
Mr. Dien shared: "The machine can make ice cubes products that are fast, clean and hygienic and safe at the request of the Ministry of Health.
Ice making machine is manufactured and produced by Viet An Company to ensure good quality and components of the machine with clear origin. I can be completely assured of quality as well as consulting, care, warranty or machine maintenance services in the process of studying to purchase.
The main parts of 0.4 ton Viet An ice cube making machine such as ice cutter, ice mould, ice supply tank, load bucket and cold mortar in the system are all made of stainless steel 304. Absolutely not rust during use and easy cleaning, saving electricity costs to reduce many costs incurred.
The production process of ice cube making machine is completely automatic, self-contained and ensures food safety and hygiene. In addition, Viet An ice maker makes it very stable, high performance, easy to install or operate. I also do not need to worry about the process of working later. Because almost no damage has occurred ".
Viet An - unit providing 0.4-ton ice cubes making machine for Mr Dien
Mr Dien chooses Viet An as the supplier of ice making machine IVA0.4T for the following reasons:
Electricity saving is a common trend in manufacturing industrial equipment. The economical use of electricity not only benefits investors in the long term but also increases the life of the equipment, contributing to improving national interests. Understanding that, Viet An has applied modern technology and launched a new generation of ice making machines to save maximum power consumption.
Compact and modern design, it does not take up installation space and is suitable for many different uses. The machine is used with American technology with components and accessories imported from many countries around the world.
Viet An always put the interests of customers first, always focusing on product quality and service quality. Therefore, in nearly 20 years of construction and growth, Viet An Company has received many noble awards such as Gold Medal of Vietnam High-Quality Products in 2009, Golden Lotus Cup of high-quality Vietnamese goods in 2009, Vietnam's leading brand in 2015 ……
With a dense branch system across the country, it will shorten the time of transporting equipment, details of branches are:
1, Hanoi Branch: Lot 43 D1 - Road H2G2 - Quang Minh Industrial Zone - Me Linh.
2, Buon Ma Thuot Branch: No. 87 Phan Huy Chu, Ward Khanh Xuan.
3, Danang Branch: No. 50 Phan Khoang, Phuoc Ly, Hoa An and Cam Le Resettlement Areas.
4, Finally the Saigon branch: Ice crossroads, Số 40 Nguyễn Ảnh Thủ, District 12.
So to ensure the health of family members in Kien Giang province, be a smart consumer when choosing 0.4-ton ice making machine, please contact Viet An company to get the best product. We are committed to providing you with quality ice machines and health standards. Your trust is a pleasure for us.