Address selling reputable ice making machine in Da Nang
Your production facility is in Da Nang, you want to learn to buy ice cubes making machine? We would like to introduce to you the most reliable address No. 1 in Vietnam which is Viet An Gentra Joint Stock Company located at No. 50 Phan Khoang, Phuoc Ly resettlement area, Hoa An, Cam Le district, Da Nang city with phone number: 0236 368 4141 Just contact anytime customers will be consulted about the product accurately and quickly.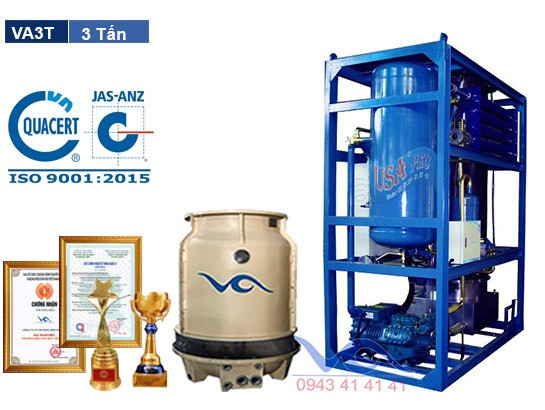 In recent years, media channels and newspapers exposed the dark side of refreshing ice production facilities have increased people's awareness and society, gradually saying no to dirty ice, no longer interested in the sidewalk tea shops or small beverage businesses using unqualified  ice sources, because of the huge demand for ice cubes in the summer, dirty ice still have many opportunities for wool to enter the market. Currently, the new technology of ice cube making machine, modern, closed process and low ice making cost have allowed beverage businesses with long-term business orientation to switch to ice making machines have the capacity depending on the number of customers to serve to proactively supply uninterrupted clean ice cubes and ensure hygiene as well as the quality of making and eye-catching shapes for drinks.
Viet An ice making machine solves worries for businesses
Viet An ice making machine has helped restaurants and bars in Da Nang tourist cities get rid of many big worries from the investment costs of ice making machines, the cost of making ice cubes to take the initiative in ice clean source and solve the situation of "sold out and price squeeze".
Using Viet An ice making machine, the business units can be completely assured by the production line standardized according to Italian technology, meets ISO 9001: 2015 standard, and at the same time, components carefully selected machines from countries with leading industry in the world such as the United States, Japan, and South Korea ... with clear certification of import origin
The ice making speed is quick, only 18-20 minutes is a batch of clean ice, ready for use. Energy saving technology, up to 60% reduction in cost compared to buying outside ice. The ice production process is completely closed. The ice stored in the insulation can store ice up to 36 hours, removing the dust from the outside environment. The raw filter is built into the machine, which helps prevent impurities that are harmful to human health. The quality of ice cubes products from Viet An ice making machine has been certified clean and pure by the Directorate for Standards and Quality - Ministry of Health.
Introducing Viet An ice making machine
Pure ice making machine designed by Viet An Gentra Joint Stock Company with a simple technique, compact size, aesthetic, the operation does not require skilled workers, high durability, maintenance and maintenance costs is low, energy saving, replaceable equipment is full, easy-to-find, quiet running without hearing a noise.
Standard pure ice production process: water from 90 m depth, well water, groundwater, is treated through a reverse osmosis filtration system, and kill bacteria by ultraviolet rays. Ice mould parts, ice cutter, water supply tank for ice making, cold mortar and an ice bucket of pure ice cube machine system are made of stainless steel, no rust over time. The ice production is a closed cycle, fully automated, without direct contact with human hands, so pure ice cubes completely ensure food safety and hygiene.
Structure of machine: Stainless steel tube ice mould (inox304)
Water dividers are elastic, creating a durable, external pad for connections between ice moulds and water splitters
Refrigerant solvent: R22 / R404A
Ice cutting knife: Made of stainless steel controlled by gearbox motor designed specifically for the production of cylindrical ice or crushed ice by reversing the cutting motor and using switches to control for this function.
Stone cutting motor: Designed to handle heavy functions is to cut loose stones in standard size
Water pump: The centrifugal pump is cast in cast iron, large enough to circulate the amount of water that will be frozen several times and create a transparent crystal ice film.
An ice bucket is made of stainless steel (Stainless steel 304) to ensure hygiene.
The gas valve and defrost valve imported from Denmark or Japan with stable operation and long life.
Condenser imported from USA / JAPAN.
compressors of USA / JAPAN operate stably, have high durability, run smoothly without causing much noise.
Control panel: Access to a dynamic electronic system to perform the freezing and defrosting process accurately and reliably from year to year.
Size of ice cubes
- Large ice cubes: 47 x 80 mm. Usually use beer, soft drinks ...
- Ice cubes of medium size: 38 x 40 mm. It is often used to iced tea, drink wine...
- Small-medium ice cubes: 34 x 40 m. U It is often used to drink tea, drink alcohol ...
- Small ice cubes: 19 x 20 mm. It is often used to drink coffee, juice, and prepared water.
Come to us, customers can freely visit and choose any suitable model for their business that can be assured of price, quality, capacity as well as all our remuneration for you. Ensuring that customers will not be disappointed when choosing Viet An
In order to improve the quality of life, the use of clean ice cubes with Viet An Ice Making machine is a good habit to ensure everyone has a cleaner life. Hotline: 0949 41 41 41