Address sells the reputable automatic filling machine in Hanoi
In order to find an address to sell automatic filling machines in Hanoi, quality issues are reputable, prices are not easy to choose. The production facility of many filling machines is rampant in the market but their quality needs attention so that they can choose suitable machines. Through the information below, we will help customers choose reputable facilities as well as how to choose the best filling machine.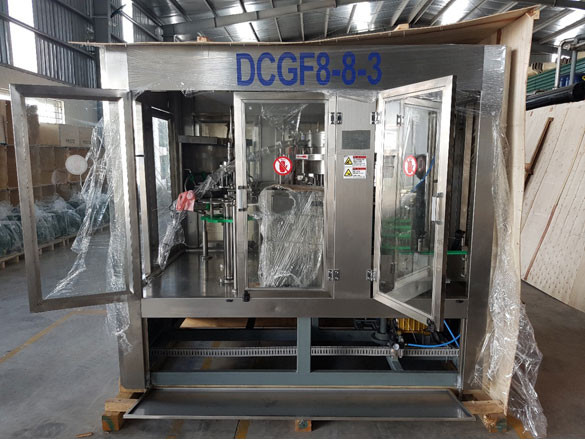 How to choose an automatic good filling machine?
Selecting a good automatic filling machine can help you produce and sell bottled, bottled or bottled drinking water most effectively.
Hanoi is a big city with a population of over 7 million people. With a crowed population, the demand for using and consuming goods, especially pure bottled water, carbonated soft drinks, or using cosmetics, cooking oil, alcohol, and beer is also great. This is a potential market for production and business units to develop. If you are an organization or individual that is doing business in Hanoi and needs to buy an automatic filling machine without knowing where to buy the product, we recommend that you choose to use the product of Viet An General Trading Joint Stock Company.
Viet An has a factory of more than 10,000m2 in Quang Minh Industrial Zone - Me Linh - Hanoi. The place specializes in producing automatic filling machines for bottles and automatic bottles. At the same time, it is also the importer of the leading semi-automatic bottle and bottle filling machines in Vietnam.
Not only supplying machines in Hanoi but also providing products to all other provinces such as Bac Ninh, Bac Giang, Hai Phong, Hai Duong, Lang Son, Son La, Lai Chau, Tuyen Quang and Dien. Bien, Ha Giang, Cao Bang, Bac Can, Lao Cai, Yen Bai, Vinh Phuc, Hung Yen, Nghe An, Ha Tinh, Thanh Hoa, Quang Binh, Quang Tri, Quang Ngai, Thai Binh, Nam Dinh, Ninh Binh, Da Nang, Dac Lac, Phu Yen, Vung Tau, Ho Chi Minh City ... Not only supply products to 64 provinces and cities of the country but also provide products to Southeast Asian countries such as Laos and Cambodia, Myanmar ...
Do you select an automatic filling machine to pay attention to the capacity of the machine to meet customer needs? How is the price? Are there automatic features? Are the warranty and maintenance good?
Viet An supplies the cheapest filling machine in Hanoi market
Viet An is a reliable unit to choose automatic filling machines. With nearly 20 years in the industry, with a team of experienced engineers, automatic filling machines produced by Viet An meticulously to every detail. Moreover:
The machine is applied advanced filling technology from the United States.
Automatic filling machines that operate fully automatically do not lose many workers
Products meet ISO 9001-2015 standards.
Machine components imported from major countries (Korea, Japan ...).
Body made from high-quality stainless steel.
Together with good after-sales treatment, customers will be satisfied.
We always ensure the price of automatic filling machines in our company is always at the most competitive level compared to this advanced technology line.
What kind of automatic filling machines are available in Viet An?
Depending on the needs of use, depending on the structure, functions, operational principles, we can be divided into filling machines such as:
According to structural characteristics: 1 tap filling machine, 2 taps, 2 in 1, 3 in 1, 6 in 1, 9 in 1, 12 in 1 ...
According to the operation principle: pressure-filling machine, normal pressure filling, vacuum filling
According to an automatic, semi-automatic filling machine
According to pouring products: fresh beer filling machine, cosmetics, shower gel, essential oil, pure water, carbonated soft drinks, powder, coconut oil, chilli sauce, ... bottle filling machine, bottle filling ...
According to capacity: 150 bottle / h filling machine, 250 bottles / h, 1000 bottles / h, 2000 bottles / h, 3000 bottles / h, 5000 bottles / h, 10000 bottles / h, 40 bottles / h, 60 bottles / h, 100 bottles / h, 300 bottles / h, 450 bottles / h, 900 cylinders / h, 1200 bottles / h ...
Operation principle of automatic filling machine
The automatic filling machine is the product designed with the line, the carbonated soft drink filling machine operating with the pressure technology, which means that while pouring, the pressure in the bottle is greater than the atmospheric pressure to avoid gas exit the solution. The process of filling - quantifying products into bottles is completely automatic. There is no need for direct workers involved, just pre-programmed and then start the machine and wait for the finished product to be ejected by conveyor.
With many years of prestige in manufacturing all kinds of manufacturing machines, leading industrial machines in Vietnam. Viet An Company is proud to be the No. 1 industrial machinery brand on the market today with modern production lines and national standard meeting all requirements of customers.
With a branch from north to south, if the customer is in Hanoi please go through the address:
Hanoi: No. 10-N6 Lane 40, Xuan La Street, Tay Ho District, TP. Hanoi
Phone (024) 38 28 41 41 - (024) 37 58 68 48
 For more detailed advice about automatic filling machine products. Viet An sincerely thanks!