Contract No. 016/2019 ice making machine 5 ton for customers in Binh Thuan
Viet An General Trading Joint Stock Company is always proud to receive the trust and choice of many customers when there is a need to install 5-ton ice cubes making machine. Recently on February 14, 2019, in Binh Thuan, Ms Nguyen Thi Kim Hoan - representative of Viet An General Trading Joint Stock Company signed the Contract No. 016/2019 to install IVA5T ice making machine - 5 tons with Mr Le Thanh Hoa.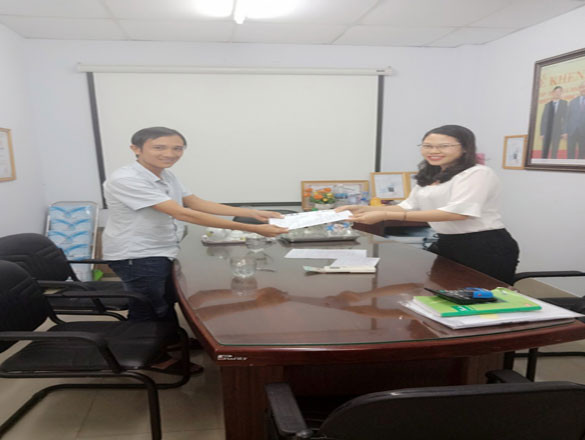 The contract for installing 5-ton ice cubes making machine in Binh Thuan
Binh Thuan is a southernmost central coastal province, it has the position of an economic-cultural-social exchange gateway between the Southeast and South Central regions. Binh Thuan is one of the tourism centres of Vietnam today. It is rich in landscapes, architectural monuments, history and festival culture system. Binh Thuan, to the central windy sunny area. It will attract investors of ice maker machines here. The installation of pure ice making machine in Binh Thuan is essential.
Why did Mr Hoa choose 5 tons Viet An ice cube making machine?
The ice produced by Viet An ice cubes making machine, good quality, are 4 times more melt than the poor quality ice and do not leave it cloudy when melt. The ice is completely pure because it is produced completely automatically, closed, without human intervention, so Mr Hoa can be assured of the quality of the ice.
Electricity saving is a common trend in manufacturing industrial equipment. The economical use of electricity not only benefits investors in the long term but also increases the life of the equipment, contributing to improving national interests. Understanding that, Viet An has applied modern technology and launched a new generation of 5-ton ice cubes to save 45% more energy than the old technology ice making machine.
Compact and modern design, it does not take up installation space and is suitable for many different uses. It uses Italian technology with components and accessories imported from many countries around the world.
Researching about the structure of Viet An ice cube making machine 5 ton
Condensers (100% imported goods, it is not processed products. High pressure and heat resistant copper pipe structure, much better than stainless steel processing).
The valve lines all use imported goods that are not machined valves made in Vietnam as some other units often do.
Ice mortar shell is an 8 mm thick stainless steel mortar with high pressure, super durability, 1.5 mm thick ice pipe with 100% imported castings, not mortar made of thinner, less quality iron or stainless steel.
Air compressors ensure new, zin, imported directly from Germany.
The gas used by Viet An is gas of India number 1 style, not type 2, 3 or China.
5-ton ice cubes making machine before being released must be verified, ensuring safety parameters and quality criteria to give Mr Hoa peace of mind when using Viet An's products.
Viet An Company has a team of environmental engineers specializing in consulting and controlling input water sources for Mr Hoa to bring you the best ice cubes products.
Learning about the electrical system of Viet An ice making machine in Binh Thuan
The Viet An 5 ton ice cube making machine applies the latest US energy-saving technology that saves up to 45% of power consumption compared to other ice cubes making machine on the market.
The process of making ice is completely self-contained, automatic so the finished ice has pure purity to meet Vietnam standard 6-1 / 2010 / BYT of the Ministry of Health about food hygiene and safety, international FDA standards. The United States should qualify for export to Asian countries.
The 5-ton Viet An ice making machine has an automatic electrical system that helps the machine to operate the entire ice making process automatically disconnecting when there are electrical problems, automatically adjusts ice making time to have satisfied hollow ice.
With modern equipment, professional production management, a skilled technical team, Viet An Company has been supplying the market with 5 tons of high-quality ice cube making machine, making progress to guarantee goods, reasonable price, to meet the different needs of domestic and foreign customers. We are proud to be a reliable destination for all customers. Please contact us immediately when you have demand for installing ice making machine of Viet An in Binh Thuan province!