Contract of 5-ton IVA ice machine and bottling system in Binh Duong
Binh Duong is a province with relatively flat terrain, river systems and abundant natural resources. The climate is characterized by a tropical monsoon, hot and humid with two distinct seasons, the rainy season starts from May to November, the dry season lasts from December of the previous year to April of the following year, the average annual rainfall of 1,800 mm to 2,000 mm. The average annual temperature is 26.5oC, so this is an appropriate condition to invest in an ice making machine as well as the bottling industry well developed.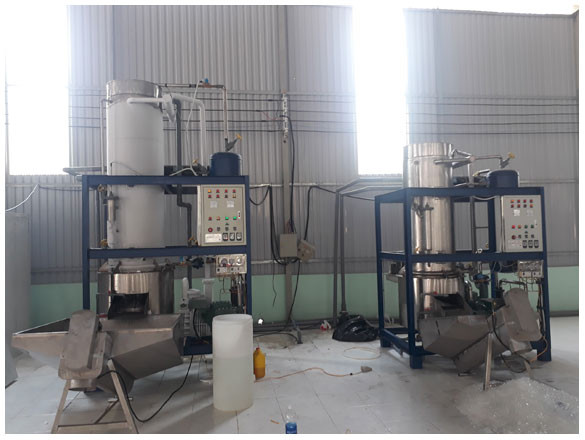 IVA5T 47x80 and IVA5T 18x30 ice cube making machine
Foreseeing this important issue, Ms Thu who owner of the ice and bottled water business in Binh Duong, decided to sign two contracts with Viet An General Trading Joint Stock Company.
The great advantages of ice making machine, water filtration line and filling machine, bottle blowing machine Viet An bring
Produced and applied the most advanced European technology, 5-ton ice machine, 3000 liter / h water filtration line, bottling, bottle blowing machine are managed products management quality assessment ISO 9001: 2015, the most stringent international standards today.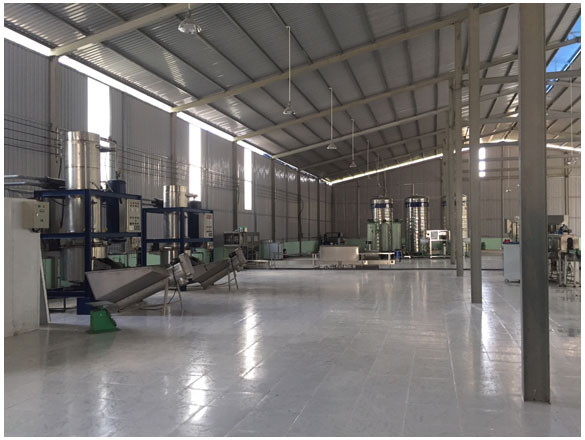 Factory premises of Ms Thu - Binh Duong
IVA ice cube making machine 5 tons
Viet An ice cube making machine is manufactured using US technology, saving the maximum power consumption. With compact design, fully automatic running to ensure a clean ice machine to produce even ice, quickly saving labor and safety for the manufacturer. Clean ice making machine uses pure water as raw material for making ice, so make sure that ice made is clean ice meeting food safety standards 6-1-2010 / BYT.
5-ton ice making machine is designed with simple technique.
- The size of the machine is compact, aesthetic and operation does not require skilled workers.
- Durable. Maintenance cost is low, saving 45% of power consumption.
- Full replacement equipment, easy to find, smooth ice making machines do not listen to the noise.
- Mold making tube of IVA5T export stainless steel ice cube machine - 5 tons made of high quality 304 stainless steel to help the machine not be corroded due to oxidation, the system of components is painted with 2 layers of anti-rust epoxy to help the machine have ice can withstand the harsh weather of Vietnam.
VACA water filtration line 3000 liters / h
Saving cost, time for water purification. Due to the application of the latest RO water purification technology in 2018, the water filtration process of the pure water production line maximizes electricity savings compared to the previous filtration systems.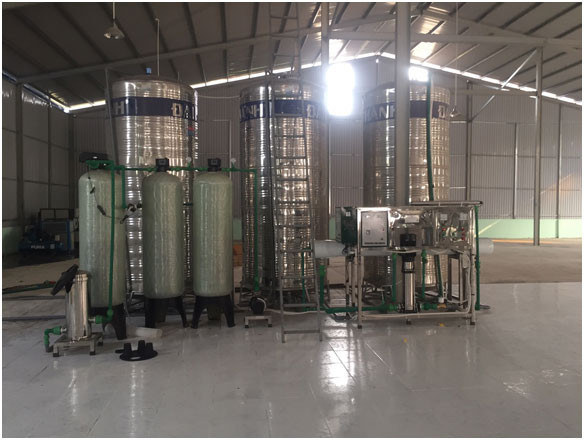 VACA water filtration line 3000 liters / h
Output water quality always ensures quality, food hygiene and safety, and health of users
The process of water filtration is completely self-contained, automatic with an automatic valve system that automatically adjusts the filtration column cleaning, so it always keeps the taste and stability of the output water.
VACA 3000 filter line has an intelligent control panel, can be automatically disconnected in the event of an incident so absolutely safe to use.
Long-term use, the average can use from 10 to 15 years with little warranty and maintenance
VACGF 3000 bottling filling machine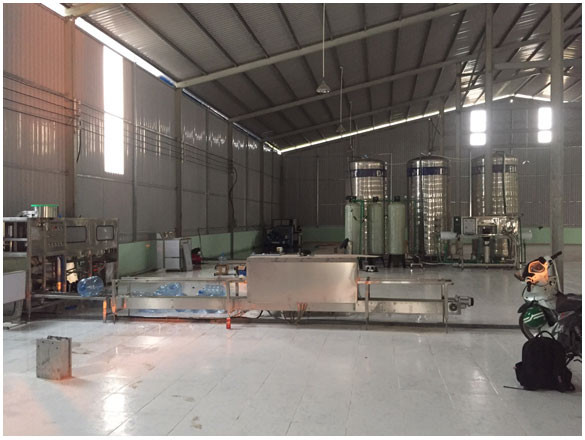 Parts of the filling machine are made of 100% stainless steel material 304
The intelligent control panel automatically switches off when something goes wrong.
PLC fully automatic control system is imported from Korea, Japan
Filling speed is fast, accurate, food hygiene and safety
Application of technology to maximize power consumption and 7 automatic stages to save the cost of hiring 10 employees
The service life of the device is very high, the machine has a durability of over 15 years and the machine is also adapted to all climatic conditions in Vietnam.
VACGF 3000 automatic 7-in-1 bottle filling machine runs smoothly, with low noise
VAQGF 150 bottle filling machine
Specialized machine for filling water into a 20L tank with a capacity of 150 bottles / h. Designed with intelligent protection in the absence of a bottle, the machine stops working without filling, helping to handle situations of empty or jar stuck. In such situations, the system automatically prevents the pumping system from discharging the material, minimizing the source of water loss.
VAQGF 150 bottle filling machine automatically rinses, extracts and closes in a closed cycle, greatly reducing labor in the production process, achieving efficiency and high quality. It is the best choice compared to other offerings on the market.
The machines in the line are highly automated, people only participate and operate, bringing the best productivity for users and the safety measures of power all systems are designed against shock and other electrical equipment up to standard. Emergency shutdown button when something goes wrong.
VAMTC 1000 bottle blowing machine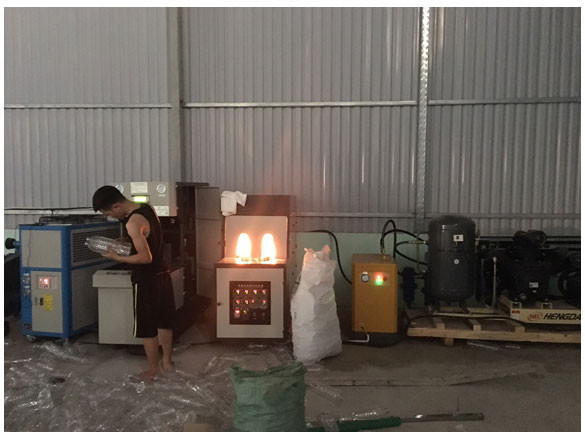 VAMTC 1000 bottle blowing machine
Bottle blowing machine is capable of blowing many bottle designs (round, square ...).
The machine works with a computerized control system, stable performance
The machine is designed with safety locking devices, automatically disconnecting when there is a problem.
VAMTC 1000 bottle blowing machine is used for blowing PET bottles with 3 stages: up the embryo, heat the embryo and remove the embryo - maximum labor savings.
The system uses two-hand high pressure air linkage in mold closing, large mold locking force
The system is fully automatic, high performance, low investment, convenient operation, easy to maintain
The bottle blowing machine is tight and beautiful.
Active equipment for high productivity.
The machine operates to help save more than 30% power.
VAMTC 1000 bottle blowing machine is made of 304 stainless steel against rust.
Compact design, space saving and easy to install
The process of installing the machine for Ms Thu
The products of machinery Viet An installed for Ms Thu will have a 1-year warranty period, long-term maintenance
Incentives: Viet An always wants to bring users pure finished products to use, so the company has many promotions to customers from time to time, each different area. To find out what the company is currently offering, please contact our care department as soon as possible.
Installation process:
+ Surveying and designing: After consulting, Viet An will send a technical department to Ms Thu's house to conduct field surveys and advise on the most suitable installation location. Guide businesses to calculate production costs to quickly recover capital,... At the same time, giving a detailed design of suitable machines for businesses. In addition, Viet An also supports designing logos, stamps ... when businesses have needs.
+ Installation: When completing the above stages, Viet An has carried materials and equipment to the area and installed ice machine in Binh Duong as agreed on the contracts MĐ2018BD 258 and DC2018BD 973 signed. Installation and transport costs are completely free for Ms Thu.
Certainly, with the system of ice machines and production lines as invested by Ms Thu, she will dominate the market quickly. Details of IVA5T ice cube making machine, as well as bottle blowing machine, bottling filling machine, bottling and purifying water filtration line you can refer to the website: vietan.vn or contact directly via hotline: 0949.41. 41.41