Contract of IVA 5T ice making machine installed for Mr. Hai in Ha Giang
IVA 5T ice making machine with a capacity of 5 tons per day was born to bring customers satisfaction and confidence in excellent quality by energy-saving features, high productivity, pure ice products. 100% ensure food safety and hygiene requirements. Knowing these great advantages, Mr Hai in Ha Giang decided to sign a contract to buy IVA 5-ton ice making machine from Viet An.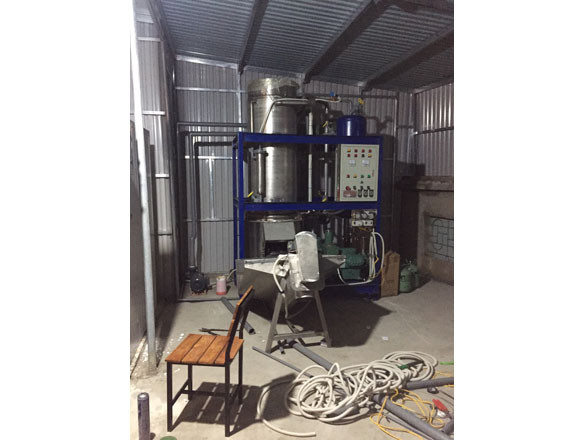 When it is hot in the summer, the temperature increases sharply, the demand for using pure ice increases rapidly, so the purchasing power of ice making machine in the provinces and cities takes place very actively. In Vietnam in general and Ha Giang in particular, the production and business of ice cubes is quite new while the demand for ice cubes in this province is high.
What is special about IVA 5T ice cube making machine that attracts Mr Hai so much?
Mr. Hai shared with us "I took a lot of time to consult other ice-making machine businesses but when I came to Viet An, it was strange that I was attracted by the people here, they enthusiastic and willing to consult all my questions, not only that, the machines in Viet An meet the requirements that I need to have at an affordable price. "
IVA 5T Viet An ice making machine is assembled on US technological line, strictly complies with international standard ISO 9001: 2015, Viet An ensures the best and most modern product in Vietnam.
The industrial ice making machine is applied cooling system, cooling between wind and water with R22 solvent imported from developed countries, so the speed of ice making will be much faster than before.
The ice making process is fully automatic and self-contained, will not take much time to perform manual operations, saving more time.
Extremely attractive price, cheaper than other brands. In addition, enthusiastic and professional consulting services of Viet An will choose the product that you like and satisfaction.
IVA 5T ice cube making machine has an industrial design with dimensions of 1.6m x 1.4m x 3.5m, the weight of 1.7 tons is still very easy to install and optimizes space.
The machine operates smoothly, with low noise. In addition, the smart circuit automatically disconnects when there is an electrical problem, automatically adjusts ice making time, so it is very safe to use.
The components are made of high quality 304 stainless steel, which helps the machine to resist corrosion, increasing the shelf life of up to 20 years.
See more: Filling line
The process of consulting IVA 5T ice making machine for Mr Hai
 - Actual survey: After receiving the information, Viet An company has sent technical staff to directly Mr Hai's house to survey the common ground such as water source, installation location.
 - Advice and solution: technical staff will consult, discuss with Mr Hai to choose the machine capacity and installation location to suit the purpose of use, as well as aesthetics and economy cost.
 - Viet An quotes and signs a contract: After pricing and closing the best price for Mr Hai, Viet An and Mr Hai have signed a sale and purchase contract number MĐ2019HT 021.
The size of the ice that he chooses
Choosing to buy IVA 5T Viet An ice cube machine also advises Mr Hai on the most suitable size and Mr Hai makes a choice of 34x40 (mm) size ice, this is the average size of ice suitable for drinking soft drinks. , ice tea, wine... Mr Hai's choice is perfectly reasonable because Ha Giang is a province with a high demand for ice cubes in summer, people are used to using moderate size ice because they can be used for many purposes
Currently, Viet An has 3 different ice sizes for customers to choose because each region will depend on the needs that choose the most suitable ice size:
- Type 1 size 44 x 47 mm suitable for drinking beer, soft drinks .... this type has the advantage of long-melting ice but has a slightly too large ice size sometimes causing much trouble.
- Type 2 size 34 x 38 mm is also suitable for wine, ice tea .... With moderate size ice easy to use in drinks.
- Type 3, size 18 x 23 mm, is best suited for drinks such as coffee, juice, smoothies, etc., which brings fast cooling to the drink, although the melting speed is faster than the 3 types above.
In order to ensure clean ice, pure ice, we need to follow Mr Hai's procedures
Source of input water: This is the most important step in the process of making ice because clean water creates new clean ice. In order to have transparent and long-lasting ice products, we need to provide pure water for IVA 5T ice making machine.
During production, we should be attended to the temperature and quality of the ice cubes. During production, regular attention should be paid to the temperature and transparency of the product to make appropriate adjustments, occasionally every time. You should check the quality of the ice cubes after they are made.
Packaging must comply with hygiene and safety rules: Packing employees need to adhere to hygienic safety such as wearing protective clothing, masks, etc. Having isolated packaging room and good cold room temperature to prevent the product from melting when not yet distributed.
Power source: Mr Hai needs to prepare 3pha (380V) power source so that IVA 5T ice machine can work best.
With the IVA 5T model, Mr Hai will quickly gain control of the market in Ha Giang by the capacity, quality and durability of the machine, not only that, in a short time, Mr Hai will return on investment and quick profits from IVA 5T ice making machine