Contract to buy ice cube machine 3 ton in Phu Tho
Ice making machine 3-ton of Viet An is proud of being an industrial ice making machine product that offers the highest quality safety ice. This machine is designed from very clean stainless-steel outside. Besides, the machine also does not make a loud noise, so it is loved by customers in Phu Tho. That is the reason that on March 1, 2019, Mr. Ví Van Trung decided to sign an IVA3T - 3 ton ice making machine contract with Mr. Le Dinh Hung - representative of Viet An Trade Joint Stock Company.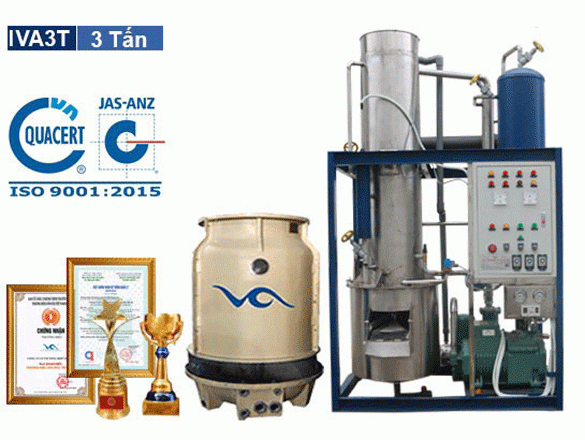 Ice cube making machine 3 ton
Using  ice cubes making machine 3 tons  effectively
No matter how good a product is if it is not operated according to prescribed standards and properly cleaned, it will quickly deteriorate after a long time of use. In order for the IVA3T ice making machine to work better and more durable, Mr Trung should note the following points:
  + Read the manufacturer's enclosed instructions carefully. Please contact us immediately at the phone number 0949.41.41.41 to be supported by a team of technicians and consultants on how to handle the best.
+ About water source: we should use tap water or filtered water, can also use groundwater from a depth of more than 90m You can refer to our RO technology water filter line when combined with the machine making ice to make the quality of stone made hygienic, pure 100%.
  + Mr Trung needs to check the power source to see if the voltage level is suitable for the capacity so that he can find a replacement.
  + Note not to place the device in a not flat position, high humidity, avoid high temperature, direct sunlight.
  + Should periodically check the maintenance, cleaning and cleaning of components and replacement if necessary.
Requirements on the quality of ice selected by Mr Trung
Clean ice cubes are increasingly popular in daily life because it has numerous effects and especially in the hot season, the demand is increasing. However, not all ice used in food and beverage are sold at restaurants, beverage shops are 100% clean. Here are some standards for the quality of ice cubes given by Mr Trung:
 + Transparency: transparent color, no strange colours, can see through and when dissolved, the water color is like mineral water, does not contain sediments.
 + Time of melting ice: With the ideal room temperature, clean ice cubes of 3-ton ice cube making machine usually have longer melting time than dirty ice 4-5 times.
 + There is no strange smell: Clean stone must have absolutely no smell because when the ice smells, greatly affects the product quality, especially when used in combination with drinks and food.
 + Quality of input water: For ice to reach purity, the water source used for ice production machine should be taken from a depth of 90m, treated through water filtration and bactericidal system by UV rays, must meet the criteria for softness, pH, ...
Benefits from Viet An ice cube machine 3 ton
Benefits of using ice cubes of IVA3T ice making machine of Viet An:
 + Polishing bottles and jars: The bottleneck often has difficult to clean folds. Use ice cubes, a little salt and lemon to shake evenly for a few minutes. Lemon will help remove fat, salt helps clean up, ice will push the two substances.
 + Take the thorn without the pain: If you want to take the thorn or a sharp object through the skin without pain, it is best to apply cold ice of a 3-ton ice cube machine for the skin around the stab as a temporary anesthetic time.
 + Cure nosebleed: you should apply clean ice to the acupuncture points (located on the intersection of the horizontal line through the wing of the nose and the legal line on both sides of the mouth) blood will flow immediately.
 + Treatment of toothache: When the pain is sharp, you should apply ice to the joint of the cup (located at the hand), after a few minutes, the pain relief effect can be seen immediately. Note: When applying ice to the grave of the cup, put it in the opposite direction, ie if it hurts on the left side of the tooth, apply ice to the cup joint on the right-hand side.
 + Treatment of burning pain due to burns: When burned, immediately wash the burn with cold water and then apply ice to the burn site to help relieve pain, prevent redness and succulence. This method only applies to minor burns.
Viet An is the reliable choice of Mr Trung
With many years of operation in the profession, Viet An Joint Stock Company has won many awards and certificates of merit such as gold medals of high-quality Vietnamese goods or golden lotus cup. Viet An's products always have preferential policies and reasonable warranty, attract customers, are trusted by many businesses in the whole country as well as Phu Tho.
Not only supporting the installation of ice making machine in Phu Tho, Viet An but also distributing and supporting the installation of machines in Quang Tri, Khanh Hoa, .... and 63 provinces across the country.
Please come immediately to Viet An for advice and choose the best ice cube making machine 3-tons