Contract to buy ice cube making machine 5-ton in Ha Nam
The ice-making machine 5-ton of Viet An has been on the market for nearly 10 years - 100% of customers used to give positive feedback on this product. On March 9, 2019, in Ha Nam, Mr Dinh Cong Tan decided to sign a contract to buy IVA5T ice making machine with Mr Nguyen Cong Hoan - Director of Viet An General Trading Joint Stock Company.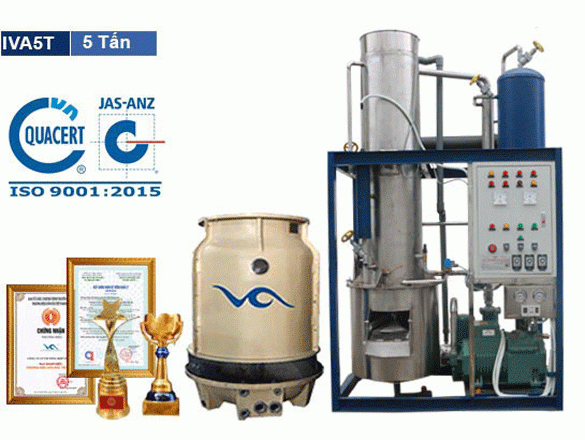 ice cube making machine 5-ton
Along with the demand for ice cubes is soaring, the ice market in Ha Nam still has many issues such as dirty ice. Meanwhile, clean ice cubes of prestigious and licensed establishments are always in a state of "burning goods", causing many business units in areas such as food, tourism, hotels, resorts, ... When not being able to proactively supply ice cubes for their production and business activities, even some hot days peak, the price of ice cubes are pushed up several times higher than the normal level.
As recommended by many experts, for the ice market is still diverse and complex as today, to ensure the health of users, reduce the risk of poisoning from dirty ice, then the business units besides buying clean ice cubes from establishments with clear and licensed labels, it is possible to switch to a self-initiative model of producing clean ice cubes to ensure the health of users with a new technology ice-making machine, closed process that saves costs.
Why did Mr Tan choose ice-making machine 5 tons of Viet An?
Mr Tan chose Viet An's ice machine because Viet An's clean ice cube making machine is manufactured according to American technology, saving maximum power consumption. With a compact design, fully automatic running ensures clean ice machines produce regular ice, fast, saving labour and safety for producers. Clean ice making machine takes pure water as a material for making ice, so it is ensured that the ice is made of clean ice meeting food safety standards 6-1- 2010 / BYT.
- The ice-making machine 5-ton is designed with a simple technique.
- The size of the machine is compact, aesthetic, operating without requiring skilled workers.
- Durable. Maintenance costs are low, saving 45% of power consumption.
- Replacement equipment is complete and easy-to-find, ice making machine runs smoothy without sound noise.
- Mould stone tube made of export stainless steel ice cube making machine IVA5T - 5 tons made of high-quality stainless steel 304 to prevent the machine from being corroded by oxidation, the system of components is coated with 2-layer anti-rust epoxy to help the ice machine can withstand the harsh weather of Vietnam.
The ice-making machine operation cycle 5-ton
The operation cycle of Viet An's IVA5T inox ice-making machine is extremely simple. Water will flow through raw filter tubers to remove impurities, sediment, and dirt before leading into a container. Then a circulating pump will suck water up to the pipe into the ice tray and the freezing process takes place here.
Water is frozen by a circulating cooling system that combines wind and water, using refrigerant solvent R22 is a very common substance used in refrigeration equipment today because it is safe for human health, environmental friendliness.
At the ice tray, the water will be frozen to a certain time and the desired hardness will be taken out of the finished product and dropped into the loading bucket below. Now you just need to take the ice to use, but if you not used, it can still preserve ice at the insulation box of the machine.
Preferential when Mr Tan buys IVA5T stainless steel ice making machine
1, The price of ice-making machine 5-ton is always lower than other products with the same capacity in the market.
2, Free package of free shipping nationwide for Mr Tan as well as all customers.
3, Minimum time for Viet An to perform warranty for these ice-making machines is 1 year. During this time when the machine has a technical error, it will be repaired by Viet An company for free.
4, Within the first week after purchasing the equipment, Mr Tan can return the product - to get a new product or get the money back if the machine has any features that are not right for our company committed!