Contract to install water filtration system in Lam Dong
According to the signed contract of 191/2018, on March 16, 2019, Viet An General Trading Joint Stock Company installed and handed over the VACA1000 - 1000 liter / h water filtration system to Mr Duy Anh in Lam Dong.
Water filtration system at Mr Duy Anh's pure water production facility
The strength of Lam Dong is a famous tourist destination with many historical and famous tourist sites, therefore it attracts many international delegations. Mr Duy Anh started working in the water business, exploited this strong point to develop his bottled water production enterprise.
Mr. Duy Anh said: "The most important step in the process of producing clean bottled water is to rinse and wash the bottles to be clean and sterilized. This stage directly affects the quality of the product, if the bottle is not well-clean, the water will still smell bad quality. I always take the reputation, quality, customer satisfaction as the leading motto.
Through research on the media and the internet, Mr. Duy Anh realized that Viet An is a reputable enterprise in the field of water treatment, providing water filtration systems, ice-making machines, etc. He had arranged the time, did not mind the road. He confided: "you do not do it you don't care if you do it then you have to go to the place to see and hear to be assured of cooperation. I was determined to invest but also afraid of difficulties, how can I find a trusted partner. Thankfully, I met Viet An, and I was able to give advice from all the staff from supplying machines, building workshops, designing bottles, stamps, completing legal documents and papers for product publication. The other units just sold me a bottled water filter line and finished their obligations, so I don't know how to do it."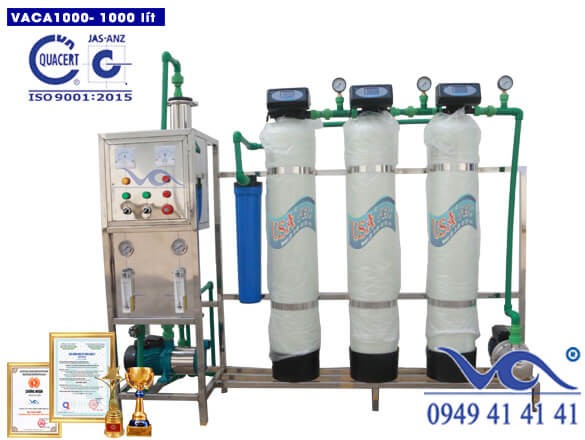 1000 liter water filter system
Viet An is a leading unit in the field of water treatment, purified RO technology, ... with more than 10 years specializing in consulting and installing water filtration systems throughout the provinces and cities nationwide.
 + The water filtration and water treatment lines supplied by Viet An to the market are all high quality, genuine goods, which are registered with exclusive trademarks.
+ The price of the water filter that Viet An offers is the cheapest on the market.
+ Sales policy, warranty service, maintenance of Viet An offer the best on the market.
VACA1000 and VAMCB 60 Viet An products are applied US modern technology and assembled in accordance with ISO 9001 - 2015 so the quality of the finished water is good, ensuring that bottled pure water always meets quality and food safety QCVN 6-1: 2010 / BYT of the Ministry of Health.
Process of installing, handing over bottled water filtration system of Viet An
The process of installing, handing over VACA1000 chain to Mr Duy Anh of Viet An is an important and complicated stage so we always arrange highly skilled employees. The installation and handover steps are as follows:
Step 1: After signing the contract and preparing everything necessary, Viet An's staff will transfer machinery and equipment to the location that Mr Duy Anh has signed in the contract, and conduct a quick installation and effective so your business can soon go into production.
After installation, Viet An staff will give detailed instructions for the person in charge of this water filtration system to understand the production process and promptly reflect the problems encountered when running the machine.
Step 3: Rinse the entire system assembly line just installed to test the machine and here the original dirty water source. After that, Viet An will hand it over to Duy Anh directly.
Step 4: After the installation process, we also carry out maintenance and maintenance of the machine so that the process of producing bottled water is safe and effective.
After completing the installation and handing over the water purification system to Mr Duy Anh, Viet An also assisted him with related issues such as applying for licenses, designing labels, testing water samples, etc. His bottled pure water was officially put into operation.
Being contact and working with Mr Duy Anh, we are confident that your water filtration system will reach further. Thank you for believing in using our Viet An products!