Director of Viet An Company visited An Khang ice production facility
Viet An General Trading Joint Stock Company has been established and developed for nearly 20 years, with thousands of old and familiar customers accompanying us during the past journey. Our ice making machine supply to the market are highly appreciated by every customer.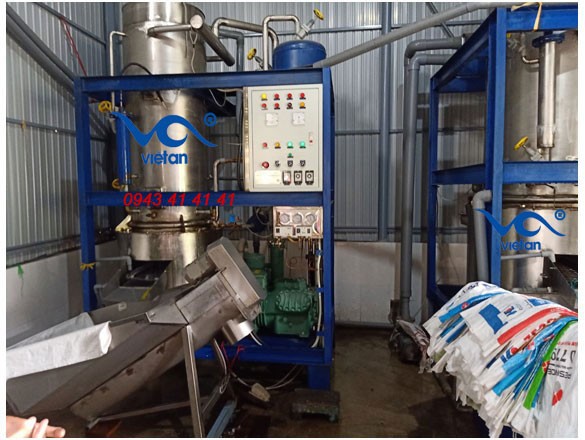 Ice making machine is installed at Mr Phu's facility
Not only looking for new customers, but for old customers, we have special concerns because they are potential customers in the future, many customers have chosen to cooperate with Viet An not only 1 , 2 times and even 3 times. So, what do we have that attracts and loves customers?
On April 17, 2019, Director of Viet An Company visited An Khang ice production facility
Recently, Mr Nguyen Cong Hoan - Director of Viet An Company had the opportunity to visit the An Khang ice production facility opened by Mr Phu in 2018, although having been operating for 1 year, his facility has developed quite strongly and reputable in the area.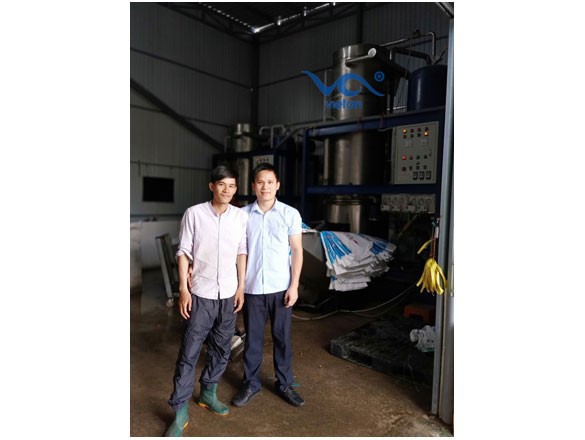 Director Nguyen Cong Hoan (right) visits An Khang ice production facility
In 2018, Mr Phu saw the potential of the pure ice production industry, so he investigated and considered which is the reputable ice making machine, quality assurance and popular on the market today.
Besides, he also compared the prices among ice manufacturers to optimize the cost of buying the machine to the lowest possible. And he finally found out about the warranty of the ice company as well as the accompanying services such as transportation, installation, repair, ...
In the end, Mr. Thuan decided to choose Viet An as a supplier of ice machines for his facility and signed a contract for MĐ2018VT 193 IVA 10T ice size 47 * 80 and IVA 5T ice size 18 * 30, this is the decision It is quite risky to invest a large amount of capital and do business with new forms, but thanks to the confidence in yourself and the support from Viet An Company in many aspects such as creating business strategies and production. Pure quality assurance ice meet the requirements of the Ministry of Health, so he has been chosen and trusted by numerous customers.
Benefits when Mr Phu chooses 5 tons and 10 tons Viet An ice making machine
Clean ice making machine is designed according to American technology according to strict international standards ISO 9001 which has been supplied by Viet An General Trading Joint Stock Company to the Vietnamese market and has been well received by customers.
With a compact design, fully automatic running to ensure clean ice machine to produce ice evenly, quickly, save labor and safety for producers.
Clean ice making machine uses pure water to make raw materials for ice making sure the ice is clean ice meeting food safety standards 6 -1-2010 / BYT.
Ice cube making machine is designed with simple technique. The size of the machine is compact, aesthetic, the operation does not require skilled workers, the process is completely closed Mr. Phu just need to operate with an on / off button.
Durable. Maintenance costs, low maintenance, energy-saving. Full replacement equipment, easy to find, ice machine 5 tons of smooth running without hearing the noise.
The ice making molds of IVA5T and IVA10T ice machines are made of high quality 304 stainless steel to help the machine not to be corroded due to withstand the harsh weather of Vietnam.
Not only that, with this model, Mr. Phu can operate stably with maximum capacity without fear of equipment damage because the life of the machine can reach 20 years.
Policies for customers when buying ice making machines of Viet An
To best serve all customers, Viet An takes delivery and installs products nationwide. We are confident with our products and are a rare unit of lifetime maintenance of industrial ice machines.
Every year, Viet An will support Mr Phu with oil change and refrigerant replacement services at extremely preferential prices.
The special thing, only at Viet An company - that is the discount up to 15% - when buying more equipment related to the ice making machine - this is: automatic packaging system, water filtration system, cold storage system (all these systems will help your ice production process become more perfect).
Besides, customers will enjoy the following incentives:
12 months warranty for ice making machine
Long-term maintenance
Free shipping and installation of expert operating instructions
Customers can also be consulted by Viet An about factory premises, supporting logo design, labels, business strategy consulting ... etc.
Thank Mr Phu and his loyal customers, who have always trusted and accompanied Viet An. Hopefully, he will thrive and provide pure clean ice for society, bringing great benefits to contribute to flying dirty ice in the market.
Customers who want to buy ice machine do not hesitate to contact us via the hotline: 0949 41 41 41 for advice and support.