Export Contract 006/2019 1500 litre water filtration line in Hanoi
After signing the contract 006/2019 with Mr Khoa in Hanoi, on January 19, 2019, Viet An Trade Joint Stock Company exported a 1500 litre water filter line - VACA1500 and a filling machine of 100 bottles / h - VAQGF100 for him. according to the content of the signed contract.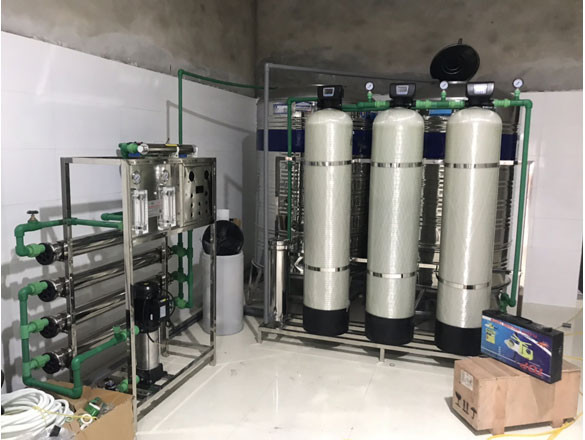 Hanoi is a city located in the key economic region of our country, the process of industrialization - modernization has gradually made "to change for the better" for this land. However, along with a developed economy, the industrial zones here are revealing many shortcomings, especially the risk of causing environmental pollution, pollution of water sources affecting the environment, affecting people's drinking water and daily life.
- The increase in many factories and enterprises from small households to large scale leads to increasing demand for water, not only for production but also for a large number of public works. People from different regions gathered from there, leading to the depletion of water resources.
- Industrial wastes such as smoke, dust, etc., create acid rain which not only changes the quality of fresh water but also adversely affects soil and ecological environment.
- The discharge of production wastewater from factories and processing zones has not been processed into rivers and lakes, causing pollution of surface water and underground water. There are even places for wastewater to run on the ground to self-infiltrate into the ground or dig underground holes to discharge wastewater, seriously affecting the underground water layers.
These are the reasons why the water source in Hanoi is increasingly polluting people. Grasping the demand for clean water here, Mr Khoa studied and decided to invest in buying Viet An's bottled water filtration system to embark on pure water business.
Viet An - is unit supplying 1500 litres of water filter for Mr Khoa
After a period of research, research and thinking, Mr Khoa came to Viet An's office directly at Lot 43D1, Quang Minh Industrial Park, Me Linh, Hanoi for reference. Mr Khoa received very enthusiastic advice about the premises, appropriate capacity, cost, labour, ... of the technical staff, so he decided to choose Viet An as the construction unit. installation of 1500 litre water filtration line for their units.
Viet An Trade Joint Stock Company is a leading enterprise in importing and distributing RO purification water line, producing stainless steel ice making machine, ... VA brand , USApec brand, Vinaro brand is Number 1 in Vietnam. Viet An with experienced technical staff always puts themselves in the case of customers, to meet all the different needs of domestic and foreign customers.
Introduce about 1500 litre Viet An water filtration line
Like other industrial water purifiers, VACA1500 filter line is applied the most advanced RO water filtration technology with closed water filtration process, filtering, processing and gradual removal of impurities, colour, odour, toxin, bacteria from the water from the source water is not guaranteed to produce pure water.
First of all, when processing a 1500 litres water filter line, we have to choose good quality groundwater. After that, we have to go through a few stages to get pure water for users.
Stage 1: Eliminate Fe, Mn.
Stage 2: Soften water and demineralize.
Phase 3: Raw filter and colour reduction, deodorizing.
Stage 4: Reverse osmosis filtration.
Water quality after filtering through a 1500 litre water filter line meets the standards of bottled and bottled water prescribed by the Ministry of Health (QCVN 6: 01: 2010 / BYT standard).
Filter capacity of 1500 litres/hour ensures stable water and sufficient supply to the market.
Automatic operation system, high stability, automatic flushing periodically.
Use a super-durable composite filter column, resistant to the sun and rain, the shelf life of up to 20 years.
Using specialized high-tech filter materials, thoroughly handling heavy metals such as iron, manganese, calcium, magnesium, arsenic, ... internal filter, deodorizing, softening soft water 5 times more effectively, durable life 10 times more than conventional materials.
The system uses imported pumps from Italy equipped with water pressure gauges, making it easy for Mr Khoa to check the stability of the system.
VAQGF100 filling machine accompanied with VACA1500 water filtration system
VAQGF100 automatic bottle filling machine is one of the specialized equipment used for pure water filling and filling. Products are manufactured according to the most modern filling technology of the United States.
With 3 stages of automatic bottle washing, bottle filling and vortex bottle automatic filling. With these 3 stages, businesses will save a lot of production costs, but their productivity will increase many times compared to the conventional filling machine.
If you need to install a 1500 litre water bottle bottling line, contact Viet An at 0949 414141. Viet An is always ready to serve the needs of all customers.