Export contract of IVA7T ice machine and VACA1000 water filtration line to Mr Danh in Tay Ninh
Viet An is proud to offer IVA 7T ice making machine and VACA1000 water filtration line cheapest in Vietnam with the quality that is unmatched. IVA 7T is a lot of people interested and favored by its convenience, economy and safety.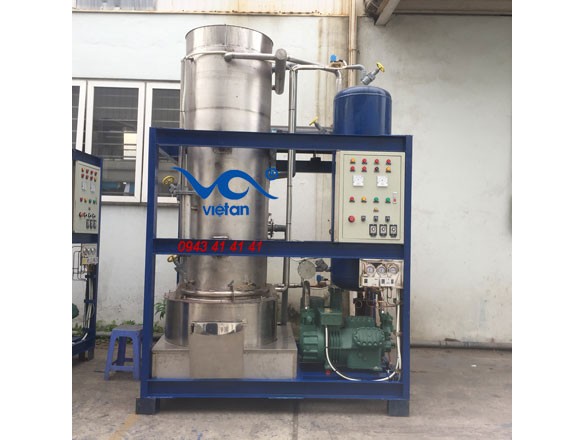 IVA 7T ice cube making machine for Mr Danh in Tay Ninh
When the need to use ice for refreshments on hot days is high, it is also the time when the rock does not meet the standards of hygiene and safety, the food is discussed. The consequence of using dirty ice is that the health of people goes down, that is, many people with minor gastrointestinal diseases buy medicine for self-treatment and have to go to a hospital for treatment.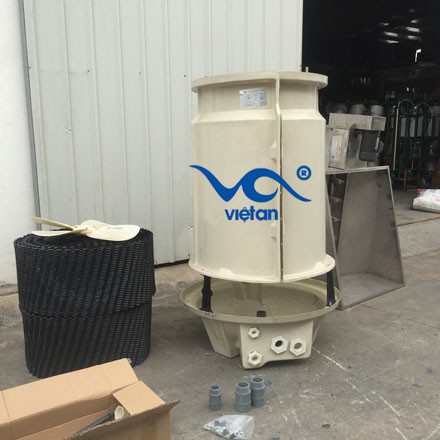 Some components come with ice machine for Mr. Danh
"There has been a lot of information that instructs people to use clean, ice has a clear origin, but sometimes for personal gain people ignore those recommendations. Perhaps ice business afraid to invest heavily in buying machines to make and produce clean ice imported abroad because their prices are quite high "- Mr Danh shared. But now that problem no longer makes people and Mr Danh worry anymore because they have found a supplier of reputable IVA 7T ice making machine - the quality of clean ice is always 100% pure.
The special thing in Tay Ninh, as a result, Mr Danh decide to buy IVA 7T ice making machine and VACA1000 water filtration line.
The climate in Tay Ninh is relatively mild in the form of tropical monsoon climate, divided into two distinct seasons, the rainy and dry seasons. The dry season usually lasts from December last year to April next year, the rainy season starts from May to November. The temperature is relatively stable, with an annual average temperature of 26 - 27 ° C, a record low. is 12 ° C and record high is 40 ° C and lowest is 17 ° C in December to February next year the highest is 36 ° C lasting from April to May with little change.
Being a key economic region in the South with many industrial factories on the rise. Therefore, Tay Ninh is a potential development place for pure ice with the choice of Mr IVA 7T ice making machine which is perfectly suitable for the conditions here.
The advantages of Viet An IVA 7T ice machine with a capacity of 7 tons of ice per day, assembled according to the most rigorous ISO 9001-2015 standard today, not only that, but it also saves energy 40% of these points attracted Mr Danh to invest and choose Viet An to sign 034 IVA7T contract.
The advantages of IVA 7T ice making machine and VACA1000 water filter line give Mr Danh
IVA7t Ice Machine:
IVA 7T ice cube machine is a large capacity ice cube maker - 7 tons of ice cubes per day. The machine can produce ice products that are both fast and clean, but also hygienic and safe.
The pure ice making machine is manufactured and manufactured by Viet An Company to ensure good quality and with clear origin of components.
Satisfying the required quality criteria such as 40 criteria for heavy metals, ice products reach 22 criteria and including up to 6 criteria for bacteria and microorganisms. You can be completely assured of the quality as well as consulting services, care, warranty or maintenance of machinery during the purchase to purchase process.
Components using 304 stainless steel should extend the life of the machine, at least 20 years and not subject to oxidation or rust. Therefore it is suitable for use in severe weather in Vietnam.
IVA 7T ice cube making machine uses R22 / R404A refrigerant imported directly to ensure the safety of users' health. Refrigeration method of international standards should be safe for finished ice products to be used in daily living and eating.
Thanks to a good silencer system, IVA7T Viet An ice making machine has small noise, less affected by people around.
The automatic electrical system helps the machine, automatically disconnects when something goes wrong or adjusts the time so that it can make ice of different widths and operate the machine easily and simply.
VACA1000 water filtration line
Smart water filter
The process of filtration and water treatment takes place completely automatically with an intelligent control panel that automatically shuts off when something goes wrong. Automatic valve system, self-adjusting flushing filter column to ensure the stability of sweetness of the water. The finished water can be drunk directly without any additional steps. Water filtration capacity as high as 1000 liters of pure water per hour
VACA1000 pure water production line using RO water purification technology can filter many types of water from well water, underground water, tap water, pond water ... into pure water.
Quality of ISO 9001: 2015
VACA1000 water filtration line is manufactured in the United States. The process of water filtration is a closed cycle, automatic and the quality of the finished water meets the standards of 6-1-2010 / BYT of the Ministry of Health and the FDA standard of the US.
The most reasonable price
Viet An is supplying a 1000 liter / h VACA water filtration line to the market at a price of 109 million VND. Products are exclusively distributed under the brand USApec, VA in Vietnam so that when you buy products directly in Viet An will enjoy a discount of 10-15% lower than the purchase of products in other units.
Easy to transport and install
Designed with a modern, compact industrial design, even though it is an industrial water filter, the volume of the VACA1000 water filtration line is not too heavy so it is easy to transport. Besides, VACA1000 has a compact design so it does not take up a lot of installation area.
VACA1000 water purifier products use automatic valve composite filter column, so it's easy to clean and preserve.
Energy saving
As a product manufactured in the US with the application of maximum energy-saving technology, when owning a VACA1000 water filter product, you can save up to 40% of the electricity consumption costs compared to other water-purifying products using old technologies.
With the outstanding advantages and the perfect combination of IVA 7T ice making machine and water purifier line VACA 1000 - 1000 liters of water / h, Mr Danh will surely create pure ice products that no other unit can create. Help him completely can compete with other units in the market.