Export for 8-tons ice making machine and 1000 litres water filtration line in Bac Giang
Today the demand using ice cubes making machine  8-ton and water filtration lines 1000-litres is increasing. Pure ice cubes, pure clean water is used in daily life in restaurants, cafes, schools, ... 8-ton ice cubes production machines - IVA8T and 1000-litres water filtration lines were born to suit the Vietnamese market due to Viet An Manufacturing and Assembling is the result of continuous improvement and foreign technology exchange cooperation.
 January 30, 2019. Viet An General Trading Joint Stock Company has exported IVA8T ice making machine and VAIA1000 ice machine to Mr Dung in Bac Giang according to Contract No 008/2019.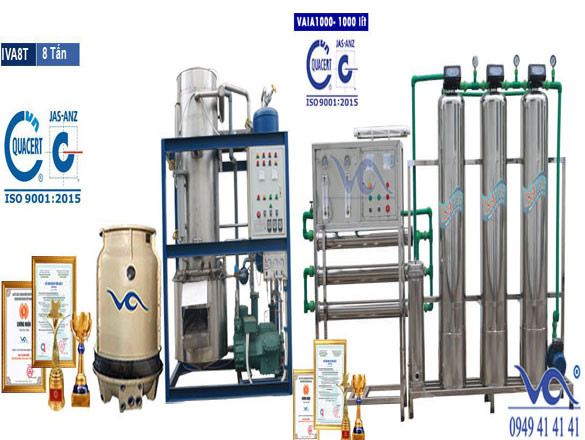 Export for Contract No. 008 iva8t and VAIA1000 to Mr. Dung
Why did Mr Dung choose ice making machine 8-ton  of Viet An
IVA8T ice making machine of Viet An is more quality than other ice making machines:
IVA8T stainless steel ice making machine has a fully closed and automatic operation mechanism, during the ice making process, the machine does not need any human impact. Moreover, the machine is equipped with the most advanced and intelligent water filtration system to remove all impurities and bacteria from the ice making water source, so the quality of commercial stone always meets pure standards and ensures security full hygiene.
The components of the pipe, mortar and thermos flask of the ice making machine are made of high-quality stainless steel. It can be understood that Viet An ice making machine is extremely durable and has a life expectancy of at least 20 years. Thanks to stainless steel material, the machine is not corroded by oxidation, adapted to many types of climate from temperate to tropical in Vietnam. Thanks to this structure, the cleaning of an ice making machine which is extremely simple to help ensure food safety and hygiene.
IVA8T export 8 tons of stainless steel ice making machine safe, clean and hygienic. With air cooling method, using R22 solvent imported from India to meet international standards to ensure safety for human health.
Especially thanks to the application of the latest advanced energy-saving technology of the US, IVA8T Viet An ice cube machine can save maximum power compared to other types of industrial ice making machines which are widely sold in the market.
Compact size but outstanding ice-making capacity. So Mr. Dung can be assured that the device does not waste the installation area.
3 Benefits of VAIA1000 water filtration line 1000 litres/ h
Water can be drunk directly
Application of RO water filter membrane with small size filter eye 0.0001 microns so the line will eliminate up to 99.9% of heavy metals, impurities, bacteria, toxins and water. Give you the filtered water that you can drink directly without adding another filtering method. VAIA1000 filter line also has the ability to add the sweetness of water, supplementing micro mineral to increase benefits for users. This has created the advantage of this 1000 litres pure water filter line compared to other common water purification products on the market.
Help businesses create trust with customers
1000 litres water filtration line with water filtration capacity is both fast and standard. Water should be filtered and produced bottled, PET bottled and marketed water is much higher than other units' water, so your customers will trust our product. providing more and sticking to our product is necessary. In addition, the water purification process of the VAIA1000 filter system takes place completely automatically, closed, quickly every hour can filter 1000 litres of pure water from different water sources. VAIA1000 is manufactured according to the technology of maximum electricity saving, maximizing the saving of fuel sources so that when combined with filling machine, the cost to produce a 20L pure water bottle of Mr Dung's unit will be low more than manufacturing facilities that use water filtration lines that apply conventional water purification technologies.
Water filter line 1000L works stably, closed cycle water filter with automatic valve system so there is no need for workers to adjust and filter the filter column and monitor the water filtration process such as water filtration lines using valves manual. The taste of the outlet water is always stable, ensuring the standard.
The combination of ice making machine, water filter line helps output ice and pure drinking water 100% to ensure the standard of "food hygiene and safety" of the Ministry of Health.
With a team of skilled technicians, Viet An is committed to bringing Mr Dung the best product and will transfer the whole technology to him when he has finished installing the machines.