Export ice making machine and water filtration line in Cham-Pa-Sac - Laos
Recently, Mr Boualapha had the opportunity to visit Vietnam and Viet An factory in Quang Minh Industrial Zone - Me Linh - Hanoi to learn and buy IVA 30T ice cube making machine and 5000L / h raw water filter.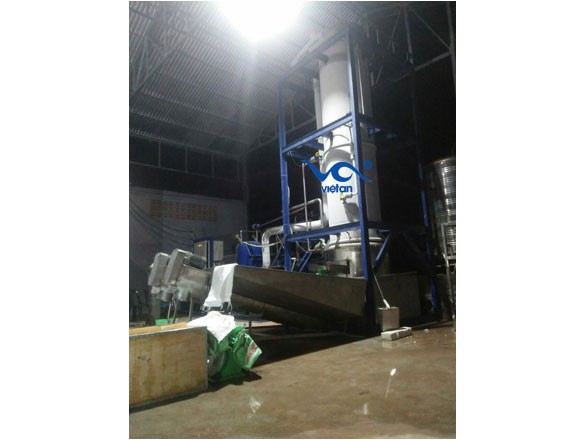 Viet An General Trading Joint Stock Company with branches from North to South in Hanoi, Da Nang, Buon Ma Thuot, and Ho Chi Minh. We have a team of professional engineers with many years of experience in the field of import-manufacturing lines of pure ice machines, water filtration lines, filling machines, bottle blowing machines ... etc.
Prestige - quality is the reason Mr Boualapha chooses to sign an ice-making machine and a water filtration line with Viet An
If a unit does not put credibility first, it will never last long, which is why Viet An with 20 years of development is still well received and trusted by more and more customers. When signing the contract for the first time, they come back when they choose to buy the next product in Viet An and not any other units.
Not only trusted in the country but also echoed in Southeast Asia countries when Viet An is one of the 10 strongest brands in ASEAN in its business sector with strong financial potential and integration deep into foreign markets.
Cham - Pa - Sac with the provincial economy mainly relies on agricultural products, especially coffee, tea and rattan production. This is one of the most important coffee producing regions of Laos along with the provinces of Salavan and Sekong. Pakse is the main trade and tourism route linking Thailand, Cambodia and Vietnam. Because of seeing the strong potential of the locality, Mr Boualapha decided to come to Viet An and sign a contract for MĐ2018LAO 274 IVA30T and a raw filtration line of 5,000L / h.
The outstanding advantages of IVA 30T ice making machine and 5000L / h filtration line
IVA 30T ice cube making machine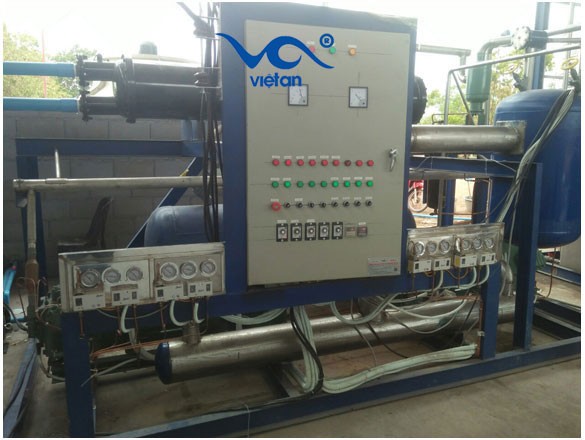 The electrical panel of the IVA 30T ice cube machine is easy to adjust
The ice produced by IVA 30T ice making machine is pure, good quality ice, 4 times longer soluble than poor-quality ice and do not leave cloudy when dissolved. The ice is completely pure, because it is fully automatic, closed, without the intervention of human hands, so you can be assured of the quality of the ice.
Power saving is a common trend in industrial equipment production. The economical use of electricity not only benefits investors in the long term, but also helps to increase the life of the equipment, contributing to improving the national benefits. Understanding that Viet An has applied modern technology and created a new generation of ice machines including IVA 30T-30 tons, which saves power 45% more than the old technology ice making machine
Compact design, modern, so it takes no installation space and is suitable for many different uses. The machine is built with Italian technology with components and accessories imported from many countries around the world.
Raw filtration line 5000L / h
This treatment system works well to remove odours, remove turbidity, taste, color, or heavy metals in water, microorganisms, microorganisms ... help balance pH. Even the Empire crude filtration system is also very effective in filtering and removing harmful substances in the water such as detergents, radioactive substances, or even carcinogenic toxins, affecting human health.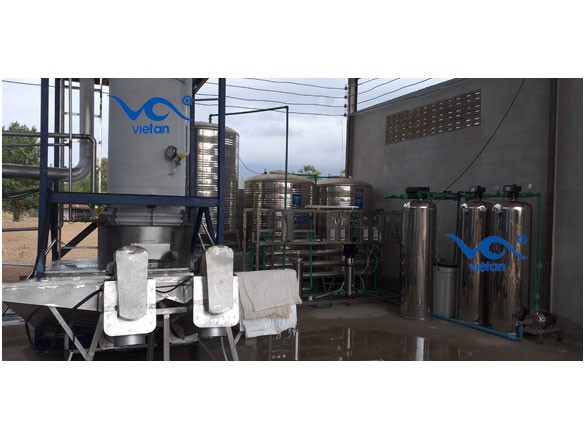 Quality of outlet water is up to the standards, tested by a reputable agency. Bringing users practical benefits to protect health and prevent disease
The body and casing are made of high quality 304 stainless steel with anti-corrosion, anti-oxidation to help the product always shiny, durable over time, easy to clean and clean.
The device operates smoothly, does not make big noises due to the best insulation and noise protection systems available today for the best heat transfer efficiency and helps extend the life of the filtration line to the maximum.
Automatic valve system switches high-quality water flow, the intelligent control panel will limit energy consumption compared to other types of ice machines on the market.
The process of installing an ice making machine and water filtration line for Mr Boualapha
Mr Boualapha will be consulted carefully by Viet An products when he plans to install capacity
When choosing the appropriate capacity, Viet An will sign a contract with Mr. Boualapha, then we will send a technician to his place to survey the installation site, advise him about The electricity and water you need to prepare in advance.
In order to facilitate the installation of IVA 30T ice machine, Boualapha needs to prepare the following:
Boualapha water inlet and finished tanks should be prepared in advance to the water pipes to the location of the ice machine
Supply 03 phases (380V) power to the machine,
Water sources meeting the living standards for the production of pure ice cubes as prescribed by the Ministry of Health as well as the means of conveying the above sources are always stable in accordance with the initial conditions at the foot of the works to create conditions in during installation and operation of the machine.
Mr Boualapha's construction-related parts should be done on their own, such as:
+ Workshop with the ice machine system
+ Place for storing water tanks
+ Water filter installation location
+ Cooling tower location
+ Location of cold storage.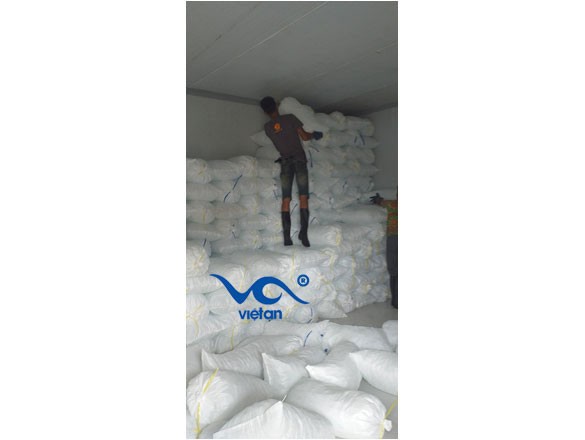 Thank to have had many years of experience in producing and developing ice cubes, Mr Boualapha has been very firm in the market and efficient business methods, this is also the third time he has signed an ice machine contract with Viet An. Hopefully, Mr Boualapha will further develop and hope to have more opportunities to cooperate with him. Thank you for choosing IVA 30T ice cube making machine and Viet An 5000L raw filtration line!