Export ice making machine in Binh Duong
Inox VA10T ice making machine is a perfect solution to meet the needs of using pure ice cubes that are storming on the market today. It is difficult to find any modern equipment with advantages and stable productivity, and cost savings as Viet An brand ice making machine. With superior features, superior in form as well as technology, VA10T has really conquered even the most fastidious customer.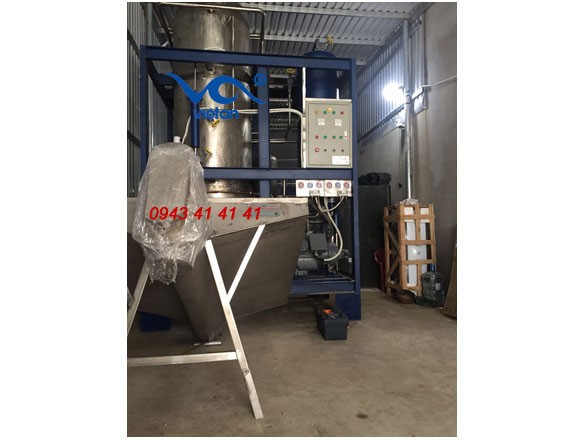 Ice making machine iNox VA10T installed for Mr Nguyen Trong Lam - Binh Duong
As one of the customers who require high capacity and quality, Mr. Nguyen Trong Lam has decided to cooperate with Viet An and sign an iNox VA10T ice machine contract - MĐ2019BD 059 VA10T to produce and meet pure ice in Di An - Binh Duong.
The reason Mr Lam chose the inox VA10T ice cube making machine
Ice making speed is fast, the price is cheap: Compared to having to spend a lot of costs to buy external ice cubes without quality assurance, the choice of inox VA10T ice cube making machine is perfectly reasonable. Every day, the machine produces an average output of up to 10000kg / 24h and ensures that ice always reaches 100% purity.
High durability, beautiful design: The engine part of iNox VA10T ice cube machine is taken care of more carefully than other ice making machines with the equivalent output of other brands. The device is manufactured with extremely good stainless steel outer shell, together with world-class components.
Making ice fully automatic, closed-cycle: Thanks to the process from receiving water into the machine, making ice, until the production of the first batch of ice until full storage, all are done on a closed scale. After just one press of the start button, the ice making process will be started, without any hassles or multiple controls. Even the control panel is equipped with additional LEDs to notify users of the internal process of the machine as well as error alerts so that technical staff can promptly repair.
Strong cooling capacity and no noise: With an output of up to 10000kg per day, you certainly believe in the cooling power of the iNox VA10T ice cube machine. Besides, thanks to the condensing system cooled by both wind and water, the machine reduces the noise much better than those using air-only cooling.
Filtered and sterilized water: iNox VA10T ice making machine uses imported advanced filter to ensure you get pure quality clean ice.
Power saving: According to the manufacturer's empirical studies, this device has the power to save up to 30%. This is certainly a great indicator that ice maker iNox VA10T can bring to users.
See more: Pure water filtration system
Specifications of inox VA10T ice making machine
Model: iNox VA10T
Standard: ISO9001-2015
Compressor: Japan / USA
Material: iNox 304
Size: 2200x1600x4500 mm
Weight: 2620kg
Productivity: 1000kg
Power consumption: 2F5
Size of ice cubes: 34x40 / 38x45mm
Refrigerant: R22 / R404A
Using voltage: 3 phase / 380V / 50Hz
Durability: 15 years
Cooling type: Cooling water wind
Instructions for using iNox VA10T ice cube making machine
With advanced modern features, iNox VA10T ice making machine is very simple to operate, with a compact control panel including start button, rock size adjustment button and signal light system to help you easily. monitor the working status of the machine.
Just connect the pipes to a stable source of water, you only need to press the start button and wait 20 to 30 minutes for the first batch of ice cubes. During the process of the machine does not need any human action, it is very convenient and safe, but it saves a lot of time and labor.
The machine has a lifespan of up to 15 years and does not require much effort, costs for major maintenance and repair. Material is very suitable for the climatic conditions of our country.
Not only high productivity but also save many operating costs. If you have any further questions, please contact our hotline for detailed instructions.
Viet An's incentives for Mr Lam when buying an inox VA10T ice machine
For inox VA10T ice making machine when Mr Nguyen Trong Lam chooses this machine, Viet An will advise on installing electricity and water: 3-phase electricity, water filtration system, standards, operating procedures of machines.
Mr. Lam can exchange products, if within 1 month - the device has an error and the problem is from the manufacturer.
Commitment to all machinery components imported from the most advanced countries, assembled according to the most rigorous ISO 9001-2015 standard today.
In addition, in the process of using the machine when the machine fails or the incident, Mr Lam contact our switchboard 1900 6013 we will send technicians to his factory for repair.
With many attractive gifts, worth tens of millions of VND and 1-month warranty and long-term maintenance, the enthusiastic consulting staff will surely make you satisfied when coming to us.
Thank you for choosing and trusting Viet An to cooperate. With this inox VA10T ice cube making machine, your business will surely grow stronger. Any questions about how to preserve, mode of operation
Please contact us via phone number: 0949 41 41 41 for iNox VA10T ice cube making machine for advice and support.