Export ice making machine in Vinh Phuc
Viet An General Trading Joint Stock Company specializes in producing top-quality 2-ton IVA2T ice cube making machines in Vietnam with new technology to create pure, high quality, clean and energy-saving ice, ice making time. Recently, Ms Nguyen Thi Lien Huong signed a contract to buy IVA2T ice-making machine with Viet An under the Contract Đ2019VP 064 at Vinh Tuong - Vinh Phuc.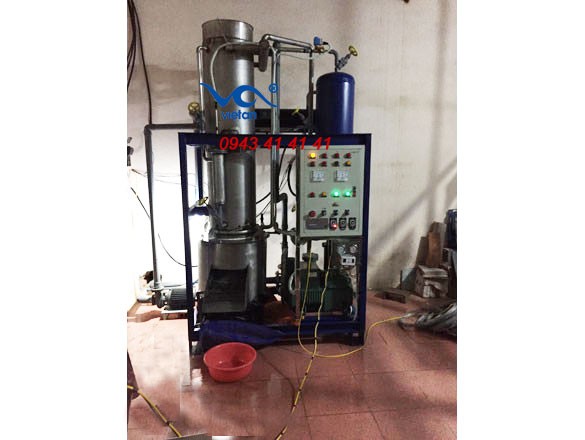 IVA2T ice cube machine installed in Vinh Phuc
At present, the demand for using pure ice cubes is increasing, the quantity of ice cubes produced is not enough to supply the market. Because of the great demand, because of running after the profit, many ice making facilities have used water sources and equipment which is not guaranteed to produce ice. Therefore, many units have a need to use large ice such as stores selling fresh seafood, supermarkets, restaurants, hotels, bars, cafes, beverage shops or households, etc. Making pure ice to be able to take the initiative in the source of clean ice of quality assurance and save a lot of costs compared to buying ice outside. Therefore, Ms Huong decided to open an ice cube manufacturing facility in Vinh Phuc.
Selecting IVA2T ice cube machine to solve dirty ice problem in Vinh Phuc
Viet An is considered a leading company in importing, supplying and manufacturing all kinds of the pure ice making machine in Vinh Phuc with the cost of less than VND 200 / kg of ice produced. It can be said that, with a modern, safe and efficient production process, Viet An's ice cube making machine helps Ms Huong's ice unit save significant expenses as well as provide guaranteed ice cubes most quality.
In fact, in the current market, it is not difficult for us to encounter restaurants, ... using ice bags of unknown origins and not hygienic and safe. In particular, precisely because the cost to spend for each bag of ice weighing a kilogram of weight is less than 2000 VND, establishments are not afraid of granting and using poor quality ice cubes for consumers. This, though brings immediate benefits such as timely settlement, quite quickly with the needs of ice cubes users in hot weather, as well as saving immediate profits for businesses. But in the long run, the production of such dirty ice cubes undoubtedly affects the reputation of the business, seriously affecting the health of users.
With Viet An's IVA 2T ice making machine, Ms Huong can be fully competitive in terms of guaranteed quality and the cost of products is also minimized.
In order to make IVA 2T ice cube machine work effectively, customers can combine with RO or Nano water filtration lines to make 100% pure ice.
The reason why Ms Huong chose the ice making machine Viet An
Viet An 2 ton ice cube making machine has a 12-month warranty and lifetime maintenance of products with nationwide utility warehouse system, professional customer service.
- Time to make ice super fast: Only from 35 to 45 minutes for 1 batch of pure clean ice.
- Diversity with a compact design suitable more space, easy to use, convenient. The quality of pure clean ice meets the standards of the Ministry of Health.
- Components imported from Europe with clear certification stamps complying with ISO 9001: 2015 and CE Marking.
- Smart operation mechanism, the process of the device is completely closed, so it limits dust and disease-causing bacteria to ensure user health.
- IVA 2T ice cube machine follows the latest technology in 2018 to save maximum power
- The machine for making pure ice meets QCVN 10: 2011 / BYT standards for ice water to be used directly
- The self-contained mechanism, without human interaction, runs completely automatically with just one on/off button.
- The whole system under high pressure is made of iNox to ensure a life of over 15 years
- Delicate design and neat makes the machine installation simple and convenient.
- Viet An's customer service is the best with a branch system from the North to the South, a professional staff 24/7
- All 100% new genuine components meet export standards to Asean countries
- Free 100% installation and transport fees nationwide (excluding the cost to the islands).
Ms Huong shared notes when choosing ice making machine
- Choose a reputable supplier - this is very important so come to Viet An to be able to experience the modern ice machine lines.
- There are good warranty and maintenance - warranty and maintenance regimes show the professionalism and reputation of the manufacturer.
- Choose the machine that suits your needs so you need to find an ice machine with many different designs for easy selection.
- Need to consider the amount of money you intend to invest to buy an ice making machine is how much then choose the appropriate product line.
Viet An is proud to be a supplier and distributor of various types of ice machines such as Mini ice making machine, ice machine 1 ton to 100 tons. Customers can refer to any type to feel appropriate to the needs of the business.
Thank Ms Huong for choosing Viet An. Hopefully, with the expanded ice cube business in Vinh Phuc Province, Huong will bring her foundation to further development. Viet An is looking forward to more opportunities to continue working with you.