Export of Contract number 244/2018 1500 litres water filtration line at Thanh Hoa
Demand for consultancy, installation of 1500 litres water filtration line has been increasing. Not only in big cities like Hanoi and Ho Chi Minh but it has spread to all provinces whole in the country. With the tourism potential in Thanh Hoa is an opportunity for Mr Quyen to invest in trading PET bottled and bottled pure water in Thanh Hoa to serve drinking water demand for the people here as well as tourists.
When he had the idea of ​​building a bottled and PET bottled water production facility, Mr Quyen began to study the market, learning about reputable product suppliers. Through the information on the internet as well as being introduced, he went to Viet An to be consulted on the system of water bottling lines, bottling with appropriate capacity. On November 26, 2019, Viet An Trade Joint Stock Company exported a 1500 litre water filter line - VACA 1500 to Mr Le Van Quyen under the contract No  244/2018.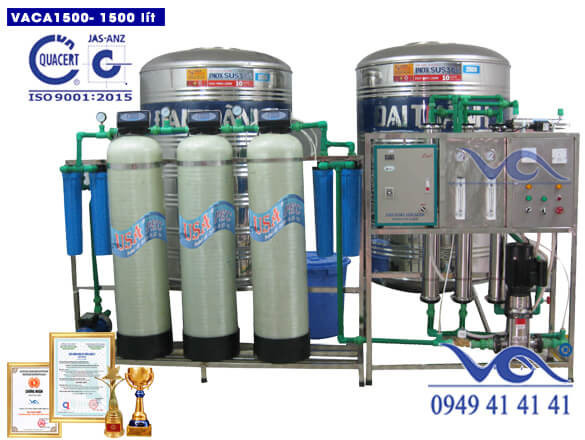 1500 litres water filter line exported under contract No. 244
Highlights from the 1500 litres water filter line The right to choose
RO water filtration system with a capacity of 1,500 L / h, which Mr Quyen selected by Viet An has outstanding points such as:
- Robust reverse osmosis RO technology can handle all input water sources even the most polluted, thoroughly eliminate dirt and harmful substances in the water to ensure the water after filtering can be taken directly, keep the sweetness and beneficial minerals in accordance with the needs of producing clean and safe drinking water for everyone.
- Parts are made of high-quality stainless steel 304 imported from countries with modern industry, leading the world such as the US, Japan, ... so the 1500 litres composite water filter line auto valve has heat resistance, good waterproofing, improves the life of the machine over 10 years, friendly to the environment.
- Intelligent automatic circuit system will automatically disconnect when the water source is lower than the standard, or when the tank is full of water to save power when there is a problem, the alarm will help users feel safe and comfortable when used. At the same time, the machine runs smoothly and without noise.
Operation mechanism of 1500 litres water filter line
- The source water is pumped into a tank of large enough size, then pumped by pump 1 to the filter column to keep the most impurities sized> 5 microphones.
- Next, the filtered water contains activated carbon to help deodorize, purify toxic heavy metals. At the same time, this filter also contains useful Cation to soften the water, protect the RO membrane to bring clean water and naturally sweet taste.
- The water is pumped No 2 by suction to the fine filtration device, allowing to completely remove suspended, dirt has large-size, reducing the turbidity of the water.
The combination of 1500 litres water filtration line with VAMCC150 and VAMCB60 semi-automatic filling to ensure the production of pure water, bottled and PET bottled up to the standards set by the Ministry of Health has just obtained the price Great value for business establishments.
Viet An semi-automatic filling table is a filling product manufactured by Viet An. The whole frame and roller of the machine are made of high quality 304 stainless steel material with aesthetics, safety, high durability. It is manufactured according to ISO 9001: 2015 standard and is capable of extracting bottles and flasks. The filling head system of semi-automatic filling machine manufactured by Viet An is imported directly from Italy with high durability.
There are many businesses now competing with Viet An, but what we have in other pure water production line companies is not:
Customer care policy:
- Provide delivery services in over 63 provinces and cities with the earliest time.
- We always have 24/7 staff ready to support and answer all questions of customers, just if you call we will give you the right solution.
- Regularly apply for many promotions. You just need to leave the information we will apply the promotion for customers.
- Can be returned if the product is not quality, defective by the manufacturer or improper.
- The company will promptly exchange and inform customers when there is a change in price during the implementation process.
- Professional staff, who are well-trained about 1500 liters of water filtration products as well as legal, will provide customers with quality products and thoughtful and friendly advice the best.
The reason why Mr. Quyen believes in using Viet An's products
Viet An has become a unit trusted by many customers not only because of quality but also by the caring customer care regime:
Customer care system is always ready to answer all your questions, support detailed advice if you need to install the company's water filtration line.
Free shipping across the entire territory of Vietnam and support free shipping to the border gates if you order the machine to neighbouring countries such as Laos, Cambodia, Thailand, ...
Support for 1-year warranty, maintenance for the next 14 years. The technical team supports 24/24 as soon as you encounter any damage or problems with the product, ensuring not affect the business operations of the customer.
The free installation process, product manual.
Viet An Company is increasingly improving prices as well as upgrading modern machines, warranty and maintenance quickly so you can rest assured when ordering at our company! Please contact Viet An today to own a 1500 litres water filter line, a perfect quality filling machine.