Export water filtration lines and filling tables integrate in Dak Nong
Recently after having time to learn and be thoroughly consulted from Viet An technician team, Mr Pham Van Cong decided to buy VAIA water filter line of 1000 liters / h, integrated filling table and date printer and signed a contract of 071/2019 with Viet An.
Mineral water filtration system of 1000 liters / h VAIA 1000
The climate of Dak Nong transitions between the two sub-regions of the Central Highlands and the Southeast, so the climate has a common characteristic of the tropical equatorial monsoon climate, but there is an increase of the terrain. characterized by a humid tropical highland climate, influenced by the hot, dry southwest monsoon. Climate is divided into 2 distinct seasons: rainy and dry seasons. With such a climate, this is a favorable condition for Mr Cong to develop bottled water and jar water.
The reason that Mr Cong chose to buy water filtration lines, integrated filling tables and date print machines in Viet An
With each line of machines supplied by Viet An to the market, they are subjected to rigorous quality testing and smooth operation. With each model they have outstanding advantages to bring customers the highest profit and quality.
Advantages of VAIA 1000 water filtration line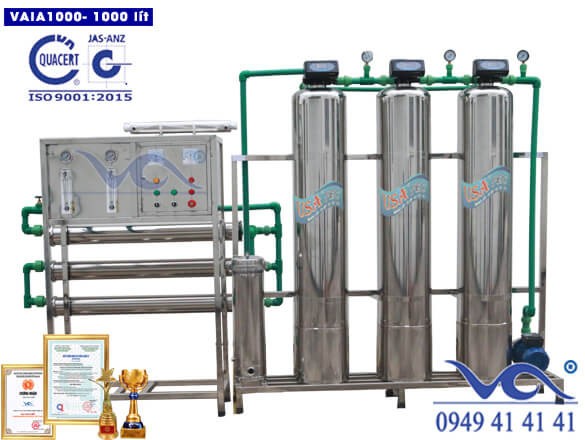 Applying the most advanced RO water purification technology in 2018, both purifying pure water to meet the 6-1-2010 / BYT standard of the Ministry of Health, the US FDA standard and ensuring the retention of minerals Essential substances for the body so water quality
Quick filtration of water, 1000 liters of pure water per hour with the fully closed, automatic filtration process. The whole water treatment process does not need human involvement.
Can handle a variety of dirty, non-standard water into pure water
Compact industrial design with no space, easy to transport and install
The system of genuine imported components, with high durability.
The system uses a high quality 304 stainless steel filter column, which is durable, easy to clean and absolutely safe.
The compact design makes it easy to transport and install
Application of maximum power saving technology should help save a lot of electricity consumption costs
The automatic valve system has the ability to self-adjust the filter column, self-cleaning filter column helps the filtration process take place automatically, saving labor costs.
Advantages of an integrated filling table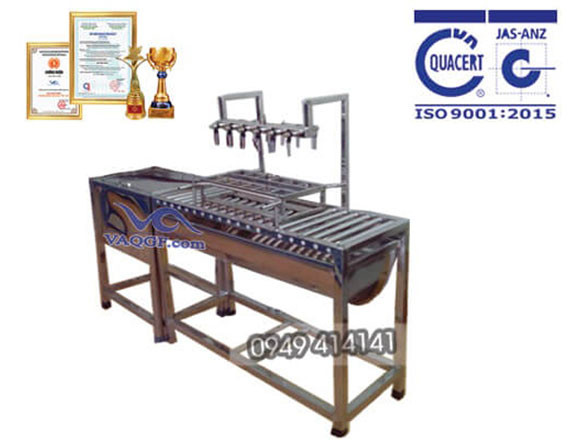 Semi-automatic filling machine
The device is made of inox 304 for durability up to 15 years, thanks to this material, the machine often rarely fails, malfunctions during use.
Although it is a semi-automatic machine, it has three functions: rinsing bottles/jars, filling and capping bottles.
The filling process ensures 100% safe and clean, the extracting solution is free of impurities and impurities. meeting the requirements of the Ministry of Health.
The machine adopts advanced manufacturing technology from the United States.
Advanced technology to save energy.
The machine is assembled according to ISO 9001-2015, the most stringent standard today.
Advantages of date printer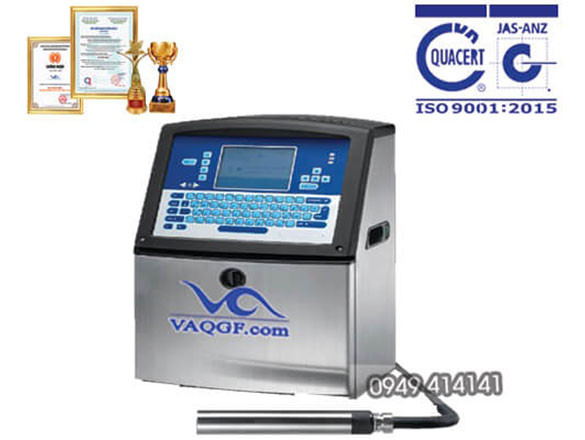 Date printer
The printer is available on a variety of materials
Print at a fast pace
Low investment in machines, suitable for businesses or individual units that produce food, beverages, pharmaceuticals, cosmetics ...
The display screen is clear, easy to control
The text is extremely sharp and clear
Durable machine, long use time, less damage
The smart ink bottle and the solvent system ensures the liquid in the bottle is used up
Display detailed warning on the screen: the operating status of the machine, the percentage of materials used, the number of products printed.
The machine operates smoothly, does not make noise, does not pollute
Installation policy and maintenance for Mr. Cong
When you choose to buy the 1000-litre VAIA 1000 water purifier line, Viet An's integrated filling table and date printer machine will enjoy a special maintenance warranty policy.
12 months warranty for customers to buy VAIA1000 water filtration line, integrated filling machine, date printer.
Long-term maintenance
Besides, Viet An also offers customers the golden package of free shipping and installation nationwide (except for islands).
Mr Cong will be consulted by Viet An about workshop layout and operation instruction until he is proficient.
With this system of water filtration line, integrated extractor and date printer machine, Mr Cong will soon create his own brand to bring the best pure drinking water to the society.
Over nearly 20 years of construction and growth, always striving to improve constantly to meet all the needs of our customers. Whether you are in any province of the country that needs to use industrial water filtration lines with full capacity, filling machine ... then please contact Viet An at 0949 414141 to be served in the best way.