Exporting 13000 litres of water filtration system for Mr May at Thai Binh
13000-liters water filter system - VAIA 13000 of Viet An is considered as one of the devices with 100% water purification capability, providing the purest water source, suitable for many purposes, needs to use different uses of consumers not only in Vietnam but also abroad.
Thai Binh is a coastal province in the Red River Delta in northern Vietnam. Water resources in Thai Binh are plentiful, with dense river density and huge surface water capacity. The amount of water from big rivers like Red River, Tra Ly River, Thai Binh River and rainwater is billions of m3. This is a favourable condition to serve the production and living activities of the people in the whole province. However, shallow aquifers all have an iron content exceeding the permissible standard. Most wells face the risk of organic pollution due to the residues of plants, or toxic ions such as NH4, NO2, P04, S, ...
Facing that situation, Mr May - Thai Binh decided to install a bottled and bottled water filter system to ensure clean and safe water for people as well as earn extra income for his family. On January 28, 2019, Viet An Trade Joint Stock Company exported 13000 litres of the water filtration system and accessories to Mr May according to the signed contract No. 925/2018.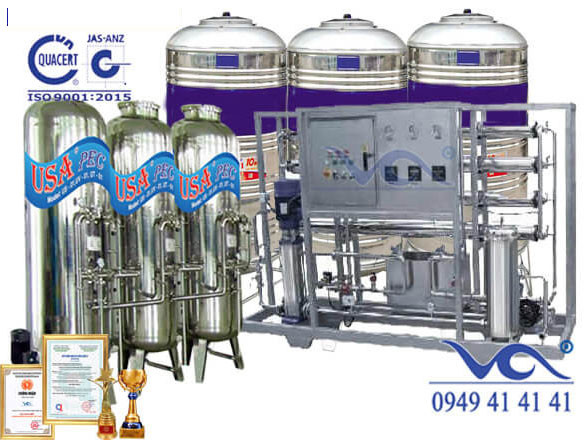 About the supplier of 13,000 litres of water filtration system
Mr May shared: "On the market today there are many types of water filtration lines, from many different brands, from popular to high-end, with diverse designs, the same quality is not fixed but I still chose to Viet An - this is a perfect choice for me as well as other business owners.
Viet An always put the interests of customers first, always focusing on product quality and service quality. Therefore, Viet An Company has received many noble awards: such as the Gold Medal of Vietnam High-Quality Goods in 2009, the Golden Cup of Vietnam High-Quality Products in 2009, Vietnam's leading brand in the year 2015, ...
With modern equipment, professional production management, the skilled technical team of Viet An company has been providing the market with high-quality products, guaranteed goods delivery progress, reasonable price, in order to meet all the different needs of domestic and foreign customers ".
What are the advantages of Viet An 13000 litres water filtration system?
VAIA 13000 production line is manufactured by Viet An, US technology application is completely automatic, closed, without human intervention, so the quality of water meets the criteria of the Ministry of Health.
Electricity saving is a common trend in manufacturing industrial equipment. The economical use of electricity not only benefits Mr May in the long term but also helps increase the life of the device, contributing to improving the national interest. The water filtration system of 13000 litres of Viet An saves maximum power consumption.
Compact and modern design, it does not take up installation space and is suitable for many different uses. Parts of components and accessories of VAIA 13000 line are imported from many countries around the world such as Netherlands, USA, UK, ...
With an extremely compact design, it does not take up a lot of product space and runs completely automatically. Thus, Mr May will save a lot of costs such as labour cost, saving time and not consuming energy compared to other non-genuine pure water filter lines.
Automatic control system, no labor cost.
Reverse osmosis RO membrane technology helps water to produce pure, odourless, not fishy dirty, safe and hygienic.
13000 litres water filtration system is made of 304 stainless steel anti-rust, easy to clean and clean.
The price is extremely reasonable compared to other companies today.
Installation process
+ Survey and design: After consulting, Viet An will send a technical department to Thai Binh to conduct field survey, advise on the location of installation of water filtration line so that it is most suitable. Instructing Mr May to calculate the cost of production to recover quickly, ... At the same time, give a detailed design for him.
+ Installation: When completing the above stages, we will carry out materials and equipment to the area and install water filtration lines in accordance with the agreement on the signed contract. The cost of installing and shipping is completely free for Mr May.
13000-liters water filtration system manufactured by Viet An Company can produce according to the capacity required by Mr May. With a team of skilled technicians, Viet An is committed to bringing him the best products and transferring the entire technology to him when handing over and installing in Thai Binh. If customers need to install ice making machine, water filter line, ... please contact us immediately.