Exporting 2000 liter / h water filtration line to Mr. Quyen in Gia Lai
VAIA 2000 - Viet An water filter line has been interested in buying and installing by many organizations and individuals in recent time. On June 10, 2019, Viet An Company proceeded to export water filtration lines under the contract of 132 2019 to Mr Quyen in Gia Lai.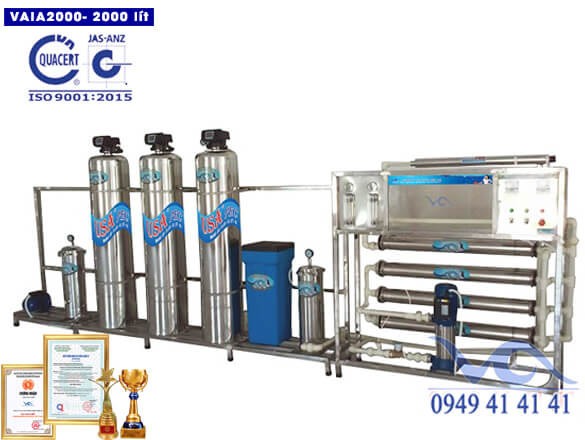 VAIA2000 water filtration line - Viet An
According to the results of the groundwater survey in Gia Lai province, up to 80% of the water sources have a pH that is many times higher than the permitted standard, in addition, in some water areas there are also High manganese content. If you use water containing these active substances for a long time, it will have a great impact on health, especially the nervous system, cardiovascular and some other diseases. According to statistics, although the water is polluted, only over 30% of households use tap water and the rest still use groundwater.
In order to have clean water to ensure the needs of their children, their families, ... the people of Quyen in Gia Lai equipped with VAIA2000 water filtration lines to ensure clean water source for drinking and living and business activities guaranteed.
Viet An water filtration line is one of the options that Gia Lai people can safely use because the quality and reputation of this brand have been affirmed by many households in 63 provinces. Not only does it provide clean water, but the water purification line can retain essential minerals that help the body stay healthy.
The difference of VAIA2000 pure water filtration line
The system of pure water filtration line with capacity of 2000 L / h that Viet An installed and operated for Mr Quyen includes: pretreatment system with crude filtration effect, RO system with pure filtration effect and microbiological system with bactericidal and anti-re-purifying effect of water, the system is manufactured, manufactured from high quality RO equipment and membranes imported from abroad.
 - This is a line with a large investment, modern technology and equipment due to not using chemicals, so the operating cost of the system is low, safe and environmentally friendly, the pure water filtration line capacity of 2000 L / h of Viet An has the ability to remove more than 99% of harmful impurities in the water, bringing purified water to meet the strict drinking water standards of the Vietnamese Ministry of Health issued.
- Viet An pure water filtration system using reverse osmosis technology capable of removing toxins, hemoglobin, metals (Mg2 +, Ca2 +, Cl-, ...) is abundant in water sources in Vietnam.
- The 2000 L / h water filtration line also uses a pump system imported from Italy to ensure the entire filtration line operates smoothly, low noise, high stability.
- Stainless steel filter column of VAIA 2000 filtration line is not corroded, resistant to saltwater, brackish water and absolutely safe for the process of producing bottled pure water and bottling.
- Viet An's industrial line uses Autoval imported from USApec to help the process of operating the system, cationic granulation, automatic full flushing, ensuring stable water quality.
- The system uses a capacitor with automatic shutoff circuit, protecting the pump upstream safety, safeguards the system when the power goes out, automatically disconnects the pump when full of water and automatically turns on the pump when the water runs out, thus helping the plant can save operating costs, save labor.
Accessories come with a 2000 liter water filter production line for Mr Quyen
VAMCB60 semi-automatic bottle filling machine
VAMCC150 semi-automatic bottle filling machine
rinse and remove BS-1 cap
dry machine
data printer machine
VATDS test pen.
See more: Viet An bottling and automatic filling machine
The reason Mr Quyen chose to buy VAIA2000 water filtration line of Viet An
Today, in the provinces of the Central Highlands in general and Gia Lai in particular, modern life is based on the development of science and technology, improved people's lives, and economic development but at the same time comes with pollution of the environment, air pollution and especially water pollution. That motivates people to choose the best for the body, choosing green foods, and safe, natural drinking water that is healthy and beautiful. To solve the most urgent problem in Gia Lai, Mr Quyen decided to sign a contract to install VAIA pure water filtration line of 2,000 L / h with Viet An General Trading Joint Stock Company ensure bottled water, bottled clean food safety standards for people in here.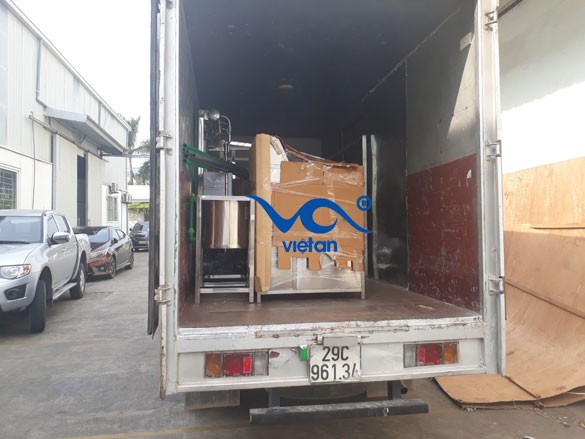 Water filtration line and accessories prepare for Mr Quyen
Viet An is a leading unit in the field of water treatment, purified water purification with RO technology, ... with nearly 20 years specializing in consulting and installing machines across provinces and cities nationwide. Therefore, Mr Quyen trusted and selected Viet An is the collaborative unit construction and installation of water purification lines for their business base establishment. Viet An Company is very proud to have him trust and choose to use our products. The water filtration line uses an automatic valve stainless steel filter column with a capacity of 2000 liters/hour to serve the bottled drinking water business in Gia Lai province.
+ The water filtration and water treatment lines supplied by Viet An to the market are all high quality, genuine goods, which are registered with exclusive trademarks.
+ The price of the water filter that Viet An offers is the cheapest on the market
+ Sales policy, warranty and maintenance services of Viet An offer the best in the market.
If you are in Gia Lai or in other provinces who wish to install industrial water filtration systems, please contact Viet An at 0949 414141 or visit the nearest Viet An branch for assistance.