Exporting 3-ton ice cube making machine to Mr. Thanh in Ho Chi Minh
Being considered as one of the prestigious companies, the leading brand in the field of manufacturing and importing products such as ice machine, water filtration line, filling machine, bottle blowing machine, bottle blowing machine .. Viet An is proud to bring customers the most advanced products. With thoughtful, dedicated and professional care, the best service will surely make you satisfied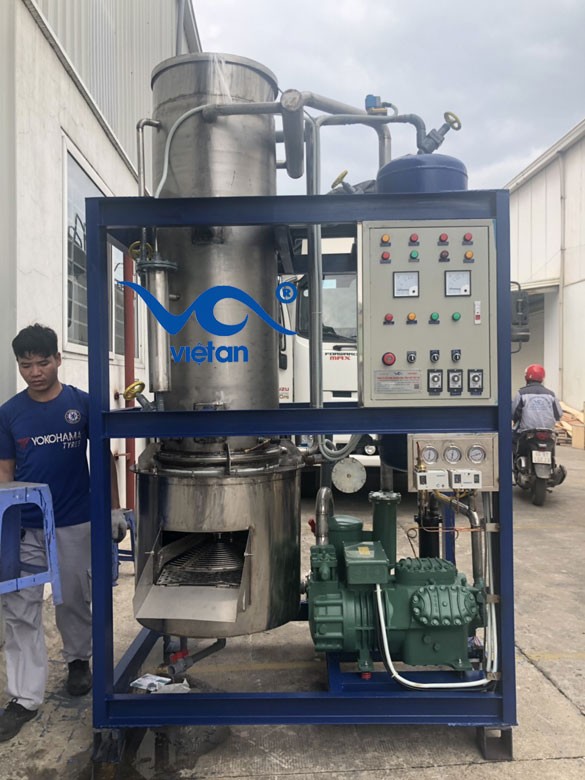 IVA3T ice cube machine - 3 tons exported to Mr Thanh
Recently, Mr Thanh signed the contract No 150/2019 to install IVA3T - 3 ton ice cube machine with Viet An Trade and Services Joint Stock Company to provide pure clean ice for his area.
Viet An 3-ton ice cube machine addresses the concern of dirty stone in Ho Chi Minh
Viet An Ice making machine has helped many restaurants and refreshments in Ho Chi Minh eliminate many great worries from the cost of investing in ice making machines, the cost of making ice cubes to proactively cleaning clean ice sources and solving situation of "sold out and price squeeze".
Using Viet An ice making machine, the business units can be completely assured by the production line standardized by US technology, meeting ISO 9001: 2015 standards, and structural components. The machine is carefully selected from countries with the world's leading industries such as the United States, Japan, and Korea ... with clear import certification labels, besides we also use The components are completely new (unlike some customers who reinstall the used components) so the durability of the ice machine can be up to 20 years.
Quick ice making speed, only from 40 minutes is 1 batch of clean ice, ready for use. Power-saving technology, reducing up to 60% of the cost compared to buying stone outside. The stone production process is completely closed. A coarse filter is built into the machine, helping to prevent impurities that are harmful to human health. The quality of the finished ice cubes from Viet An ice making machine has been certified clean, pure and quality standards - the Ministry of Health.
The process of consulting IVA 3T ice machine for Mr Thanh
Actual survey: After receiving the information, Viet An Company sent technical staff to Mr Thanh's house to survey the common ground such as water source, the installation location of ice cube making machine appropriately reasonable.
Advice and solutions: then the technical staff will advise, discuss with Mr Thanh to choose the machine capacity and installation location to suit the purpose of use, as well as aesthetics and most cost-effective.
Offering attractive promotions and promotions when he buys ice making machine, advises him on business license procedures as well as food safety certification, supports to design logos and stamps when he needs it.
The size of the ice he chooses
Choosing to buy IVA 3T ice cube making machine, he will be consulted by Viet An about the most suitable size and he offers a choice of 47x80 (mm), this is the large size suitable for drinking beer, ice tea, soft drink .... Mr. Thanh's choice is perfectly reasonable because Ho Chi Minh is a province with a hot season that prolongs high demand for ice, so ice cubes are a very popular item.
Currently, Viet An has 3 different ice sizes for customers to choose because each region will depending on the needs that choose the most suitable ice size:
- Type 1 size 44 x 47 mm suitable for drinking beer, soft drinks .... this type has the advantage of long-melting ice but has a slightly too large stone size sometimes causing much trouble.
- Type 2 size 34 x 38 mm is also suitable for drinking wine, ice tea .... With moderate size ice easy to use in drinks.
- Type 3, size 18 x 23 mm, is best suited for drinks such as coffee, juice, smoothies, etc., which brings fast cooling to the drink, although the melting speed is faster than the 3 types above.
The advantages of IVA3T ice making machine - 3 tons of Mr Thanh's choice
The electrical system for Viet An ice cube making machine is fully automatic programmed. Make sure the ice machine runs smoothly in one button. Automatically disconnect when something goes wrong. With an array of LED lights to accurately indicate the status of your device. Only by observing, Thanh can quickly know which machine is operating at what stage. At the same time, detect errors arising to take the initiative in operating and troubleshooting.
Cooling tower helps transfer excess heat of water to help cool quickly and save energy.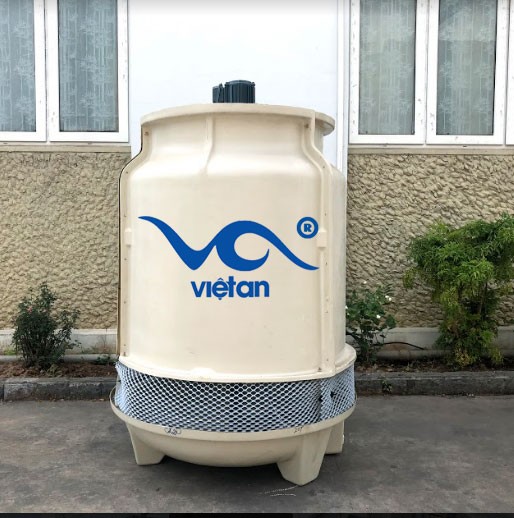 The throttle valve is imported from Japan to regulate the flow of water through the refrigerant. Therefore, increase the cooling speed, accelerate the time to produce finished ice.
The compressor used in Viet An's 3-ton ice making machine is 100% new. Specially ordered by Viet An for Viet An ice machine. Currently in Vietnam market, only IVA3T ice cube maker of Viet An has new compressor 100% - helping control cooling capacity more effectively.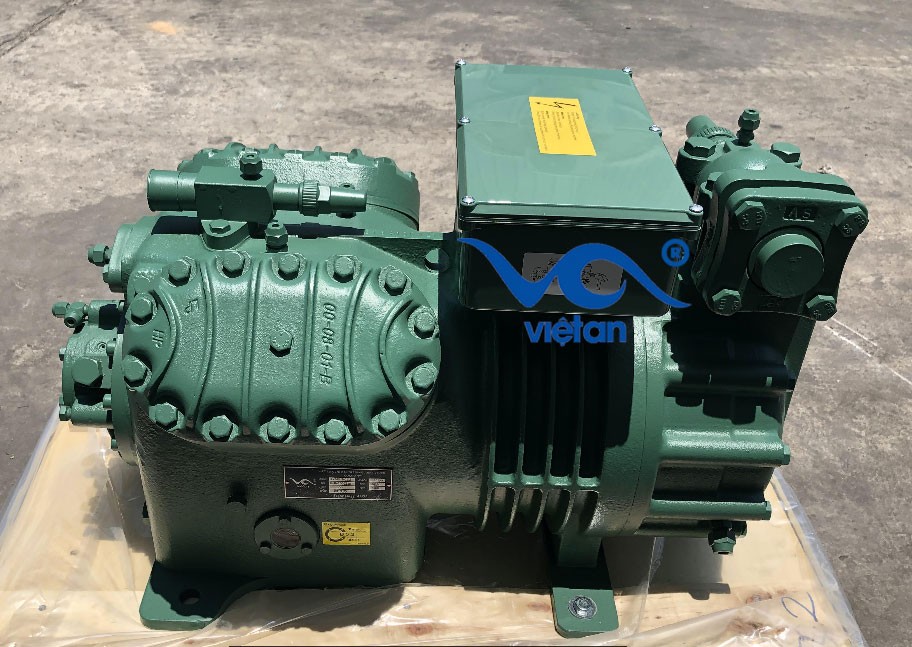 The compressor is 100% new
Machine frame made entirely of steel powder-coated with durable over time.
The system of bucket motor and stone cutter used is 100% new. Unlike the commercially available stone machines that use secondhand motor and old ice cutter. Controlled by gearbox motor is specially designed for the production of cylindrical ice or crushed ice by reversing the cutting motor and using switches to control this function. The ice cutting motor is designed to take on the heavy function of cutting ice in standard size.
Water pump made of 304 stainless steel is imported exclusively by Viet An. Only 3 tons of ice making machines of Viet An are using this iNox 304 pump system.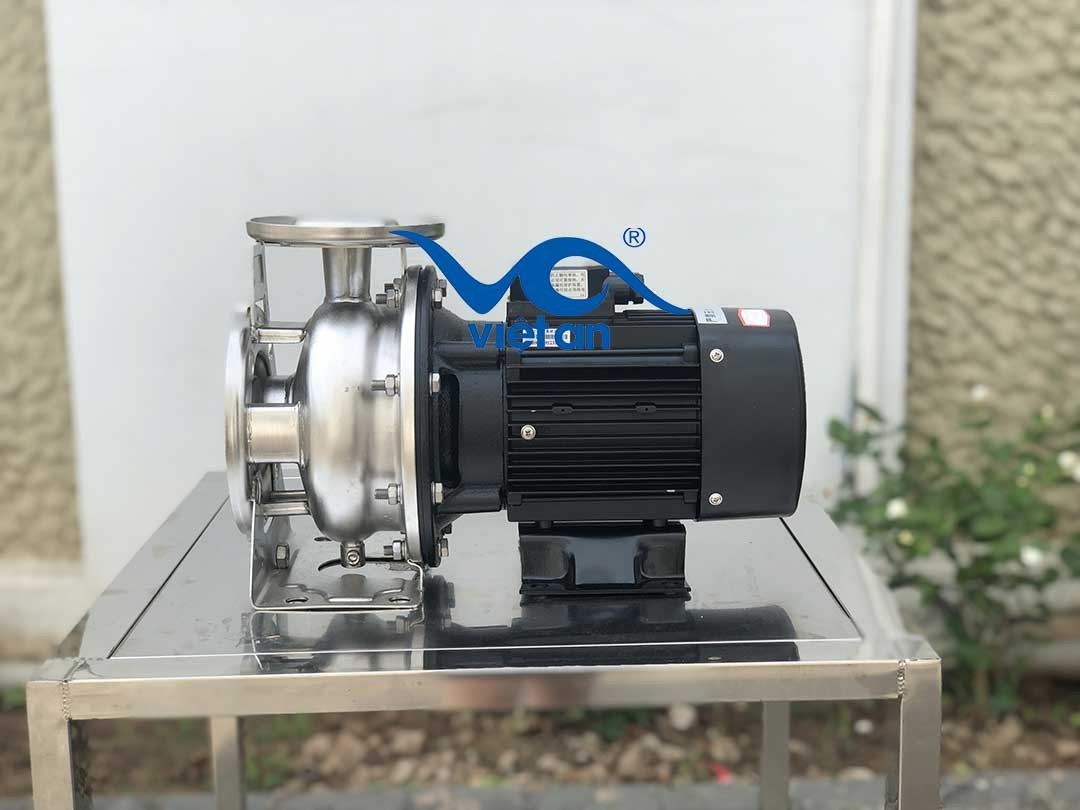 Unique fluid and gas separation system is applied in Viet An ice making machine. Viet An's air separation system has the ability to remove fluid and return it to the air way. Keep the compressor from being contaminated to avoid the risk of failure and save maximum power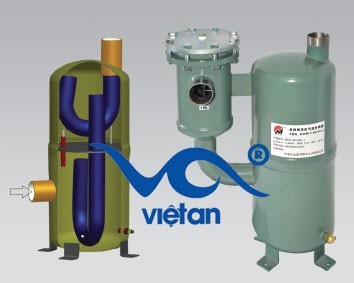 Liquid and Air separation system
With IVA3T model, Mr Thanh will quickly gain control of the ice market in Ho Chi Minh City because of the capacity, quality and durability of the machine, not only that, in short time, Mr Thanh will recover capital the investment and quick reply from IVA3T ice making machine.
In addition, when Mr Thanh buys IVA3T ice machine, he will enjoy many promotions, along with many attractive gifts, hoping his ice production facility will grow one day more and more. Thank you for choosing to trust and cooperate with Viet An.
The selection of IVA3T ice cube making machine products in Ho Chi Minh is the best, effective, quality, bringing high profits and saving costs for Mr Thanh. If you are in need of business investment in producing ice cubes, bottled drinking water or bottled water in Ho Chi Minh City, please contact at 0949.41.41.41 or at 40 Nguyen Anh Thu, Tan Chanh Hiep Ward, District 12, Ho Chi Minh City for advice and support!