Exporting 30-ton ice making machine to Mr. Tuan in Binh Duong
Produced and applied the most advanced European technology, the 30-ton ice machine is a quality-controlled product rated to ISO 9001: 2015- the most stringent standard today.
In the summer, the heat of the sun rises remarkably, the demand for using pure ice stone increases rapidly but also entails the purchasing power of ice machines in the provinces and cities taking place very vibrantly. In Vietnam in general and Binh Duong in particular, the production and business of ice cubes is quite new while the demand for ice cubes in this province is soaring.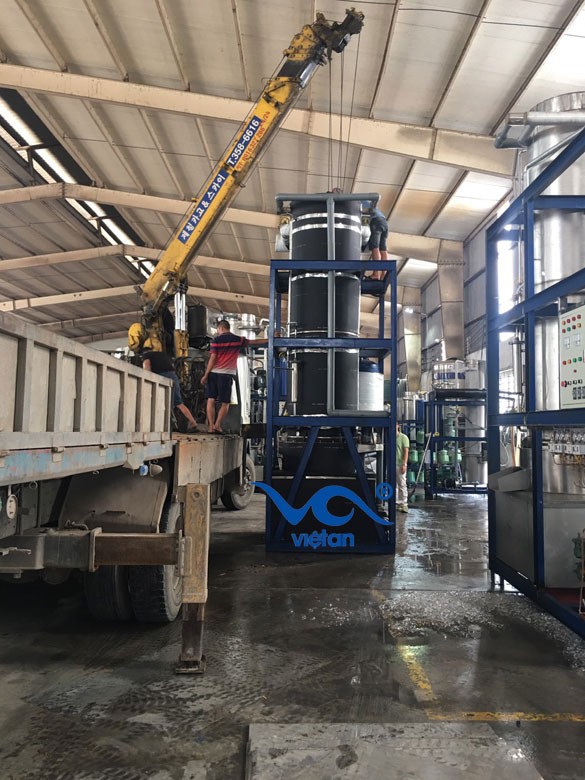 Ice machine made of 30 tons
On May 21, 2019, Viet An General Trading Joint Stock Company exported ice making machine IVA30T - 30 tons for Mr. Tuan according to the signed contract No 077/2019.
Advantages of Viet An 30 ton ice cube making machine
The whole machine is made from iNox 304 with durability up to 20 years
The product of Viet An 30-ton ice cube machine is the most assembled and quality-controlled product according to the most stringent international standard of ISO9001-2015 currently, exclusively registered with USApec brand No. 250970 at the Department of Intellectual Property in Vietnam.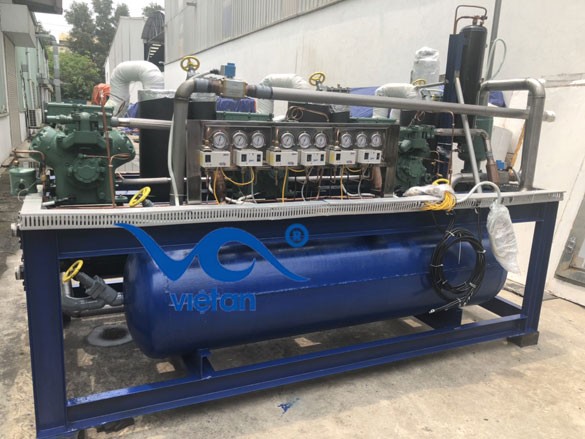 The machine manufactured at Viet An's factory in Quang Minh Industrial Zone - Me Linh - Hanoi, being distributed nationwide with branches in Hanoi - Ho Chi Minh City - Hue - Danang - Buon Ma Thuot and exported to Asean countries like Laos and Cambodia.
30 tons ice making machine is currently the best quality product in Vietnam with the best price compared to similar products on the market today.
The device is equipped with an easy-to-adjust electrical panel with clearly displayed indicator functions. Applying the latest US energy-saving technology saves up to 45% in energy consumption compared to other ice machines on the market. As a result, Mr Tuan's monthly ice production establishment can save hundreds of millions of dong.
The ice making process is completely closed, automatically so the finished ice of pure purity meets Vietnamese standards 6-1 / 2010 / BYT of the Ministry of Health on food hygiene and safety, up to FDA international standards of the United States.
The machine uses cooling methods according to international standards with R22 solvent imported directly from India, ensuring safety for human health thanks to the good quality of the finished ice.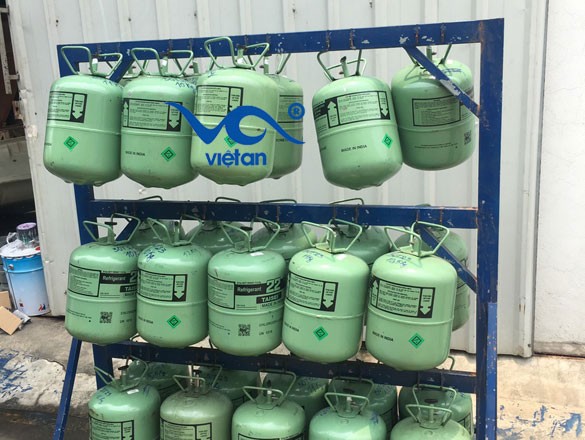 R22 Gas
Excellent silencer system so it does not pollute the noise with the surroundings
The machine has an automatic electrical system to help the machine operate the entire process of ice making, automatically disconnects when there is an electrical problem, automatically adjusts ice making time to have a satisfied hollow ice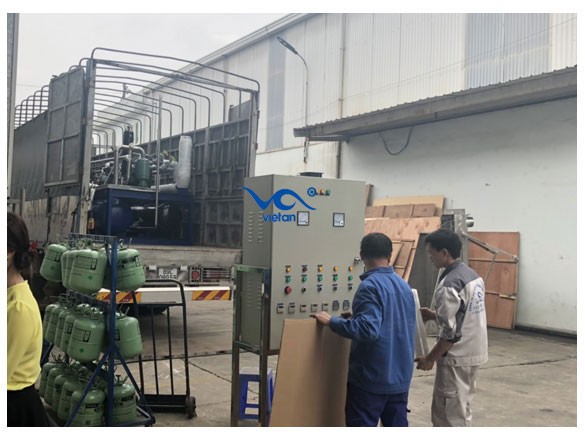 Electric Cabinet System
Customers can use sterilized water filtration system based on Nano technology or pure water filtration system based on RO technology to make ice cubes because both systems provide water quality that meets the direct drinking water standards of the Ministry of Health.
Structure of IVA30T ice machine - 30 tons that Mr Tuan chooses:
Condensers (100% imported goods, not processed goods. High strength and heat resistant copper pipe structure, much better than stainless steel processing)
The block valve line, using the type of valves imported from (Valve 22), is not a processing valve made in Vietnam as some other units often do.
The exhaust valve is fitted with a piston valve, not a regular valve line
Danfoss (Denmark) genuine solenoid valves have an expected size larger than the required flow, not a regular valve line
Shell ice mortar is 8mm thick, high-pressure, super-strength stainless steel mortar. Ice tube 1.5mm thick 100% imported casting pipe. Not mortars made of iron or stainless steel thinner, poor quality.
Compressors to ensure new, unused goods in Vietnam.
The gas used by Viet An is India's Type 1 Gas.
Before leaving the factory, all machines have to go through the testing process of the authorities to ensure the safety parameters and quality criteria - in order to give customers peace of mind when using Viet An products that have been tested. However, unlike other units do not have a product safety inspection.
Viet An Company has a team of environmental engineers who advise and control the input water for you, to give you the best ice products.
See more: Pure water filtration line
About 70C cold storage - comes with an ice cube maker for Mr Tuan
Cold storage is created by assembling insulation panels, using compressor assemblies, blower cooling fans and some other specialized components. As follows: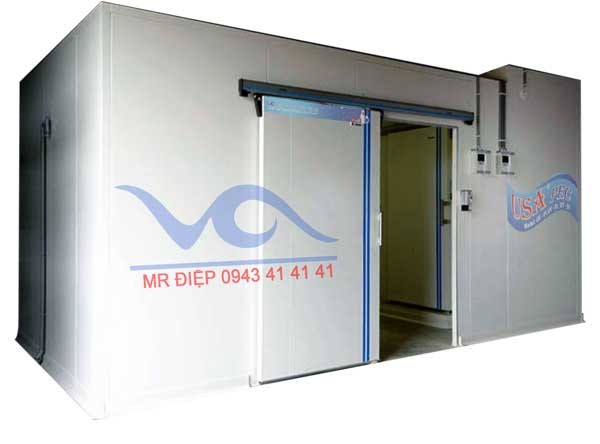 The panel insulation
This is a device with very good thermal insulation and sound insulation and is considered to be highly durable.
Designed with high aesthetic, easy to clean and maintain.
The panel is lightweight and environmentally friendly, resistant to many insects.
Panel of cold storage specialized for ice making machine easy to install and move.
The compressor used in refrigeration storage
Installed on solid concrete columns, avoid getting wet and run stably.
Machine running smoothly, no noise, no vibration to the surrounding environment.
All inspection, warranty, maintenance and dismantling of machines are easy.
The fan of cold storage specialized for ice making machines
The fan creates a fresh air, helps prevent smog, odors, prevents cold air loss, saves energy costs.
Extend the life of air conditioning.
Cold storage door
Cold storage doors with many different types and sizes such as hinged doors, sliding doors and outlets to meet the needs of customers.
Doors of cold storage specialized for ice machines are made of 304 stainless steel, hinges and locking arms made of atimon or stainless steel to ensure the hardness and shiny of the door.
Door frames are solid multi-level design and drying resistance, helping the door to be always dry, clean and easy to replace.
Safety latch system helps people inside cold storage can open the door while standing inside.
Favourable service for Mr Tuan when buying a 30 ton Viet An ice making machine
When purchasing the 30-ton ice-making machine of Viet An Company, Mr Tuan will experience the most thoughtful care, enthusiastic and highly specialized consulting team.
- Many gifts, high discounts, increased customer benefits.
- Flexible and easy forms of payment: payment by cash or bank transfer.
- Support installation and transport to take place for Mr Tuan.
- Long-term warranty, best maintenance.
Come to us, Mr. Tuan will be able to use the best manufacturing machines, make the best ice cubes, enjoy great deals that are nowhere to be found. Thank you for choosing Viet An as a companion.
To receive the most attractive price when owning an ice cube making machine of Viet An and updating other outstanding products, please visit our nearest centers nationwide or please call Hotline: 0949.41.41.41 for support and service