Exporting 5 tons of ice making machine 47 to Quang Nam
IVA5T ice making machine with the capacity of 5 tons per day of Viet An was born, bringing customers satisfaction and confidence in excellent quality by energy saving, high productivity, pure finished ice 100 % ensure food safety and hygiene requirements. Knowing these great advantages, Mr Gia in Quang Nam chose to buy IVA5 - 5 tons ice making machine from Viet An.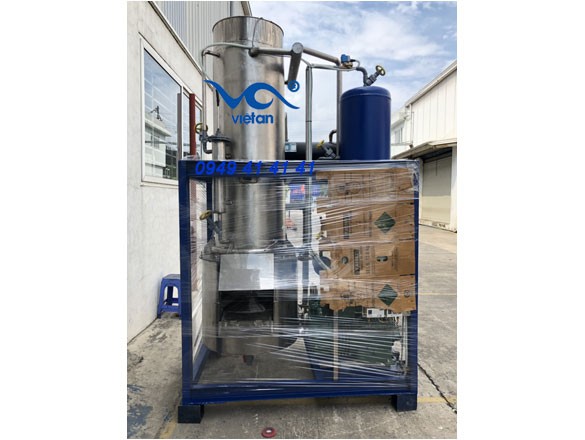 IVA5T ice cube making machine - 5 tons exported to Mr. Gia
The demand for pure ice cubes in Quang Nam is increasing, so many ice producing establishments are born and bring high profits for ice cube producers. But how to buy a 5-ton ice cube making machine, which supplier has the best maintenance warranty? This is the problem that all customers are always interested in, not clever to buy the wrong quality ice machine, the warranty service, the low maintenance of that business project will fail. Viet An ice making machine is made to suit Vietnam's tropical climatic conditions. Currently, ice making machine is a dominant product in the market in Quang Nam in particular and Vietnam in general.
Viet An exported IVA5T ice block making machine - 5 tons for customers in Quang Nam
Recently, Viet An had the opportunity to meet Mr Gia from Quang Nam to visit Viet An's factory at Lot 43 D1, H2-G2 Street, Quang Minh Industrial Zone - Me Linh - Hanoi. With an area of ​​thousands of square meters, we have a full range of ice cube machines with a capacity of from 1 ton to 100 tons, bottling, bottling, bottle blowing machine, jar blowing machine, pure water filtration lines ... etc.
After being directly visited and consulted on IVA5T ice cube making machine, Mr Gia decided to sign a contract of 147/2019 IVA5T with Viet An General Trading Joint Stock Company to buy 5-ton ice making machine. Every day, the ice cubes produced completely pure, meeting the food safety and hygiene requirements of the Ministry of Health. Mr.Gia can be completely assured about the competitiveness in the market where the quality and confidence of consumers are always guaranteed.
IVA5T ice making machine is not only large output but also has many outstanding advantages such as:
VA-exclusive certified brand number 250969, manufactured according to new technology of the United States.
The machine meets ISO 9001: 2015 is the only international standard issued in Vietnam
IVA5T ice making machine follows the latest technology in 2019 to save maximum energy
Pure ice maker meets QCVN 10: 2011 / BYT standards for ice water to be used directly
The self-contained mechanism, without human interaction, runs completely automatically with just one on/off button.
The whole high-pressure system is made of iNox to ensure a life of over 15 years
Delicate and neat design, making installation simple and convenient.
The machine is warranted for 12 months and long-term maintenance
Best customer service with a network of branches from North to South, professional staff 24/7
All 100% new genuine components meet export standards to Asean countries
Free 100% installation and transport fees nationwide (excluding the cost to the islands).
Power-saving technology of IVA5T ice cube making machine - 5 tons of Mr Gia selected
Viet An ice making machine products are applied new technology and no unit has this technology, it is the machine that is installed more fluid and air separator, with which ice making cycle is reduced. Significantly, with the previous ice cube machines that had to install very complex piping systems, now with this equipment the pipe design is cleaner and the ice making cycle is faster - that's why not only helps save energy but also increases the life of the compressor, avoiding the compressor encounter unfortunate failure.
The compressor used in Viet An 5 tons ice making machine is 100% new compressor. Specially set by Viet An for ice making machines of Viet An. Currently, on the Vietnamese market, only ice making machines of Viet An have a new 100% compressors. This compressor has been tested extremely strictly. It is manufactured on fully automatic CMC system, cutting, stamping, and automatic molding. It is then transferred to the high pressure testing section of the compressor. This unit uses the best high pressure testing technology in the world imported from Germany. To check each compressor with absolute accuracy, there is no small error.
The 5-ton ice cube making machine for export applies the latest US energy-saving technology to save up to 45% of power consumption compared to other ice cube machines on the market.
The energy-saving 5-ton ice machine has a fully closed and automatic ice making process, so the finished ice has a clean purity of Vietnam standard 6-1 / 2010 / BYT of the Ministry of Health on hygiene. all foodstuff, meeting the US FDA's international standards so it is qualified to export to Asean community.
Accessories come with a 5-ton ice cube maker exported to Mr Gia
Water filtration line for ice making machine (VAMĐ400): In order for IVA5T ice machine to produce the purest quality ice, businesses need to ensure the quality of the machine and the quality of the input water source in accordance with the requirements of the Ministry of Health on water supply for ice making machines must have all necessary components of physiological, physiological, chemical ... and necessary substances. With 5 tons of ice making machine, Mr Gia will need a water filtration system with an appropriate capacity.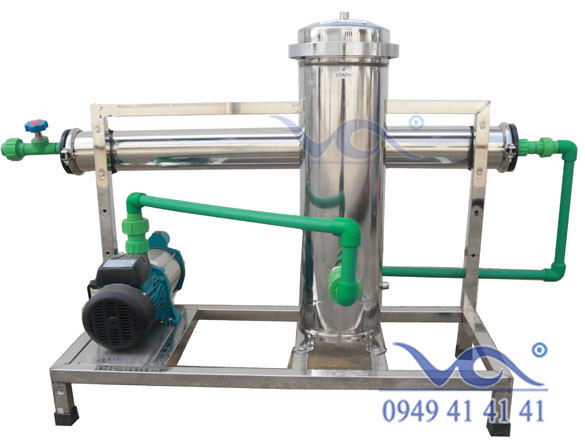 VAMĐ400 is a specially designed filter line. With high quality 304 stainless steel filter column with high durability. Suitable for the tropical monsoon climate in Vietnam. Application of RO filtration technology can remove 99.9% of impurities, toxins, viruses, bacteria from the water supply. In order to provide the source of pure, super clean water for ice making machine.
Cold storage system (KL12): Make sure Mr Gia still has ice supply and use in case of machine maintenance, power outages, ice storage at night or ice storage during rainy days. Using white porous material covered with two layers of corrugated iron, this is the best panel, the safety lock system ensures the temperature of ice storage is always stable between -4 and -9 degrees Celsius, with this temperature. The stone becomes loose, not sticky when delivering to customers.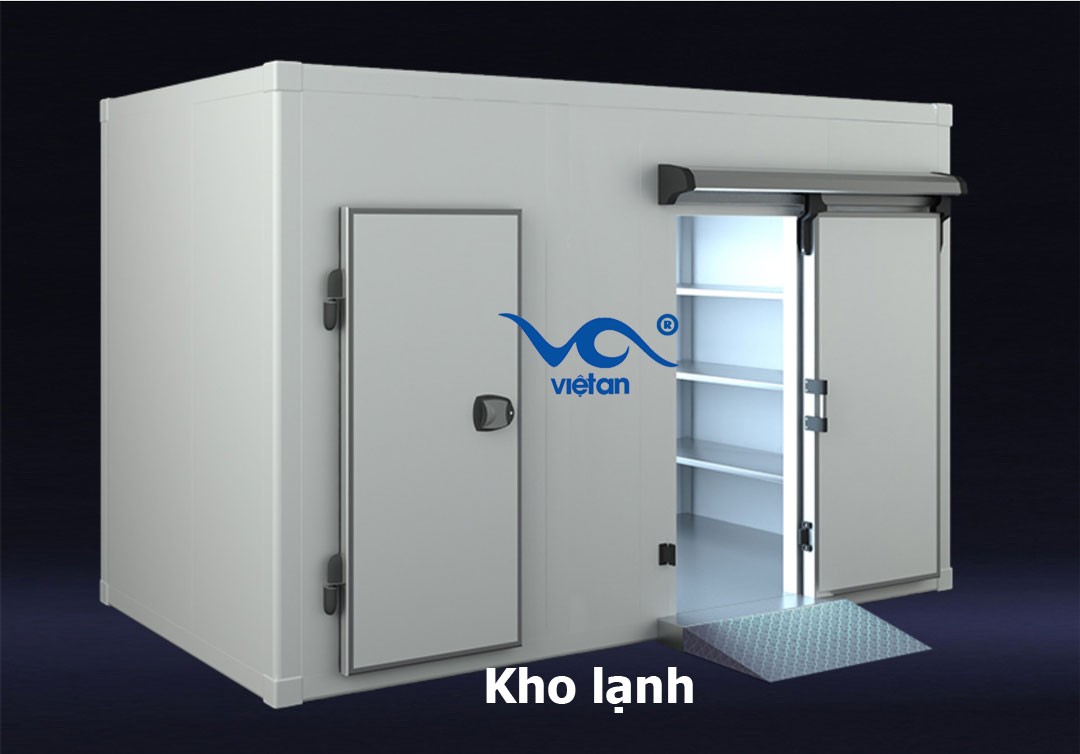 charging bucket: Produced by stainless steel 304 at the factory of Viet An, the system supports users to manipulate quickly, neatly and efficiently in freezing into bags, bags for distribution to customers.
Note: when buying 5 tons of ice cube machine, Mr Gia is offered with a packing system (charging bucket), so he will not take the extra cost for this accessory.
Thank you for choosing Viet An as a companion. We hope that the information provided by Viet An above will help Mr. Gia as well as customers wishing to buy 5-ton ice machines, all inquiries or questions can be contacted directly to the hotline: 0949 41 41 41 or 0942 41 41 41 for the most thorough technical advice. Thank customers for your interest in our products.