Exporting a 15-ton ice-making machine to Mr. Dat in Hanoi
Currently, there are many customers who want to find a manufacturer of high-quality ice machine, but the problem of finding the best reputable unit is considered extremely important. Choosing a quality ice machine is not an easy problem so have to find a reputable unit to help you own the best product. If you are looking for a supplier of ice making machines that apply the latest water filtration technology, has the ability to install water filtration lines fast, quality assurance, but the price is reasonable, please come to Viet An General Trading Joint Stock Company to be served by us.
When he had the idea of ​​building a pure ice production facility, Mr Dat started to research the market, learn about the prestigious suppliers. Through online information as well as being introduced, he went to Viet An to be consulted and supported about industrial ice machine with suitable capacity. On June 12, 2019, Viet An General Trading Joint Stock Company exported IVA15T -15 tons ice making machine to Mr Dat according to the contract of 120/2019.
With many years of experience in the field of supplying ice making machines, Viet An has received important certificates from the Ministry of Health for quality - this will help Mr Dat can be completely assured when installing the equipment our to manufacturing business.
Advantages of IVA15T ice cube machine bring many benefits to Mr Dat
Introduce Viet An company - the unit providing top-quality ice making machine
In 2019, the phrase "Viet An ice making machine" is a hot phrase in the special market in the field of ice business, the brand of Viet An is no stranger in Vietnam and other countries in the region ASEAN.
With many years of operation in the field of supplying pure water filtration lines and making machines, producing pure ice cubes, Viet An General Trading Joint Stock Company has provided thousands of production lines of pure water in Vietnam market and ice making machines with many high-ranking awards we have achieved.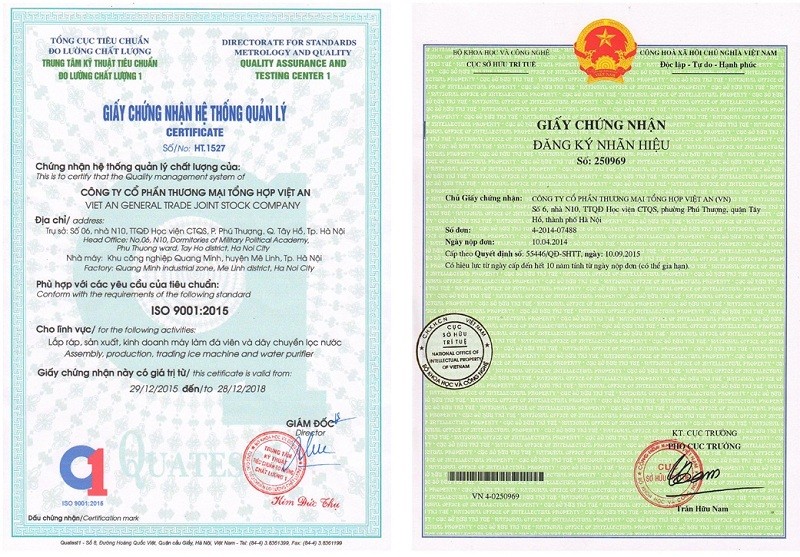 In 2015 Viet An received the award of ''Top 100 leading brands in Vietnam in 2015 '' by Consumer Newspaper. January 12, 2016 Viet An honoured to represent the Vietnam Association of Small and Medium Enterprises to receive the medal of President Truong Tan Sang at the Presidential Palace. On November 29, 2016, Viet An General Trading Joint Stock Company was also honored to receive the Certificate of Merit as one of the enterprises with good achievements in the fight against counterfeiting of the Association Against Counterfeiting and Trademark Protection Vietnam VATAP ...
With two factories in Hanoi and Da Nang with branches from Hanoi, Da Nang, Buon Ma Thuot, Ho Chi Minh and hundreds of different models, it is a true, different experience when customers come with us. Understanding the importance of after-sales regime, after-sales maintenance and maintenance of the machine industry, Viet An company with a team of professional engineers, we are always committed to serving the best, bringing satisfaction. , along with the development of customers.
IVA15T ice machine - capacity of 15 tons per day
Pure ice machine designed with American technology has been produced and assembled at Viet An General Trading Joint Stock Company. With the compact design, fully automatic running to ensure a clean ice machine to produce ice evenly, quickly, saving labor and safety for producers.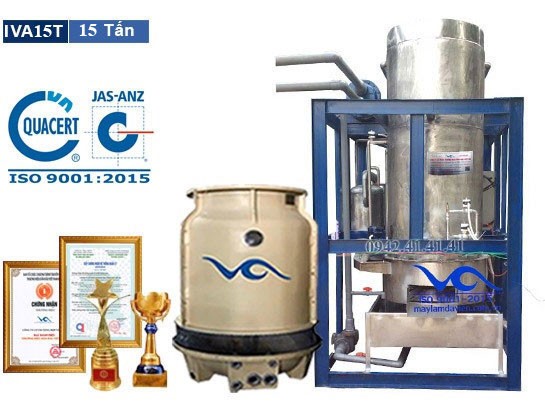 Clean ice making machine produces standardized water in combination with Viet An water filtration line to make ice, so make sure that the ice made is clean ice meeting food safety standards 6 -1-2010 / BYT.
Ice cube maker is designed with a simple technique. The size of the machine is compact, aesthetic, the operation does not require skilled workers. High durable. Maintenance cost, low maintenance, energy saving.
Full replacement equipment, easy to find, ice machine 15 tons of smooth running without hearing the noise. IVA15T ice making machine ice tube is made of high quality 304 stainless steel, which helps the machine not to be oxidized.
The throttle valve is imported from Japan to regulate the flow of water through the refrigerant. Therefore, increase the cooling speed, accelerate the time to produce finished ice.
The compressor used in Viet An 15 tons ice making machine is 100% new compressor. Specially set by Viet An for ice making machines of Viet An. Currently, in the Vietnam market, only IVA15T ice cube making machine of Viet An has new compressor 100% - helping control cooling capacity more effectively.
Water pump made of 304 stainless steel is imported exclusively by Viet An. Only 15 tons of ice making machines of Viet An is being applied with this iNox 304 pump system.
Unique fluid and gas separation system are applied in Viet An ice machine. Viet An's air separation system has the ability to remove fluid and return it to the air way. Keep the compressor from being contaminated to avoid the risk of failure and save maximum power.
The electrical system for Viet An ice cube making machine is fully automatic programmed. Make sure the ice machine runs smoothly in one button. Automatically disconnect when something goes wrong. With an array of LED lights to accurately indicate the status of your device. Only by observing, Mr Dat can quickly know which machine is operating at what stage. At the same time, detect errors arising to take the initiative in operating and troubleshooting.
The working principle of IVA15T ice making machine - 15 tons
The source of groundwater or bore wells through the filtering process is pumped to the lower reservoir of the ice machine, then they are pumped to the upper reservoir (top of the ice mortar) with an iNox pump - then the water flows into the ice pipes by Inox. When entering the ice mortar, the water will gradually snow.
Then use the solvent R22 - this solvent thanks to the compressor motor, which converts the solvent from liquid to gaseous. This gas vapour is pushed through an ice mortar, at the ice mortar is indirectly exposed to water through the contact surface of stainless steel pipes. Here the process of heat exchange occurs: The gas vapor collects the heat of the water, causing the temperature of the water to gradually decrease to the proper negative temperature, the water molecules will crystallize, freeze water into ice, and vapor. gas after the endothermic of water they will turn into liquid solvent and pushed to the compressor to continue the process.
After a period of 40 to 45 minutes, the packed stone will go into defrost mode, to make the ice separate from the pipe, people use hot gas and melt a thin layer of ice bar and it leaves the pipe. When it falls below it will be cut ice(made from iNox) cut into short pieces according to the preset size. Then continue the process of freezing - thanks to the lake with mechanical buoys, the water from where will be filled from there. And the ice making process continues.
The auxiliary accompanying ice maker machine IVA15T exported to Mr. Dat
G15 packing system: Produced by inox at Viet An factory, the system supports Mr. Dat to operate quickly, neatly and efficiently in packing ice into bags and bags for distribution to customers. When buying ice making  machine, Mr Dat will be given an additional promotion for this system, so there will be no additional cost.
Cold storage (KL30): Ice cubes after production very quickly melted by ambient temperature, before shipping to consumers we need to preserve them carefully to ensure the best volume of ice. The use of cold storage in ice storage will help make the ice production process more stable and productive. Cold storage is created by assembling insulation panels, using compressor assemblies, blower cooling fans and some other specialized components.
Industrial ice crusher (fine): Industrial ice crusher simple design but certainly, easy to use. All stainless steel 304 thick and shiny, ensuring hygiene and effective anti-rust. The grinding axis of industrial ice grinder is also made of 304 stainless steel.
With a modern and advanced technology application device such as Viet An 15 ton ice cube making machine, there is no reason for you to hesitate when buying them to serve your business. Above is the basic information about IVA15T Viet An ice cube making machine for Mr Dat in Hanoi. If you have any questions, please call us - via the hotline: 0949.41.41.41, or visit Viet An branches in Vietnam. Sincerely thank you!