Exporting a 3-ton ice making machine contract to Mr. Thu in Son La
On May 28, 2019, Viet An exported VA3T ice machine to Mr Thu in Son La. Among hundreds of ice making facilities, Mr Thu still chose Viet An ice machine with a team of professional and affordable technicians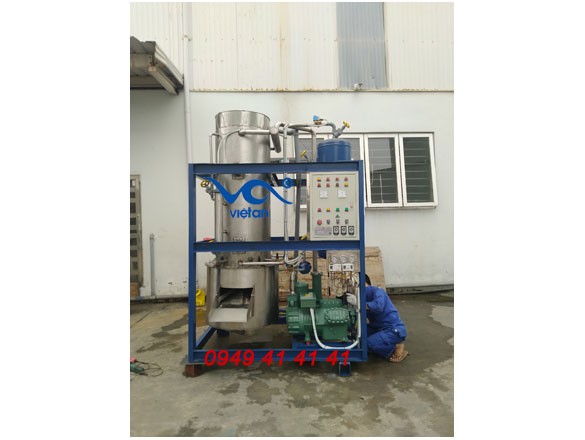 Ice making machine prepares to export to Mr Thu
The 3-ton ice cube making machine Mr Thu choice that is the key to create pure ice products - to solve the problem of "dirty ice" in Son La Province today.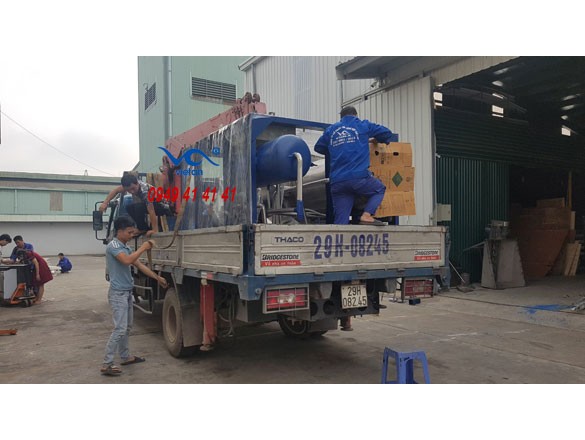 VA3T ice-making machine brings many benefits to Mr Thu
At present, the demand for pure ice ensures quality and is increasing day by day. During the hot summer months, the amount of ice cubes produced is not enough to supply the market. Because of the great demand, because of running after the profits, many ice making facilities have used water sources and equipment not guaranteed to produce ice. Therefore, many units wishing to use large ice like fresh seafood stores, supermarkets, restaurants, hotels, bars, beverage shops or households ... often use ice making machine VA3T - 3 tons to be able to take the initiative in the source of clean ice to ensure quality and save a lot of costs compared to buying ice outside.
Viet An's 3-ton ice cube making machine applies New Technology (Power saving) compared to other ice makers on the market. Save 80% compared to the cost of buying outside ice.
Time to make super-speed ice: Only from 30 - 45 minutes for 1 batch of pure clean ice
Versatile with compact design suitable for many spaces, easy to use and convenient
The quality of pure clean ice meets the standards of the Ministry of Health.
Components imported from Europe with clear stamps meeting ISO 9001: 2015 standards.
3 ton ice machine has a smart operating mechanism, the process of 3 tons ice machine is completely closed, limiting dust and bacteria causing the disease to ensure user health.
Customers can choose the size of ice cubes according to their business needs: 18-23 often use coffee, juice, mixing water, 44-47 often use beer, soft drinks. The size of his choice of ice is 34-38 (cm) for drinking coffee, ice tea, and refreshments.
See more: Filling machine
Why should Mr Thu use the 3-ton ice-making machine of Viet An?
Each type of pure ice machine has advantages and disadvantages. Mr Thu chose 3-ton ice making machine of Viet An because of the great advantages that other brands do not have.
Modern technology
Speaking of modern machinery technology, we often think of products made from the US, Europe or Japan. Therefore, Viet An has imported advanced components from these countries. Therefore, the quality and performance of the machine are always guaranteed.
Besides, 3-ton ice making machine is an integrated raw filter with unique technology. It helps to eliminate maximum impurities before being put into refrigeration. At the same time, the machine saves 40% more electricity than other models on the market.
Modern design, eye-catching designs
In addition to the quality of components, 3-ton ice machine has a high aesthetic. Compact machine design, using 304 stainless steel, shiny. Thus, the device always keeps the luxury. Stainless steel material also helps to clean the machine easily. Increasing resistance to impact, ensuring aesthetics and durability.
Warranty, maintenance is the best
All ice cube making machine products of Viet An are warranted for 12 months and life-long maintenance. In addition to the warranty policy, Viet An maintenance is especially satisfied by customers. Free maintenance and maintenance with a team of highly qualified technicians. Warranty period, quick maintenance.
The necessary accessories come with the ice making machine for Mr Thu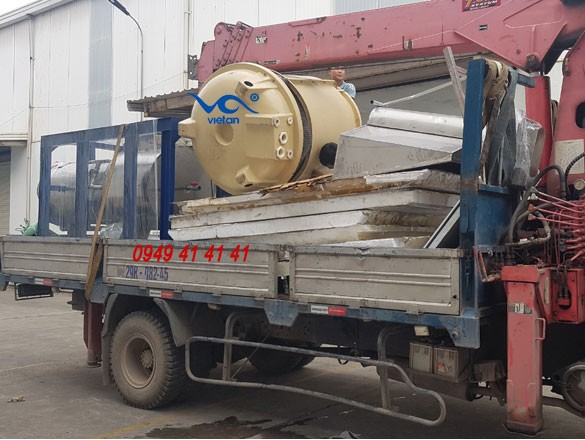 Cold storage
Charging bucket
Cooling towers
Preferential service for Mr Thu when he buys 3 tons ice making machine of Viet An
When purchasing the 3-ton ice-making machine of Viet An Company, Mr Thu will experience the most thoughtful care, enthusiastic and professional consulting team.
- Many gifts, high discounts, increased customer benefits.
- Flexible and easy forms of payment: payment by cash or bank transfer.
- Support installation and transport to take place for Mr Thu.
- Long-term warranty, best maintenance.
Coming to us, Mr Thu will be able to use the best production machines, make the best ice cubes, enjoy great deals that are nowhere to be found. Thank you for choosing Viet An as a companion.
Customers want to buy 3-ton ice making machines should visit Viet An's branches in Hanoi, Da Nang, Buon Ma Thuot, Ho Chi Minh or contact the hotline: 0949 41 41 41, for advice and support.