Exporting a 400 liter / h water filtration line to Mr. Phuc - Dak Lak
On May 23, 2019, Viet An General Trading Joint Stock Company exported VACA400 - 400 liter water filtration line to Mr. Phuc under the signed contract of 110/2019. Wishing to solve the problem of water pollution in Dak Lak province.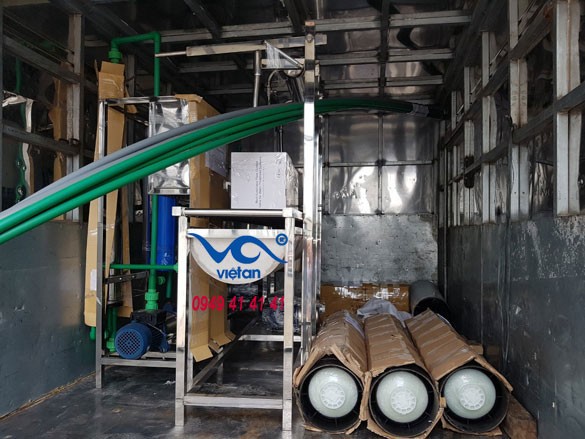 Water filtration line and synthetic filling table exported to Mr Phuc
Pure water filtration line 400 liters / h composite auto valve VACA400 genuine, good price, long use time. Viet An is a leading company in importing and distributing genuine pure water filtration products in Vietnam, all of the water purification and treatment products that Viet An introduces to the market are manufactured in The United States follows ISO 9001: 2015 and is exclusively registered with USApec, VA trademark at the Vietnam Intellectual Property Department.
Benefits of VACA400 RO water filtration line VACA400 that Mr. Phuc chooses
 Water can be drunk directly
Application of RO ​​water filter with the micro filter size of 0.0001 micrometres, so the Line will remove 99.9% of heavy metals, impurities, bacteria, toxins in water. Giving you the filtered water, you can drink it directly without any other filtration anymore. VACA400 filter line also has the ability to add the sweetness of water, adding minerals to the user benefits. This has created the advantage of this 400 liter pure water filtration line compared to other conventional water filtration products on the market.
Help businesses create trust with customers
VACA400 with the ability to filter water just quickly, just to the standard. The water is filtered and produced in bottled and sale on the market, which is much higher than the water of other units, so your customers will trust your products. providing more and sticking to your product is inevitable. In addition, the water filtration process of the VACA400 filtration system takes place completely automatically, closed, quickly every hour can filter 400 liters of pure water from different water sources. VACA400 is manufactured under the technology of maximum power saving, maximum saving of fuel source so that the cost to produce a 500ml bottle of pure water of your unit will be much lower than the production facilities. Use water filtration lines that apply conventional water filtration technologies.
Increase profits
VACA400 water filtration line operates stably, the water filter closed cycle with an automatic valve system, so no need to adjust the cleaning of the filter column and monitor the filtration process as water filtration lines use mechanical valves. The taste of the outlet water is always stable, up to the standards. The cost to produce a bottle of pure water is less than 1,000 dong while the market is still priced from 3,000 VND. The cost of producing a 20-liter jar is less than 4,000 VND and sold to agents is still priced from VND 10,000 VND 12,000 VND, Mr Phuc can calculate the profit that will be collected is a huge number.
VAMCRTH synthetic extraction table comes with a 400-liter filter line for Mr Phuc
Filling machine is a very important part in the auxiliary system for pure water filtration line. Currently, the filling machine is divided into many different types such as bottle filling machine, jar filling machine, bottling combined.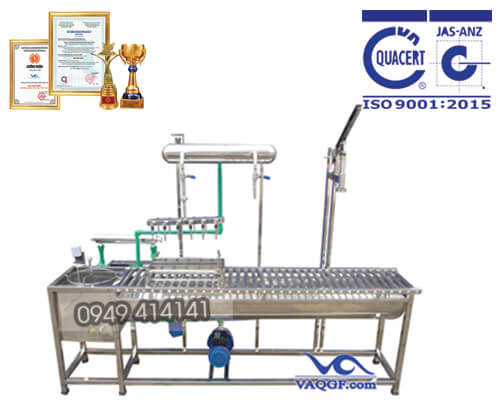 General filling machine
VAMCRTH semi-automatic bottle filling machine with a capacity of 60 bottles/hour and 150 bottles/hour has many advantages compared to similar products on the market, the components of the system are made entirely from stainless steel. Filling with 2 to 3 times higher efficiency than usual, each filling head has a valve to regulate the water inlet so that it will completely ensure that the bottles are extracted with equal water level, with the product. Each worker will extract 500 to 600 bottles of water a day and 150 bottles/hour.
- Some basic specifications of VAMCRTH.
Material: Machine made from stainless steel.
Production standard: ISO9001: 2015
Capacity: 60 bottles / h and 150 bottles / h 2 to 3 times manual making.
Stage: Including 3 effects: washing the bottle, filling the bottle, closing the bottle.
Some other accessories included:
Dry machine
VATDS
screw cap machine
The process of installing water filtration line for Mr Phuc - Dak Lak
When Mr Phuc needs to install a water filtration line and filling machine in Dak Lak, he has left information and we contacted you as soon as possible to provide free product advice to suit your needs. demand for the areas where he intends to invest in business.
We will then send technical staff to the field survey, advice on the location of the 400-liter water filtration line, instructions on how to take the water sample for testing,...
When agreeing on the initial stages, Viet An will carry out the design and installation of the water purifier line in accordance with the standard signed in the contract in order to optimize the cost and ensure the quality of the source clean water for Mr Phuc.
If you want to buy a VACA400 - 400-liter water filter system or Viet An filling machine, please contact the hotline 0949 41 41 41, for more thorough advice from Viet An experts. Viet An is looking forward to the opportunity to cooperate with customers! Thank you