Exporting a 7-ton ice making machine contract to Mr. Nghia in Da Nang
7 tons ice making machine - IVA7T is suitable for restaurants, ice production facilities to serve business needs or ice production establishments want to provide customers with pure ice products. Quality assurance of the Ministry of Health launched. The product is assembled and managed according to the most stringent international standards of ISO9001-2015 currently, exclusively registered with the trademark VA, USApec No. 250970 at the National Office of Intellectual Property of Vietnam. Viet An's 7-ton ice cube making machine is manufactured with international quality standards, 100% new components are currently the best price on the market today.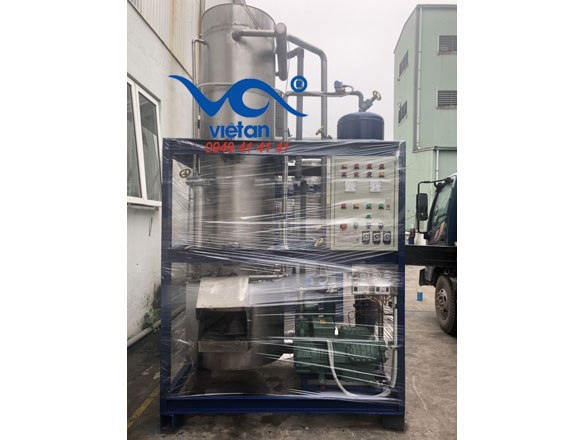 Da Nang is one of the 5 cities directly under the Central Government in Vietnam and is the most important city in the Central Region - Central Highlands, Danang is known as the most livable city in the country when having an economy - finance, politics, culture - society, tourism, technology, ... develop in the direction of modernization. However, due to the growing economic conditions, pollution is increasingly severe. Pollution problem from water and air sources. Therefore, with the desire to sell ice machine and provide pure clean ice quality to open ice cube production facilities, Mr Nghia has chosen Viet An General Trading Joint Stock Company to sign a contract of 159/2019 to buy 7 tons of ice making machine. On 11/07/2019, Viet An has exported ice machine for Mr Nghia to keep up the installation and production progress of his facility.
Choosing Viet An, Mr Nghia will own the best quality 7-ton ice making machine - IVA7T
Viet An General Trading Joint Stock Company specializes in providing 7 tons of ice making machine - IVA7T. With modern and advanced technology, the product reaches high quality, saves energy, costs for users, so the ice machine system has a competitive price. These are the advantages of the popular IVA model line on the market today!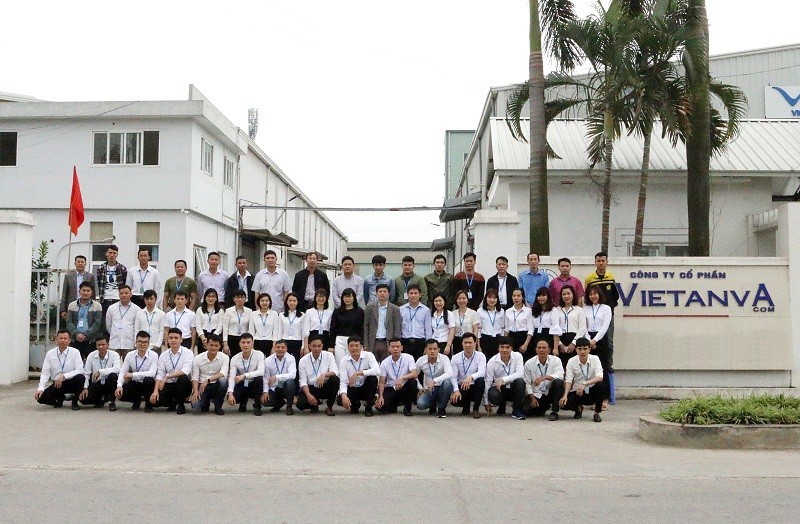 Nearly 20 years of construction and growth, Viet An company received the gold medal of high quality Vietnamese goods in 2009, the Golden Lotus Cup of high quality Vietnamese goods in 2009, the gold medal of the leading brand of Vietnam in the year. In 2015, Viet An brand certificate was granted the certificate of ISO9001: 2015 for the production process of water filtration lines and ice machines, and especially, representatives of the Vietnam Small and Medium Business Association met and wished Tet with President Truong Tan Sang on January 12, 2016.

The company's products have always been trusted and received by the people, along with the thoughtful service, warranty, maintenance, customer care services that brought the company to become the first choice in providing products of ice machines, pure water filtration lines, filling machines and many other types of machines.
Ice making machine 7 tons - IVA7T selected by Mr Nghia - applied completely new technology
As we mentioned above, 7 tons of ice making machine - IVA7T has applied the latest technology, and energy-saving helps Mr Nghia's business reduce costs significantly, with completely new components. This is not the case in any ice making machine - the use of new components makes the ice machine work reliably and has a service life of up to 20 years.
100% new compressor: Considered as the heart of 7 tons ice making machine. The compressor used in Viet An 7t ice cube making machine is 100% new compressor. Specially set by Viet An for ice making machines of Viet An. Currently on the Vietnamese market, only ice maker machines of Viet An have new 100% compressors. This compressor has been tested extremely strictly. It is manufactured on fully automatic CMC system, cutting, stamping, and automatic molding. Each compressor is tested with absolute accuracy without any small errors.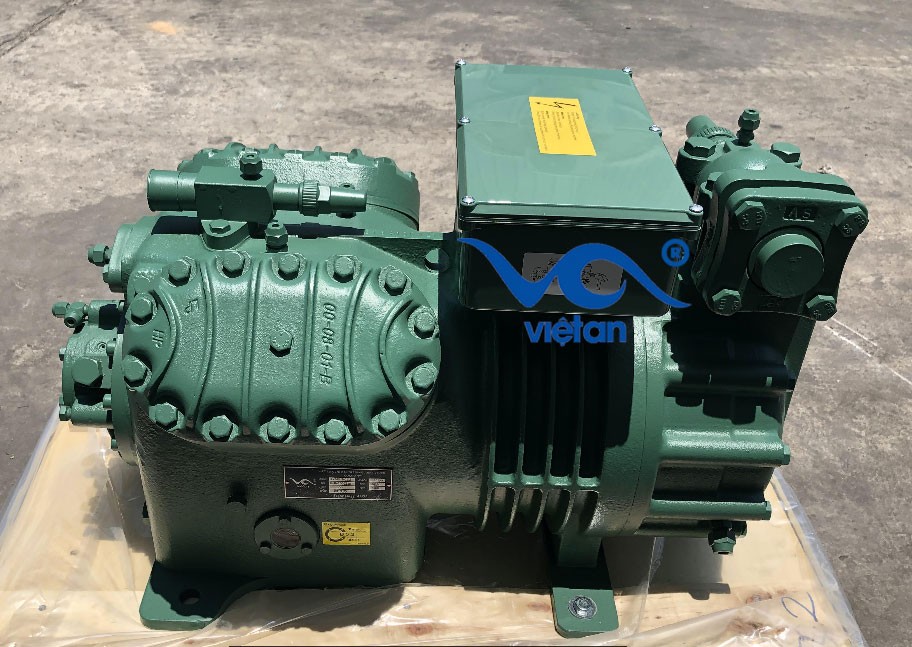 The compressor is 100% new
Uses of the compressor
The use of cooling capacity control for ice machines
Control and save power consumption for you
Helps make the service life of the device more durable, longer
Control the temperature and keep the safety of the cooling system stable
Making ice machine works smoothly, runs smoothly, makes less noise.
Air separation system (the first technology applied by Viet An for ice making machines). In the past, before this part was available, the pipes of the ice machine would be designed in the style of the chicken gut - but when this technology was applied they would help minimize the pipeline, the ice machine was designed more neatly. Viet An's air separation system has the ability to remove fluid and return it to the air way. Prevent the compressor from becoming liquid infected. Helping the compressor not defective and the service life of the compressor is much higher. The compressor used for ice machine is air compressor. So the compressor that pushes out must be gas, and the suction must be air. The gas that is produced is hot air and the gas that is drawn in is cold air. Therefore, the inlet gas must not be contaminated with liquid (water or oil). If the suction air is contaminated with liquid, it will lead to a decrease in compressor durability.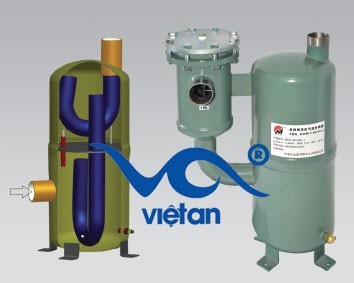 Air and liquid separation system
Condenser: This product is directly imported by Viet An, committed to always have the best price. The condenser in pure ice making machine is responsible for condensing superheated gas after compressor into a refrigerant liquid state. The operation of a condenser has a decisive influence on the condensation pressure and temperature and thus affects the efficiency and safety of the entire refrigeration system in ice machines.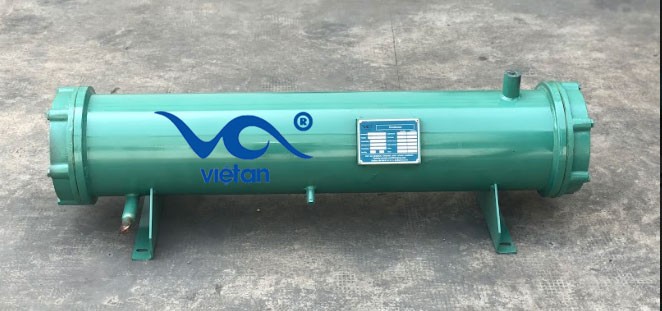 Cooling tower: Cooling tower is responsible for transferring excess heat of the water to help cool quickly and save energy. The good cooling system helps ice machine operate stably and durable.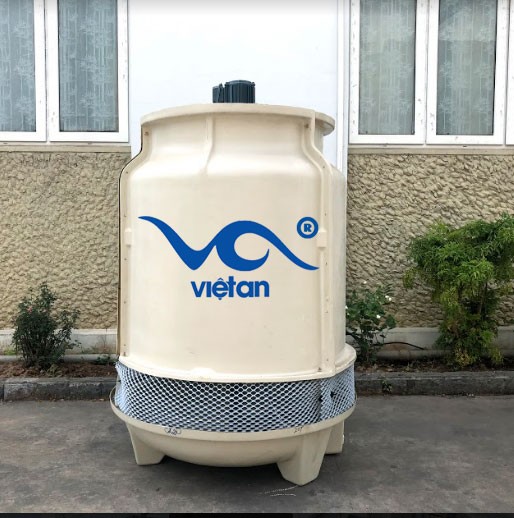 INox pump system: made of 304 stainless steel, imported exclusively by Viet An. Currently, only ice-making machines of Viet An use iNox 304 pump. All ice machines on the market use cast iron pumps so the price will always be cheaper. That means the durability will not be high.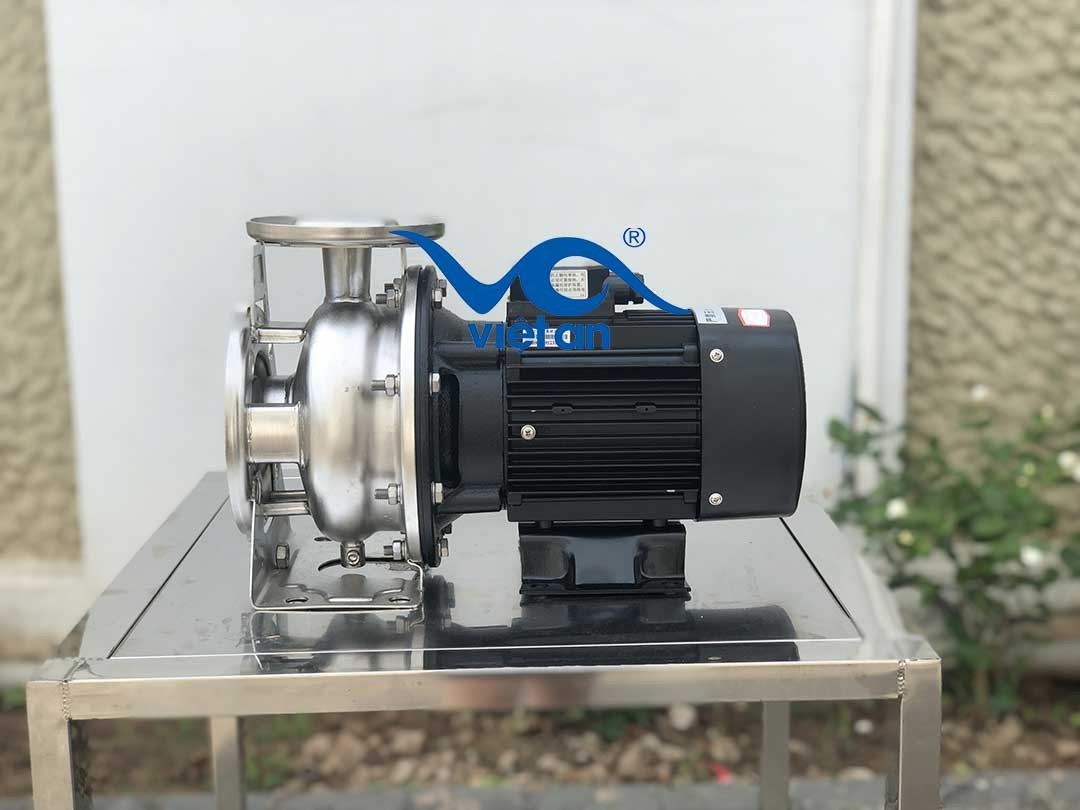 Automatic electrical system: 7-ton ice making machine has an automatic electrical system that helps the machine operate the entire process of ice making, automatically disconnects when there is an electrical problem, automatically adjusts ice making time to have satisfied hollow ice.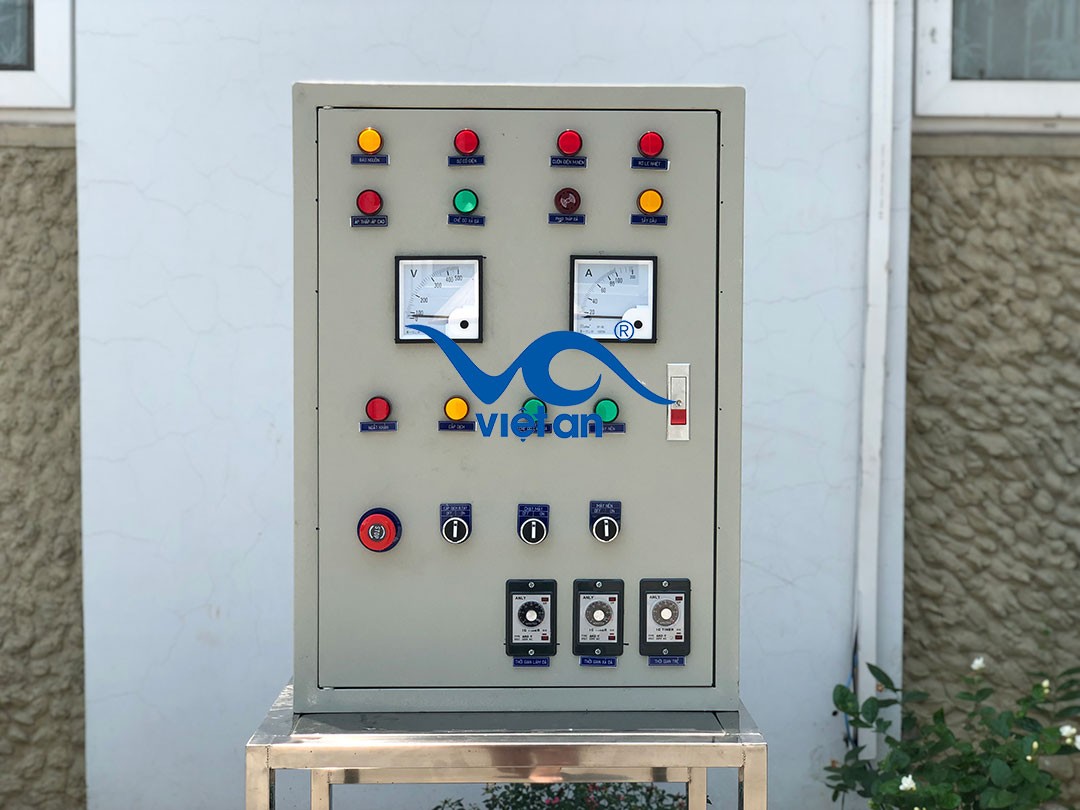 100% imported stop valve system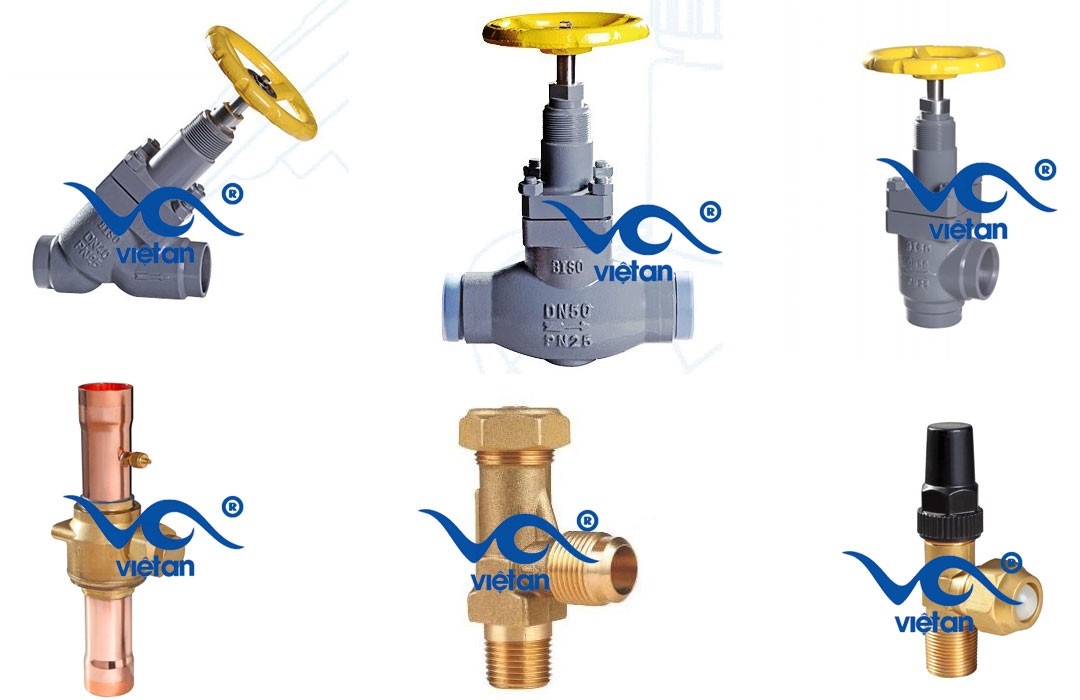 Is 7-ton ice machine easy to operate and control? The answer is that setting up and operating this device is not as difficult as you imagine. Ice machine control cabinet does not have too many buttons. Technical staff will guide Mr Nghia specifically upon installation. And he will quickly grasp how to use this device.
Accessories come with ice cube maker for Mr. Nghia
Bucket (G5): for ice cube making machine is an important and essential part for a general ice trading establishment. Because the size of ice cube production and business is definitely greater than the use of ice cubes in households, we cannot manually pack ice cubes, which takes both time and hygiene.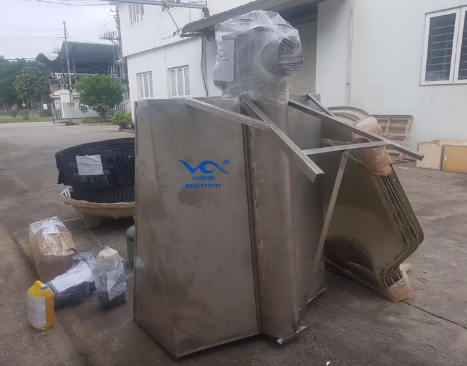 The application of automatic packaging machines in the ice production line will be the most optimal, safe and economical solution for businesses when they want to improve the growing production situation. Introducing and manufacturing an automated packaging system helps businesses gain the benefits of flexibility and low costs. And especially improve the modernization of production of businesses, bringing businesses to new heights when using automated systems of modernization.
Cold storage (KL12): is a very important equipment in the system of industrial ice making. Ice cubes after production very quickly melted by ambient temperature, before shipping to consumers need to be carefully preserved to ensure the best volume of ice. The use of cold storage in the storage of ice cubes will help the ice production process be more stable and productive, ensuring ice for a long time until consumption and use. Cold storage is created by assembling insulation panels, using compressor assemblies, blower cooling fans and some other specialized components.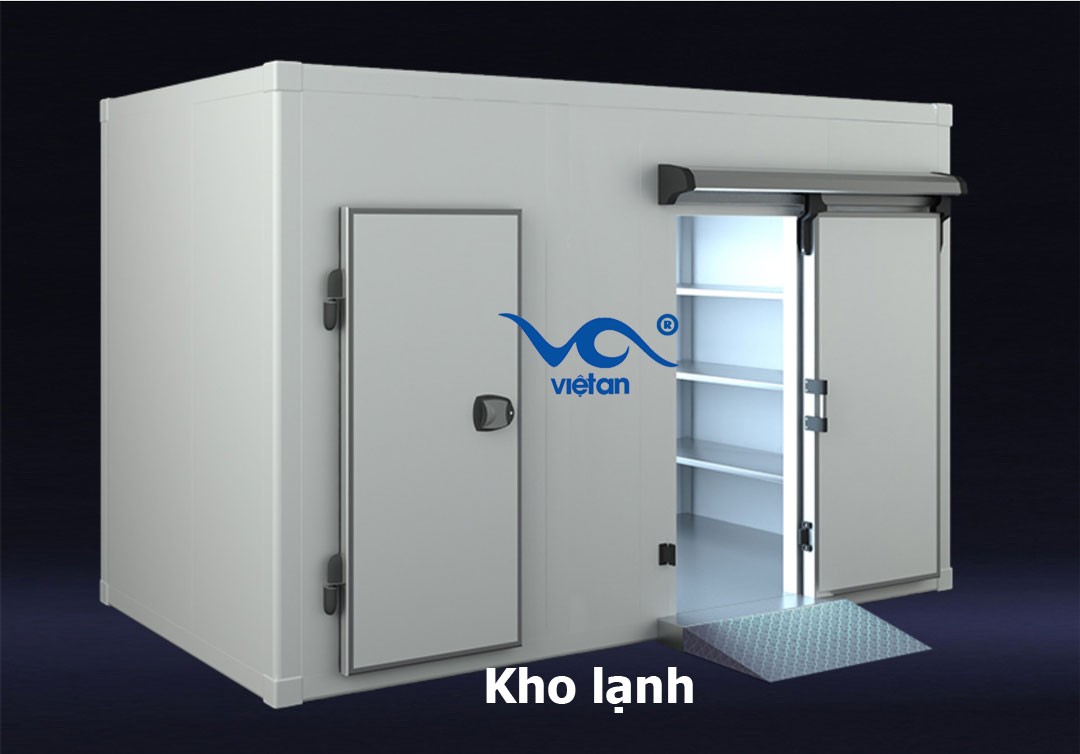 Water filtration line for ice making machines (VAMĐ750): specialized for ice-making machines, which are trusted by many customers to choose in order to create the cleanest, pure and transparent ice. Made in the United States with the best filter components and materials sourced from the most advanced countries in the field of water filtration today. The production process as well as product assembly comply with strict ISO 9001: 2015 standards. Products can run continuously 24/7 and life over 10 years.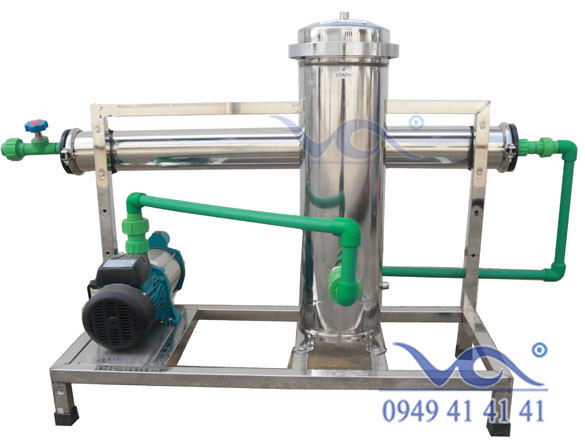 When installing and using 7-ton ice making machine, Mr Nghia should note:
Mr. Nghia should be prepared with the following issues to make the installation job most convenient:
- Power source: Because this is a type of ice machine with a capacity of 7 tons / hour, so you need to pay attention to the voltage level suitable for equipment requiring 3-phase-380V power supply.
- Regarding water sources: Should use clean water, tap water, underground water ... In addition, in the process of bringing water from outside to inside the machine, the water pipes after using for a while will be easy. With water deposition and a lot of dirt, the water source will be cloudy and greasy, so Mr. Nghia needs to clean the filter according to our specified time, you also need to prepare the water tank according to the technical instructions. to store water for ice making machine.
- Ground: Mr. Nghia researches the location of the 7-ton ice machine installation carefully, selecting cool and flat places. If you leave the device in humid places, where there is direct sunlight, this will reduce the productivity and quality of ice cubes.
 - Mr. Nghia should periodically check, maintain, clean or replace new components if necessary, preventing the growth of microorganisms from damaging the machine.
Thank you for trusting in choosing and accompanying Viet An. Certainly not only Mr. Nghia but also many customers who have chosen Viet An are completely satisfied and confident in the quality of the ice machine as well as the warranty, maintenance, after-sales policies that we put out. Customers wishing to buy ice machine 7 tons - IVA7T please contact the hotline: 0949 41 41 41. Or through our branches for advice and support!