Exporting a contract for a 4,000-liter water filtration line to Mr. Dong in Vung Tau
After signing a contract of 118/2019 with Mr. Dong in Vung Tau on the supply of a 4,000 liter - VAIA 4000 water filter line, in the afternoon of May 23, 2019 Viet An proceeded to export goods to Mr` Dong.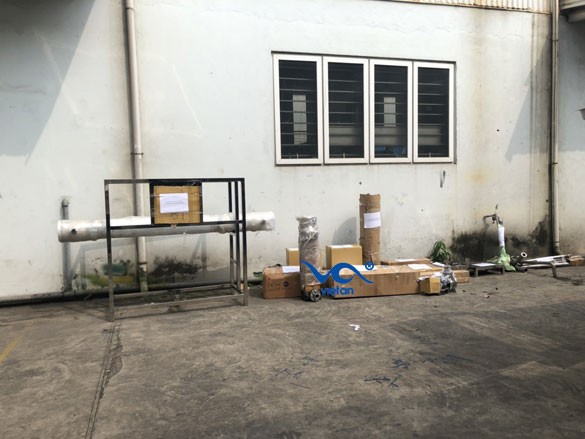 Water filtration line is packed carefully before shipping to Mr. Dong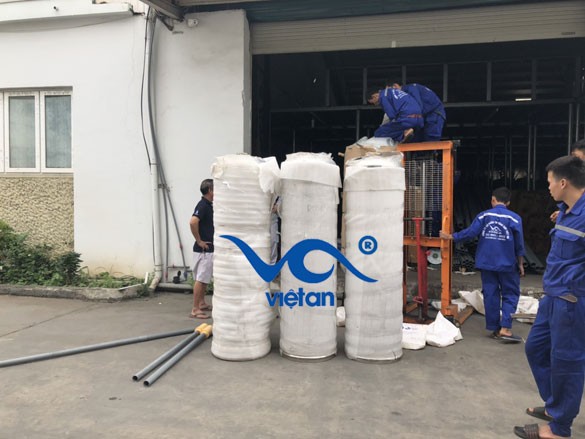 Auto valve stainless steel filter column
VAIA4000 with a self-contained water filtration process using RO water purification technology produces pure water that is good for human health. Not only that, the water filtration line of pure water using auto valve stainless steel filter column with a capacity of 4000 liters per hour has won Mr Dong's trust because of its ability to filter water quickly, economically, and ensuring food hygiene and safety standards.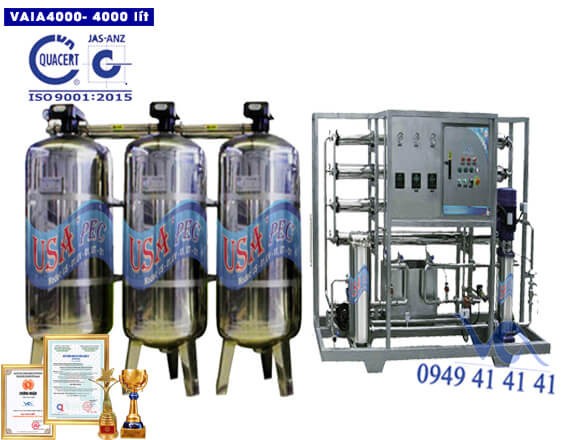 VAIA4000 4000 l / h water filter line
The advantage of VAIA4000 water filtration line convinces all the most demanding customers
A product specifically designed to purify and treat industrially purified water from a variety of water sources.
The process of purifying water and purifying pure water takes place completely automatically, closed without interference from external factors, without human participation, so the quality of water is 100% pure, food safety and hygiene
Designed in a compact industrial design, with a bright 304 stainless steel filter column that is both aesthetic and easy to clean.
Filter column system, valve, pump system, membrane filter with large operating capacity, can filter up to 4000 litres of pure water/hour to ensure constant supply of pure water to serve all needs of use.
The process of disinfecting and filtering bacteria twice to keep pure water ensures aseptic after filtration and when stored in tanks waiting for use.
The automatic valve system has an LCD screen showing the full range of filtration parameters and they have the ability to self-adjust the flushing column to protect the membrane, filter element, stabilize the position of the output water.
Advanced RO water purification technology of VAIA4000 line
Water filtration, pure water treatment is the process of removing impurities, toxins present in the water as well as sediments through special filters combined with materials such as sand, gravel, coal, ... The size of filter impurities will depend on the design of each filter element.
Viet An 4000 liter water filtration line uses advanced technology with advanced RO membrane filter upgraded and gives much more efficient than previous water purification systems. RO technology (reverse osmosis) is the most advanced and radical water purification technology available today. Because the RO membrane opening has a size of 0.0001 micrometres, the same mechanism of action of the human kidney will produce a completely pure water product. Also known as pure water. The filter eye size of RO membrane is smaller than the size of bacteria. Therefore, they are capable of removing up to 99% of impurities, toxins in water. This is a preeminent and a result of the current development of water treatment science.
Mr Dong chooses a 4000 liter Viet An water filtration line because:
Viet An General Trading Joint Stock Company specializes in construction and installation of water filtration systems to create standards of direct drinking water of the Ministry of Health. With a team of experienced technicians, Viet An is committed to bringing all customers in general and Mr Dong in particular the best quality products with extremely preferential prices.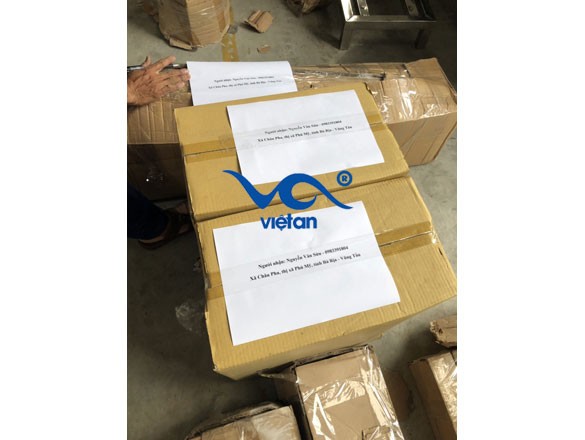 Accessories are well packed before shipping
Quality is always the top core value that Viet An is aiming for, we are constantly improving and innovating to bring you products with absolute quality assurance.
Viet An is the only unit producing water filtration lines according to the latest and most advanced ISO 9001-2015 international standards today.
The water source provided by Viet An 4000 l filtration system meets the standards of 6-1: 2010 / BYT as prescribed by the Ministry of Health.
During operation, inevitably malfunctions and incidents, with Viet An's warranty policy: each water purifier line can be warranted from 12 months will help Dong to save on repair costs. The team of consultants are available to answer your questions at any time.
See more: Pure ice making machine
Viet An is committed to bringing the most effective water treatment technology
Viet An Company is proud to be a reputable unit with extensive experience in water treatment in Vietnam. We have been trusted by many customers over the years for the benefits and superiority of superior devices. With the leading advanced technology, the quality of water after being treated meets the standards to serve the great demands of customers.
With the vision that Viet An aims to be a good partner, a reliable friend to customers, towards expanding, developing the processing system nationwide and around the world. Therefore, we always set the mission for ourselves to always try our best to bring the best effect to customers, the success of our customers is the guideline that the company is aiming for.