Exporting a contract of ice machine and water purification line for Mr. Thanh - Nghe An
The market for producing ice cubes in Nghe An is scarce while the demand for using ice cubes for production, daily life, etc. is always increasing due to the increasing population. Therefore, building a business production model and investing in a 5-ton ice machine and purified water filtration line here is a very feasible business model and an opportunity to expand and develop the strongest.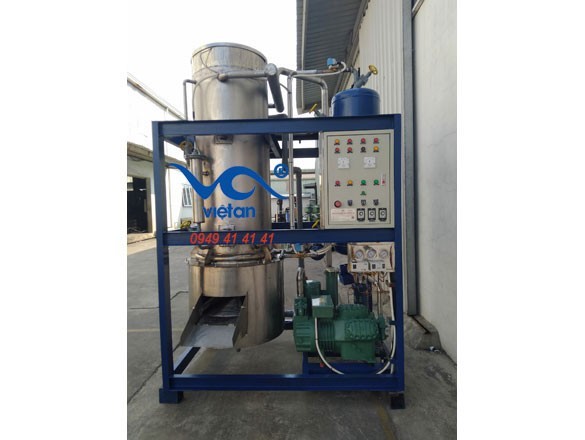 Exporting ice machine for Mr Thanh - Nghe An
Grasping the above demand, Mr Thanh decided to sign a contract No 104/2019 to buy IVA5T ice machine with the representative of Viet An General Trading Joint Stock Company.
On May 18, 2019 Viet An has exported ice making machines, water filtration lines for ice making machines, and associated components such as charging buckets, cold storage, semi-automatic bottle filling tables, VATDS test pens and 2 dry machine for Mr. Thanh in accordance with the signed contract.
Solving dirty ice problem when installing 5 ton ice cube making machine in Nghe An
On the market today, it is not difficult to encounter establishments, bars, restaurants, ... supplying and using unidentified ice cubes, failing to ensure safety and hygiene. In particular, precisely because the cost to spend for each bag of ice weighing a kilogram is less than 2000 VND, establishments are not afraid to issue and use poor quality ice cubes for consumers. This brings immediate benefits such as timely settlement, quite quickly with the needs of ice users in hot weather, as well as saving immediate profits for businesses. But in the long run, the production of such dirty ice cubes certainly affects the reputation of the business, especially more seriously, which affects the user such as abdominal pain, diarrhea ...
Viet An is considered a leading company in importing, supplying and producing all kinds of the pure ice making machine in Nghe An with the cost of less than VND 200 / kg of clean ice produced. It can be said that, with a modern, safe and efficient production process, Viet An's ice cube making machine helps his ice facility saving significant cost as well as providing guaranteed ice cubes. Best quality for the people here.
The components come with ice making machine and water filtration line for Mr Thanh
Ice cube making machine that Mr Thanh chooses with the ability to make fast, safe and quality ice, heat treatment and the best stable performance of the industrial ice making machine. The ice makes all sizes suitable for use such as drinking tea, soft drinks, beer, coffee, and making smoothies, ...
Pure 5-ton ice making machine parts and components are imported from leading countries in technology so the machine does not make a loud noise, the ice making machine has an air-cooled system and a panel. Automatic control brings convenience, safety and health to users.
An ice making machine is very quick to make perfect ice, ensuring food hygiene and safety standards by water intake is cleaned through the most modern disinfection technology. With components attached to the 5-ton ice machine help ice maker operate with the highest efficiency.
Charging bucket G5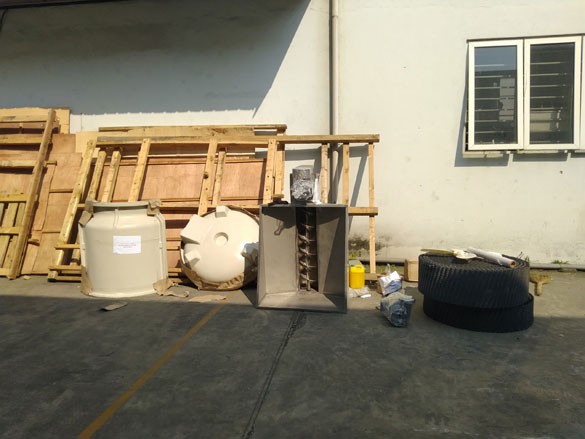 Charging bucket G5
Viet An's ice cube packing system is made of 304 stainless steel, the top stainless steel in the market today. This packing system is being sold at VND 18,000,000 for ice cube machines with a capacity of 4 to 5 tons. If you use a larger capacity ice cube machine, you will have to use a larger ice pack packing system.
12C Cold storage
After producing ice cubes very quickly melted by ambient temperature, before shipping to consumers, Mr Thanh needs to be carefully preserved to ensure the best volume of ice. The use of cold storage in the storage of ice cubes will help the ice production process be more stable and productive, ensuring ice for a long time until consumption and use.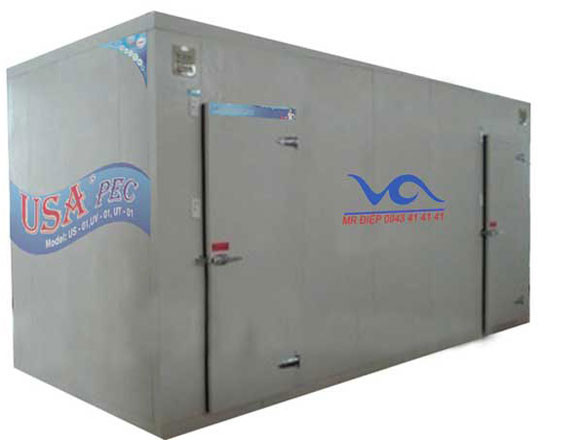 Specialized cold storage for ice making machine
Advantages of cold storage specialized for ice making machines
Preserving ice and pure ice without melting for a long time.
The quick and efficient cooling system saves energy.
Ability to operate continuously and persistently.
Fully automatic control system.
VACA750 water filtration line with a capacity of 750 liters / h auto valve composite filter column of Viet An is a genuine imported product, assembled and quality controlled according to the most stringent ISO 9001-2015 international standard today. Exclusive registered trademark VA, USApec No. 250969 and 250970 at Vietnam Intellectual Property Department.
Unlike the mechanical valve line, it is necessary to have workers to adjust the valve system to wash the filter column, which takes time, makes it difficult to ensure the stability of the filtered water. Now with VACA750 pure water filtration line using automatic valve system, when the water reaches a certain level, the valve will automatically flush the filter column and revert to help businesses save up to 35% of labor cost, At the same time always ensure the stability of the quality of the finished water. With the VACA750 filter system, the consumption of bottled water and pure water produced by the enterprise will be much easier than other products on the market.
VAMCC 150 semi-automatic bottle filling machine with a capacity of 150 bottles / h has many outstanding advantages compared to similar products on the market, the components of the system are made entirely from iNox, the system of extraction heads. Imported directly from European countries helps the filling machine with 3 times higher efficiency than usual, each filling head has a valve to regulate the inlet water flow so that will ensure completely the bottles are filling water is the same level, with this product each worker will filling 1500 to 2000 bottles of water per day.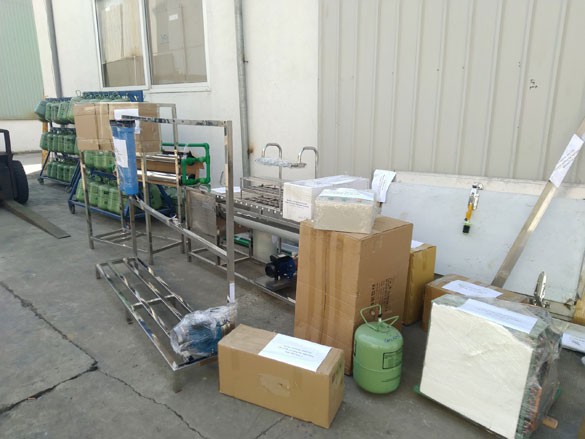 Service when installing ice machines and water filtration lines in Nghe An
In the past years, Viet An Company has always improved product quality, strengthened sales, marketing and best customer service. Not only that, but Viet An also built the best repair, maintenance, warranty and after-sales service staff for Mr Thanh after the warranty period with Viet An 5-ton ice cube making machine.
Mr Thanh's questions related to the company's products will be enthusiastically consulted, answered and improved by the consultant to achieve the highest capacity, while saving power consumption in the following directions:
- Full replacement equipment, easy to find (ice mortar, liquid separator, oil separator, potting container, valve, magnetic float ...).
- Improve the piping system.
- Simple technical design.
- Control cabinet system: automatic by an electronic or conventional mechanical system.
- Replace compressor - repair - adjust the system.
- Gas supply valve and defrost valve.
5 tons ice making machine and Viet An water filtration line were chosen by Mr Thanh to install in Nghe An with quality and ease of use to meet optimal use needs. You can contact the hotline directly: 0949.41.41.41 for advice, more thorough instructions on how to choose the capacity and size of ice suitable for business areas in their provinces and localities. Viet An would like to thank!