Exporting a contract of water filtration line and semi-automatic bottle filling machine in Cao Bang
CACA 400 water filtration line - figure 400 equivalent to a capacity of 400 liters/hour. The line is made of auto valve composite material used to filter pure industrial water in bottling and bottling nowadays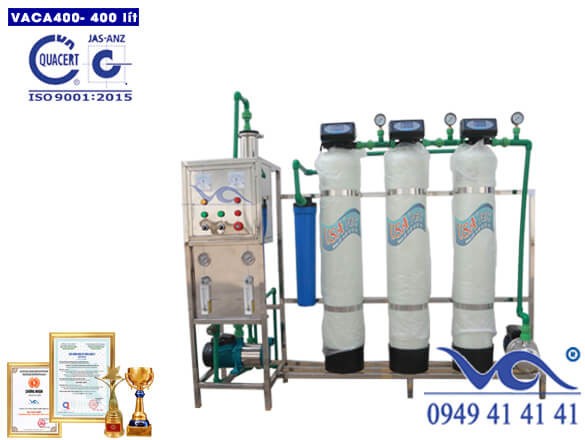 Water filter line VACA400 - Viet An
VACA 400 pure water production line was imported and assembled by Viet An General Trading Joint Stock Company at the largest factory of Viet An in Quang Minh Industrial Zone - Me Linh - Hanoi with an area of ​​tens of thousands m2. The production line is exclusively registered under the trademarks VA, USApec, Vinaro.
VAMCRTH semi-automatic bottle filling machine with a capacity of 60 bottles/hour and 150 bottles/hour has many advantages compared to similar products on the market, the details of the system are made entirely from stainless steel helping the dispenser with 2 to 3 times the usual efficiency, each of which has a valve to regulate the inlet water flow so that it will ensure completely that the bottles are extracted at the same level of water, with the This product will filling 500 to 600 bottles of water per day and 150 bottles / hour.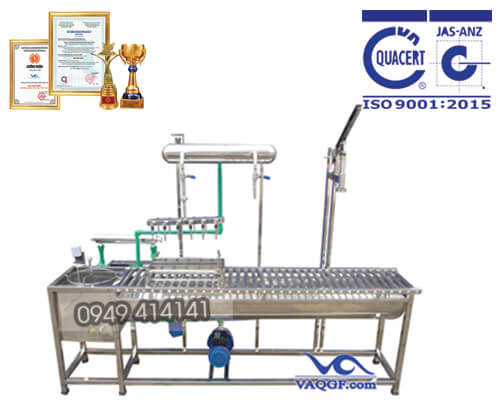 General filling machine
The reason why Hanh chose the water filtration line and Viet An semi-automatic bottle filling machine
On May 16, 2019, Viet An exported semi-automatic water filtration lines and filling machines for Mr. Hanh in Cao Bang under the signed contract of 115/2019 VACA400 + VAMCRTH.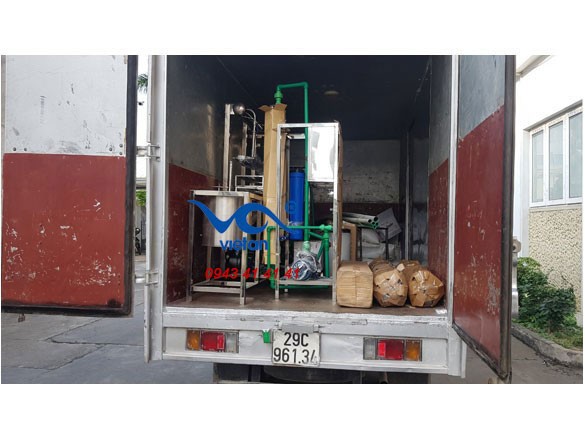 Filling machine and water filter production line for Mr Hanh
These two products have many outstanding advantages that are unique to Viet An - customers can hardly see any quality products at reasonable prices like Viet An.
VACC400 water filtration line
Use composite filter columns that are able to withstand saline and brackish water
Application of RO water purification technology to remove 99.9% of impurities mixed in water
Components of the chain are imported from advanced countries such as the United Kingdom, USA, Netherlands, and Korea
Application of advanced water filtration technology saves up to 40% of power consumption
Designed in a compact industrial design
Using sterilization method 2 times by UV light
Control panel of the water production process is fully automatic
Operation of the water filtration line is stable, durable
Applying the most advanced RO water purification technology of the United States with RO membrane with the micro size of 0.001-0.0001 micron, the Viet An VACA 400 pure water production line can be filtered. Most of the current water sources are river water, rainwater, well water, alum water...
Some customers asked Viet An if the water contaminated with alum or limestone contaminated water could use the VACA400 filter line?
The nature of the filtration line, producing pure water of 400 liters / h will filter all water sources, but if you directly filter alum, heavy limestone contaminated with VACA400 filter system, it will be very easy to cause clogging. Therefore, you should use a coarse filter before filtering through this filtration system to ensure the system works stably, the quality of the finished water always meets the quality standards.
Semi-automatic bottle filling machine
The components of the system are made entirely from 304 stainless steel
Filling systems are imported directly from European countries
Filling efficiency is 2 to 3 times higher than normal
Each filling head has a valve to regulate the flow of water
Ensure that all bottles are equal to the same level of water
Each worker will be filling 500 to 600 bottles of water per day and 150 bottles/hour.
Principle of operation of the filling machine
Firstly, pure water will be led from the tank to the stainless steel pump, the pump system will create pressure of about 4kg / cm2 to rinse the tank cover for a while, this clean tank cover will then be placed on the conveyor at the filling at filling location. The water will be transferred to the filling unit, when filled, the water bottle will be manually capped and transferred to other parts such as shrink film, printed shelf life and finally to the place of consumption.
Viet An's commitment to Mr Hanh and other customers
100% refund to you if the filtered water does not meet the standards of safe water for health, QCVN standards set by the Ministry of Health.
Reimbursement for the purchase of water filtration systems, filling machines and other types of equipment if you detect counterfeit goods or fake goods. Because Viet An only provides genuine products with clear origin.
Provide total solutions from A to Z for customers: Survey, solution consulting, equipment transport, installation, maintenance and maintenance.
The process of installing the water filter line for Mr Hanh in Cao Bang
When Mr Hanh needs to install a water filtration line and a filling machine in Cao Bang, he has left information and we contacted you as soon as possible to provide free product advice to suit your needs. demand for the areas where he intends to invest in a business.
We will then send technical staff to the field survey, advice on the location of the 400-liter water filtration line, instructions on how to take the water sample for testing,...
When reaching an agreement with Mr Hanh on the initial stages, Viet An will conduct the design and installation of the water purifier line in accordance with the standard signed in the contract in order to optimize the most cost while ensuring preserve the quality of clean water.
If you want to buy a VACA400 - 400-liter water filter system or Viet An filling machine, please contact the hotline 0949 41 41 41, for more thorough advice from Viet An experts. Viet An is looking forward to the opportunity to cooperate with customers! Thank you