Exporting contract 028/2019 ice cube making machine 3 ton for customers in Phu Tho
The market for ice making machines at present though there are many types of ice making machines launched with many designs, diverse origin but 3-ton ice making machine - IVA3T of Viet An is still a popular and reputable product at the top in Vietnam. As one of the premium brands, having a solid position in the field of import and distribution of ice cubes making machine and pure water filtration lines, Viet An is committed to bringing our customers the best quality products.
Prove that it is, on February 26, 2019, Viet An General Trading Joint Stock Company exported the IVA3T - 3 tons ice making machine to Ms Xuyen - Phu Tho according to the signed contract of 028/2019.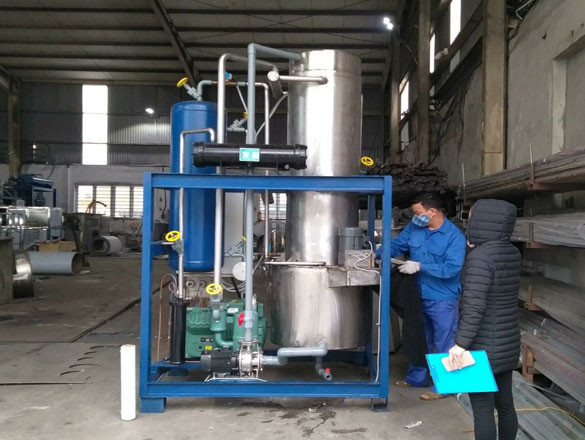 Exporting ice making machine  3-ton for customers in Phu Tho
Ms Xuyen shared: "In our country, there is rarely a brand of 3-ton ice cube making machines that stands out and impresses customers about product quality and warranty as Viet An. Its ice making machine has a variety of designs, as well as a lot of output levels to meet all business needs in the market ".
The preeminent feature of 3-ton ice cube making machine - IVA3T
The best air-cooled by wind, air-cooled, and cooling system in the shortest time will save time and cost for Ms Xuyen.
The automatic valve shutoff system of high-quality water flow, the intelligent control panel will limit energy consumption compared to other ice making machines on the market.
As a model of the next generation, the 3-ton ice cube making machine is improved to improve the production of significant ice, up to 3,000kg / 24h. Therefore, Ms Xuyen can clearly see how fast the ice making and unloading speed of the machine is.
Bringing a new face with a high aesthetic, more certain, the weight of IVA3T ice maker is only 1 ton with the right size and optimal, it will help Ms Xuyen's establishment easily in the process of using, as well as relocation.
The components for assembling machines such as ice molds, ice cutters, water supply tanks for ice, cold mortar, ... they are imported from famous industrial countries in the world, made from stainless steel and stainless steel helps to limit rust and wear over time, higher machine life, ensuring the best heat transfer performance.
Advice on how to effectively use ice cubé making machine  3 tons
Viet An's technical staff guided and noted for Ms Xuyen some of the following issues:
- Read the manufacturer's enclosed instructions carefully. When you have a problem, you should contact Viet An immediately to get immediate support from a team of technicians.
- Should periodically check the maintenance, cleaning of parts of IVA3T ice making machine - 3 tons at least once every 3 months.
- It is recommended to leave the device near the water source, to make the ice production process easy.
Warranty policy for tablet ice machine
During the 12-month use period from the time of purchase, if there are any problems with the machine related to the manufacturer's technical problems, Viet An will give free warranty for Ms Xuyen.
After the 12-month warranty period, Viet An has a maintenance and maintenance mechanism for machines and periodic water quality for Ms Xuyen completely free of charge.
Free package of shipping costs, take it to your place.
Commitment when buying IVA3T clean ice cubes in Viet An
When buying products of Viet An company, we have experienced the most attentive care, a team of enthusiastic and professional consultants.
Many gifts come with a high discount when buying 3 tons of ice cubes.
Flexible forms of payment, suitable for conditions such as direct payment in cash, payment by bank transfer.
All technological processes, machinery and how to operate the product will be carefully and carefully instructed by technical staff, ensuring customers will quickly and effectively use the equipment.
For advice and detailed quotation for 3-ton ice cube machine products - IVA3T please contact 0949.41.41.41 or visit the branch system in Hanoi, Ho Chi Minh, Da Nang, Buon Ma Thuot. Nice to serve you!