Exporting contract ice making machine to Mr. Giang
4-ton ice making machine with compact design, modern standards and European design with machine structure using high-strength materials, can withstand 24/24 continuous working pressure without faulty operation or control panel with the latest fuel-saving technology. The machine is manufactured on modern technological lines according to International standards with components and accessories imported from many countries around the world.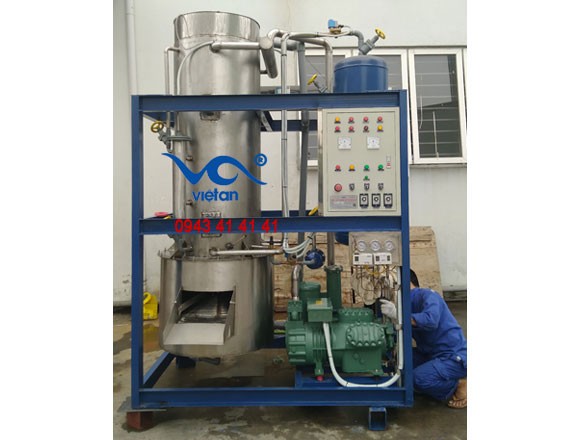 Viet An proceeded to export IVA4T ice machine to Mr Giang
This is a great mid-sized ice cube making machine from easy-to-use and fully automatic operation to energy-saving technology, which saves a lot of cost and labor for the business.
Why did Mr Giang choose Viet An ice making machine?
Wondering between many facilities that provide ice making machines, but Mr Giang decided to choose to cooperate with Viet An, sharing his views. Mr Giang said, "Viet An has a clear factory address. not vague like some other units, the production process is also strict, the ice making machine with various designs and eye-catching designs makes me attracted after visiting the factory, thank Viet An for bringing give me a great product ".
On 11/05/2019, Viet An has exported ice making machine for Mr Giang under the contract MĐ2019HN 026 IVA4T34 * 40.
4-ton ice machine uses new technology to save power 45% compared to other types of ice machines on the market
Save 60% compared to the cost of buying outside ice (Less than VND 400 / kg of clean ice)
12 months Warranty & Lifetime Maintenance products with convenient branch system from North to South, professional service
Quick ice making time: Only 40-45 minutes for 1 batch of pure clean ice
Different sizes of ice cubes according to customers' needs (18-23mm, 34-38mm, 44-47mm)
Versatile with a compact design that is suitable, easy to use and convenient
The quality of pure clean ice meets the standards of the Ministry of Health.
Components imported from Europe with clear stamps meeting ISO 9001: 2015 standards
Smart operation mechanism, closed process limiting dust and disease-causing bacteria to ensure user health
The basic structure of 4 ton ice making machine
Evaporator: The heat exchanger between 2 environments is cold gas and the environment needs cooling.
Compressor: 2-stage screw type, which works to cool air, gas.
Condenser: Condensate gas is processed in compressor and then converted into liquid form.
Refrigerant: R22 / R404A refrigerant gas for good heat transfer and cooling performance, imported from Japan.
Cooling tower: Water cooling system and blower.
Ice cubes: Water-cooled unit to form ice.
Water pump: Has the function of pumping water circulation to make ice.
Valve system: Defrost solenoid valve, condenser stopper valve, ...
Viet An provides advice on how to effectively use the 4-ton ice machine for Mr Giang
Viet An technical staff gave instructions and attention to Mr Giang a few issues as follows:
- Read carefully the attached instructions of the manufacturer. When having problems, please contact Viet An immediately to get support from a technician team immediately.
- Should periodically inspect, clean, clean the parts of IVA4T ice machine - 4 tons at least once every 3 months.
- Should keep the device near the water source, to help the production of ice becomes easy.
Warranty policy for 4-ton ice making machine
During the use period of 12 months from the date of purchase, if there are any technical problems of the manufacturer, Viet An will give you a free warranty for Mr Giang.
After 12 months warranty period, Viet An has a regime of maintenance, machine testing, and periodic water quality for Mr. Giang completely free.
Offering shipping costs package is a free installation of products, to take place.
See more: Pure water filtration line for ice making machine
In order to install the ice cube making machine smoothly, Mr. Giang needs to prepare:
The inlet water tank and water pipes to the location for installing the ice machine of Mr. Giang need to be prepared in advance
Provide 03 phase (380V) power to the machine.
Water sources meeting the living standards for the production of pure ice cubes under the provisions of the Ministry of Health as well as the means of conveying the above sources are always stable in accordance with the initial conditions at the foot of the works in order to create conditions in during installation and operation of the machine.
Parts related to building Mr Giang's factory should be carried out as follows:
           + Workshop with the ice machine system
           + Place for storing water tanks
           + Location cooling tower
           + Location of cold storage.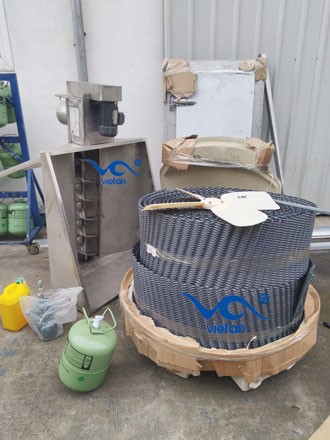 Components with 4 tons of ice making machine are exported to Mr Giang
Viet An will support you with issues such as:
Designing stamps, labels for Mr. Giang's businesses
You will be provided free of charge for shipping, installation and operation instructions using a 4-ton ice making machine.
We will also advise you on a business strategy to make it easier for you to capture the market.
Whenever the machine has a problem, just contact the hotline 1900 6013 we will send a technician to support and repair in the fastest time.
In order to make the ice machine work well and achieve the highest quality, Mr Giang also needs to regularly clean the machinery of water pipes to avoid bacteria from intruding.This will also help the ice machine to achieve long life and reduce unexpected breakdowns affecting the manufacturing process.
Viet An thanks Mr Giang and all our customers for nearly 20 years for always supporting us. Viet An Company is committed to bringing the most prestigious and quality industrial ice machine products to all customers.