Exporting contract IVA 3T ice cube machine to Mr Dao in Da Nang
IVA 3T ice cube making machine is still the most popular and prestigious product in Vietnam. Viet An as one of the units with high-class brands, has a solid position in the field of import and distribution of ice making machines, water filtration lines, filling machines, bottle blowing machines ... etc.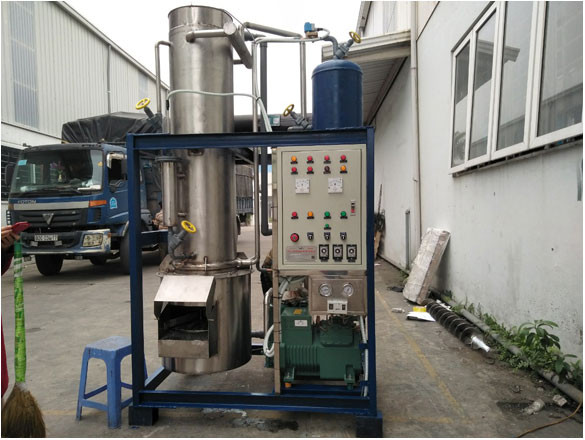 Danang is a province with many famous landmarks each year attracts thousands of domestic and foreign tourists with favourable weather conditions, so the business of ice cubes is quite favorable, capturing important factors. Therefore, Mr Dao decided to buy IVA 3T ice making machine and signed a contract with 049/2019 IVA3T18 with Viet An.
So what is the special point that makes Mr Dao choose ice cube making machine IVA 3T
IVA 3T ice making machine is designed according to the latest technology in the US 2019. Produced by Viet An General Trading Joint Stock Company in Vietnam. With a very compact industrial design, makes installation simpler for customers, and safe for manufacturers. New compressor 100% German technology, save small noise power, less affecting people around.
IVA 3T ice making machine uses pure water to make ice, so it is very safe for ice products, the ice is clean ice and meets food safety standards 6 -1-2010 / BYT. The machine is designed with simple technique, high durability, low maintenance and maintenance costs, saving energy.
IVA3T Ice making machine - 3 Tons is smart. Made of high quality 304 stainless steel, adapted to the climatic conditions of Vietnam, helps the machine from corrosion due to oxidation. with a system of components painted 2-layer epoxy anti-rust helps ice machines can withstand the weather of Vietnam.
IVA 3T ice cube making machine production process
Pump water into the reservoir, located below the ice motar.
Use a water pump system, to transfer water from the lower reservoir to the upper tank, then to let the water through the condenser system or evaporator-type condenser (the mission of this condensing system is converting water from a liquid into a vapor)
Direct this steam into the ice pipes inside the ice motar (below the water tank above and the condenser).
The compressor will start operating, combined with the refrigerant in the 3 ton ice cube making machine - VA3T to transfer cold air into the ice tube (the temperature is now about minus 20 degrees Celsius), the steam in the pipe will gradually crystallize into ice and cling to the inside of the tube wall.
After a period of 45 minutes, ice cubes have been formed, the compressor system will reverse to pump hot air into the ice motar, helping the ice to be separated from the pipe.
After the ice leaves the tube, it will be cut by the knife system below the mortar, cut the ice into cubes with pre-set size.
How to effectively use the IVA 3T ice making machine
No matter how good a product is if it is not operated according to the prescribed standards and is properly cleaned, it will quickly degrade after a long time of use. In order for IVA 3T ice cube making machine to work better and more durable, Mr Dao should note the following points:
Firstly: Read carefully the instructions provided by the manufacturer. When having problems, please contact immediately at 0949.41.41.41 to get the best solution.
Secondly: Regarding the water source, you should use tap water or filtered water, you can also use groundwater from a depth of more than 90m.You can refer to our RO water filtration technology line, when combining with ice machines to ensure quality ice made hygienic, 100% pure.
The third: Mr Dao needs to check the power source to see if the voltage level is suitable for capacity or not to be able to find a replacement.
 + Attention should not be placed in the location but not flat, high humidity, avoid places with high temperatures, direct sunlight on.
 + Should periodically check the maintenance, cleaning and cleaning of components, replace if necessary to increase the life and durability of the machine.
The auxiliary equipment for IVA 3T ice making machine should be needed by Mr Dao
Cold storage: This is a very necessary device, which should be purchased by Mr Dao to ensure there is still ice to be used in case of machine maintenance, power outages, ice storage at night or ice storage during rainy days.
Water filtration system: With IVA 3T ice making machine, he will need a water filtration system with a capacity of 300 L / H or more. It is possible to use sterilized water filtration system based on Nano technology or pure water filtration system based on RO technology to make ice cubes because these two systems give water quality up to direct drinking water standards 6-1 / 2010 / BYT of the Ministry of Health.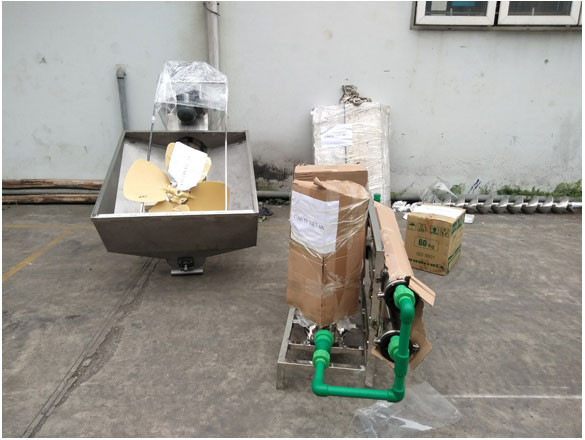 Packaging system: fast and convenient this is the advantage of the packaging system so that the process of freezing quickly is the equipment you need. When buying IVA 3T ice cube making machine, he will be given a packaging system so there is no cost for this device.
Choosing Viet An is a perfect decision of Mr Dao, after signing the contract, Mr Dao will enjoy many incentives and extremely attractive policies such as 12-month warranty, long-term maintenance. Free shipping and installation in Da Nang.
If you are in need of ice cube making machine or have questions or need more information about IVA 3T ice making machine, customers can contact us directly via the hotline: 0949 41 41 41. Viet An sincerely thanks!