Exporting contract IVA5T ice making machine to Mr. Trong in Quang Ninh
IVA5T ice making machine of Viet An is the most advanced and advanced quality export machine, which is much more modern than other ice machines on the market because of the advantages such as maximum power saving, Machine durability up to 20 years, international standard ISO 9001-2015 ... Here are some special points of ice machine with these advantages Mr Trong from Quang Ninh has decided to sign a contract 032 IVA5T34 with Viet An General Trading Joint Stock Company.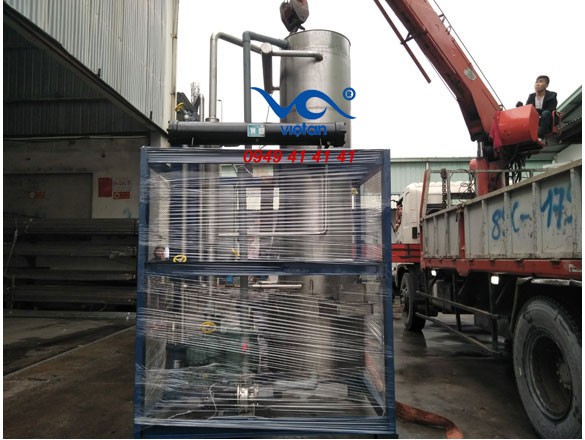 Viet An exported IVA5T ice making machine to Mr Trong in Quang Ninh
Quang Ninh is a coastal province located in the northeastern region of Vietnam. Quang Ninh is like a miniature Vietnam because it has the sea, islands, plains, midlands, hills and borders. In economic development planning, Quang Ninh is both in the northern key economic region and in the northern coastal region and in Van Don special zone in the future. This is Vietnam's main coal mining province and has Ha Long Bay as a world natural heritage and wonder.
IVA5T ice making machine with components imported from developed countries around the world
Stainless steel tube ice mold (inox304)
The water splitter is made of elastic, creating a durable outer gasket for the connection between the ice molds and the water dispenser
Refrigerant: R22 / R404A imported class 1 from India
Ice cutting knife: Made of stainless steel driven by a gear motor specially designed for the production of cylindrical ice or crushing ice by reversing the cutting motor and using switches to control the function.
Ice cutting motor: Designed to take on the heavy function of cutting ice in standard size
Water pump: The type of centrifugal pump is cast in cast iron, big enough to circulate the water which will be frozen many times and create a transparent crystal ice film.
The ice charging bucket is made of stainless steel (304 stainless steel) to ensure hygiene.
Gas supply valve and defrost valve imported from Denmark or Japan are stable and long-lasting.
Condenser imported from USA / JAPAN.
The compressor is new 100% of USA / JAPAN, it works stably, durable, running smoothly without making much noise.
Control panel: Modern - access to the automatic switchboard system that condenses the freezing and thawing process accurately and reliably from year to year.
Power supply: 3 phase - 380V
The advantages of IVA5T Viet An ice making machine
- Ice making machine is made of stainless steel
- Performance of IVA5T ice cube machine is stable, safe
- Dual cooling system
- Automatic control network
- Fast ice making speed, guaranteed
- Water disinfection technology helps ice cubes always pure and clean
- Adjust the size of ice cubes as you like
- The machine operates smoothly, does not cause loud noise
- Compact design, modern, easy to use
- Power saving up to 30% compared to IVA5T ice cube products of the same capacity on the market.
The reason Mr Trong chose to use IVA5T ice making machine.
The market is full of imported industrial equipment brands, causing information to be diluted, and consumers do not know who to trust. Viet An company is specialized in supplying genuine industrial equipment.
Considered a representative of the new generation of industrial ice production, Viet An has received the favor and trust of customers because of its superior features, fast ice making speed, easy to use, and smooth running machines. with a "huge" capacity.
In particular, high-quality structural materials ensure durability, no rust, anti-oxidant long-term working efficiency. The machine uses modern technology, good sterilization mode to make ice cubes to ensure clean - pure - safe. With the system of intelligent integrated circuit devices, saving up to 30% of power -> long-term economic problems are gradually optimized.
See more: Viet An filling machine
The components come with Mr Trong's IVA5T ice making machine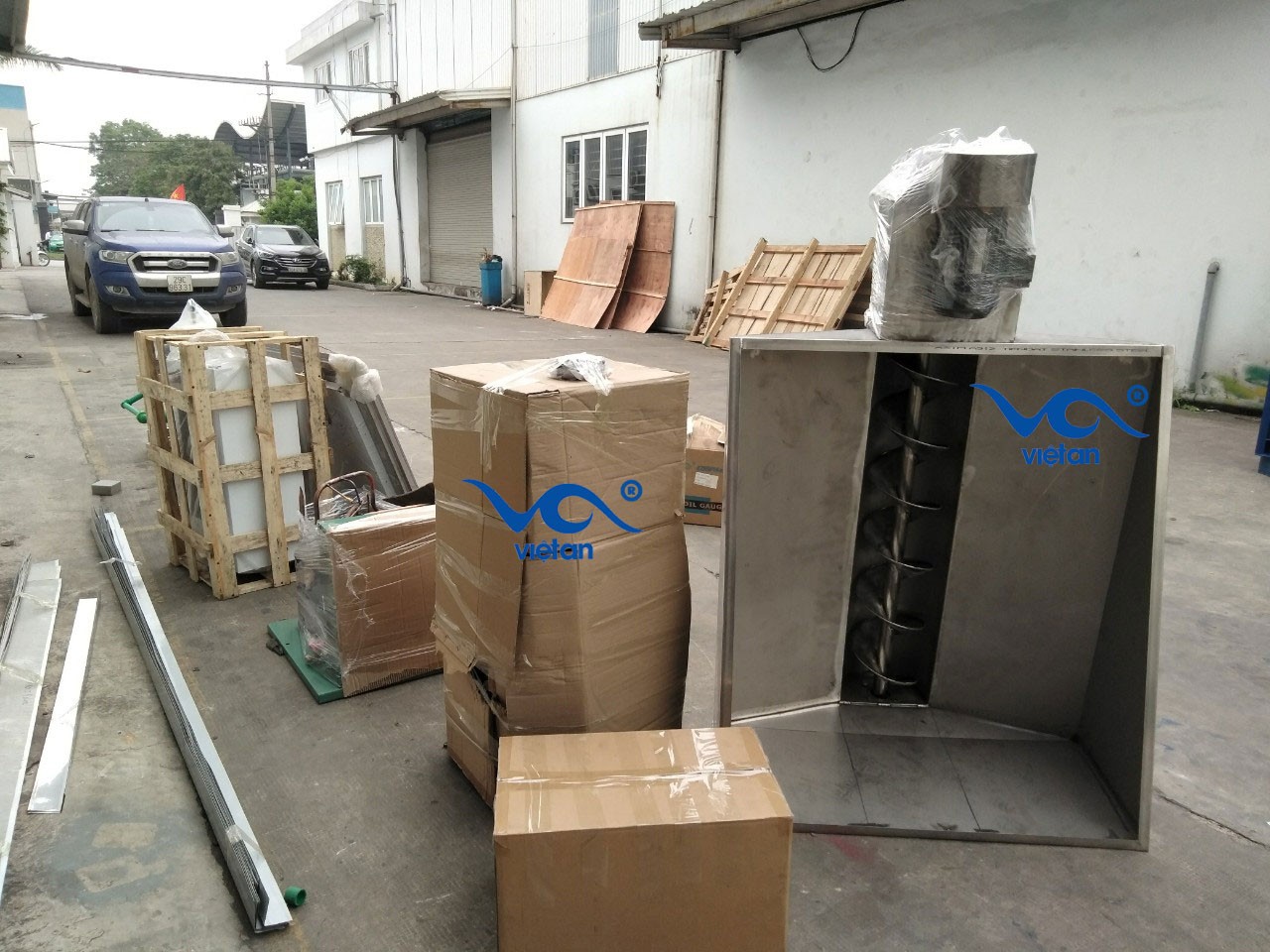 Components are accompanied by IVA5T ice making machine
Cold storage:
Mr Trong chooses a warehouse with dimensions Length x Width x Height: 3x2x2 m = 12c, with this capacity, the warehouse can store up to 12 m3, ensuring there is still ice used in case of machine maintenance, lost electricity, rock storage at night or ice storage on rainy days.
Using white foam material covered with two layers of corrugated iron, this is the best panel, the safety lock system ensures the temperature of stone storage is always stable from -4 to -9 degrees Celsius, with this temperature. The ice becomes porous, not sticky when delivering to customers.
Charging bucket:
He chose a charging bucket of G5 - suitable for IVA5T's ice cube making machine. The bucket is manufactured by stainless steel at Viet An factory, the system supports users to manipulate quickly, neatly and effectively in making ice into bags, big bags for distribution to customers.
Ice Blender:
Viet An's industrial Ice Blender is made entirely from stainless steel - 304 stainless steel is thick, does not deform when bumping during grinding or rusting. Cleaning and storage of the machine will also be simpler.
With an IVA5T ice cube making machine, quality assurance, commitment to prestige and the best company warranty so there is no reason to refuse. surely with this IVA5T ice cube making machine, Mr Trong will quickly develop and collect profits. Thank you for trusting in choosing Viet An.