Exporting contract of IVA3T ice cube making machine for Mr Vuong in Hanoi
Hanoi is the second most populous area in Vietnam so in the hot summer the demand for ice cubes increased sharply, seeing the importance of the ice Mr Vuong decided to invest in the IVA3T ice cube making machine - 3 tons ice cubes every day to provide consumers with the purest clean ice.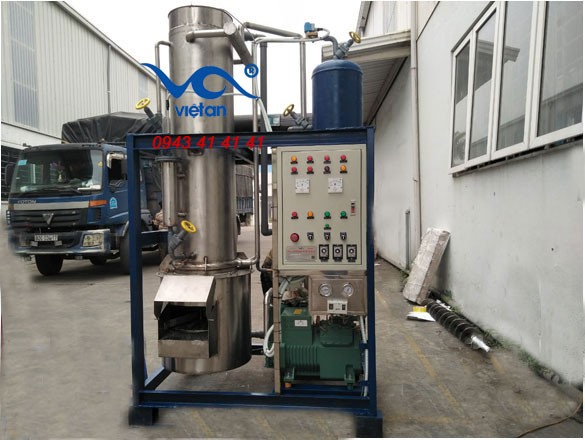 Viet An prepares to export IVA3T ice making machine for Mr Vuong - Hanoi
The popularity of this ice cube making machine is due to the superior benefits that it brings to traders and consumers. However, on the market today, there are many types of ice making machines of unknown origin, poor quality, easily damaged and the products created do not meet food safety standards. So Mr Vuong decided to choose Viet An and signed a contract of 060 IVA3t34.
The advantages of IVA3T ice making machine are only available in Viet An
- The price of our products, which is always 15% lower than that of other ice machine companies - the reason for this is the optimization of ice making processes.
- The company ensures 100% IVA3T ice machine is made of high quality 304 stainless steel - thereby preventing oxidation.
- Although it is an ice machine, to help the finished ice, always good quality, the company of Viet An also installed an additional water treatment system with a closed - automatic process, which can be cleaned all water sources.
- IVA 3T ton ice maker Viet An can produce all kinds of ice (ice cubes, square ice, shaved ice, ice cubes) - suitable for users' purposes such as beer, refreshments and marinating cold.
- We only use refrigerants R22, R404A as a catalyst, these refrigerants are absolutely safe for the human body (all are approved by the Vietnam Pharmaceutical Department).
- Another advantage of the product, is the large ice storage system with perfect cooling capacity, helps to preserve ice before use.
- The durability of high equipment can be up to nearly 20 years.
Structure of IVA3T ice making machine
The main equipment includes:
100% new compressor imported from USA / Germany.
Condenser (heat exchanger and heat exchanger to water with additional cooling water pumping system and cooling tower)
Throttle system
Evaporation system ...
The auxiliary equipment:
Oil separator operates on the principle of changing the direction and speed of the fluid flow! Based on the density of the medium and the oil dust!
High-pressure container: for high-pressure liquid! The task of releasing the heat exchanger surface of condenser and providing sufficient amount of solvent for the throttle system
Liquid separator
Heat exchangers: Exchange counterflow heat between the refrigerant from the evaporator and go into the heat exchanger with the liquid in the spiral tube!
Mr Vuong shared his experience when choosing to buy ice machine
Before determining to invest in ice machine, you need to identify some basic factors such as:
Determine the type of ice size for your business
When choosing the type of ice, you need for your restaurant/establishment, you need to specify what kind of ice is needed for? For example, you often use ice for fizzy drinks, or for alcoholic beverages. Or use it to chill beer and wine. Facilities such as hospitals, clinics or using stone to apply wounds, pain stains ...
As for Mr Vuong's facility, he chose the 34-38mm ice size, this is the versatile size of ice he can provide ice for many customers to drink wine, beer, ice tea, coffee ...
Determine the amount of ice used in each day:
The size of the ice making machine is an important consideration before deciding to buy an ice making machine. A basic rule of thumb is to determine the amount of ice needed for your facility to operate on a normal day. Mr Vuong shared that because the initial investment was not much, he did not have a stable number of customers, so he chose IVA3T ice making machine when stable operation will upgrade the capacity gradually.
Choose the ice making method of the machine
Determining a suitable industrial ice machine depends on many factors, but the Log machine part is an important factor that makes a difference. An ice machine that uses an air-cooled log will save you money on water compared to a water-cooled log, but a machine with a water-cooled log will help you minimize noise when operating and it will operate more safely in case of high air temperature. However, Viet An's products have a dual cooling technology that fits both gas and water so Mr Vuong does not have to worry about this option.
Identify accessories included:
An ice machine will need accompanying cold storage, water filtration system, charging bucket ... etc, depending on the needs of each customer will have different choices.
When buying ice machines in Viet An, Mr Vuong will receive free shipping and installation instructions for expert operation. With ice maker IVA3T, Mr Vuong has 1-year warranty and long-term maintenance. Not only that, but he also enjoyed many other preferential policies of Viet An. Customers wishing to buy ice machine please contact the hotline: 0949 41 41 41, for advice and support.