Exporting contracts 1 ton and 2 ton ice cube making machine to Ms Dao in Ninh Thuan
The market for producing ice cubes in Ninh Thuan is scarce while the demand for ice cubes for production and daily life is always high due to the increasing population. Therefore, building a business production model and investing in an ice machine here is a very feasible business model and has the opportunity to expand and develop.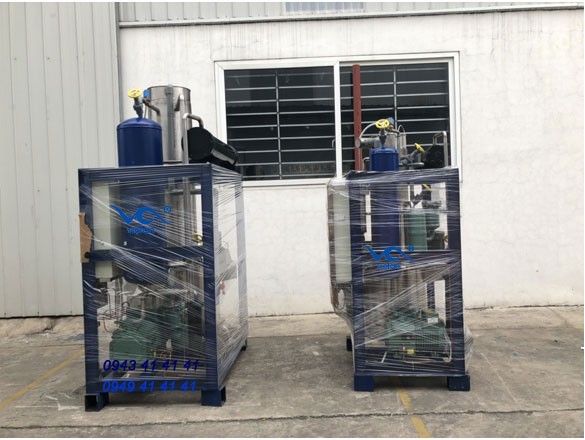 Ice making machine IVA1T and IVA2T prepare for export to Ms Dao
Grasping the above demand, Ms Dao decided to sign a contract for 111/2019 to buy IVA1T18 * 20 and IVA2T47 * 90 ice making machine with Mr Nguyen Trong Tan - representative of Viet An General Trading Joint Stock Company. On May 23, 2019, Viet An has exported goods to Ms Dao in order to keep up with the schedule so that her production facility can be put into operation as quickly as possible.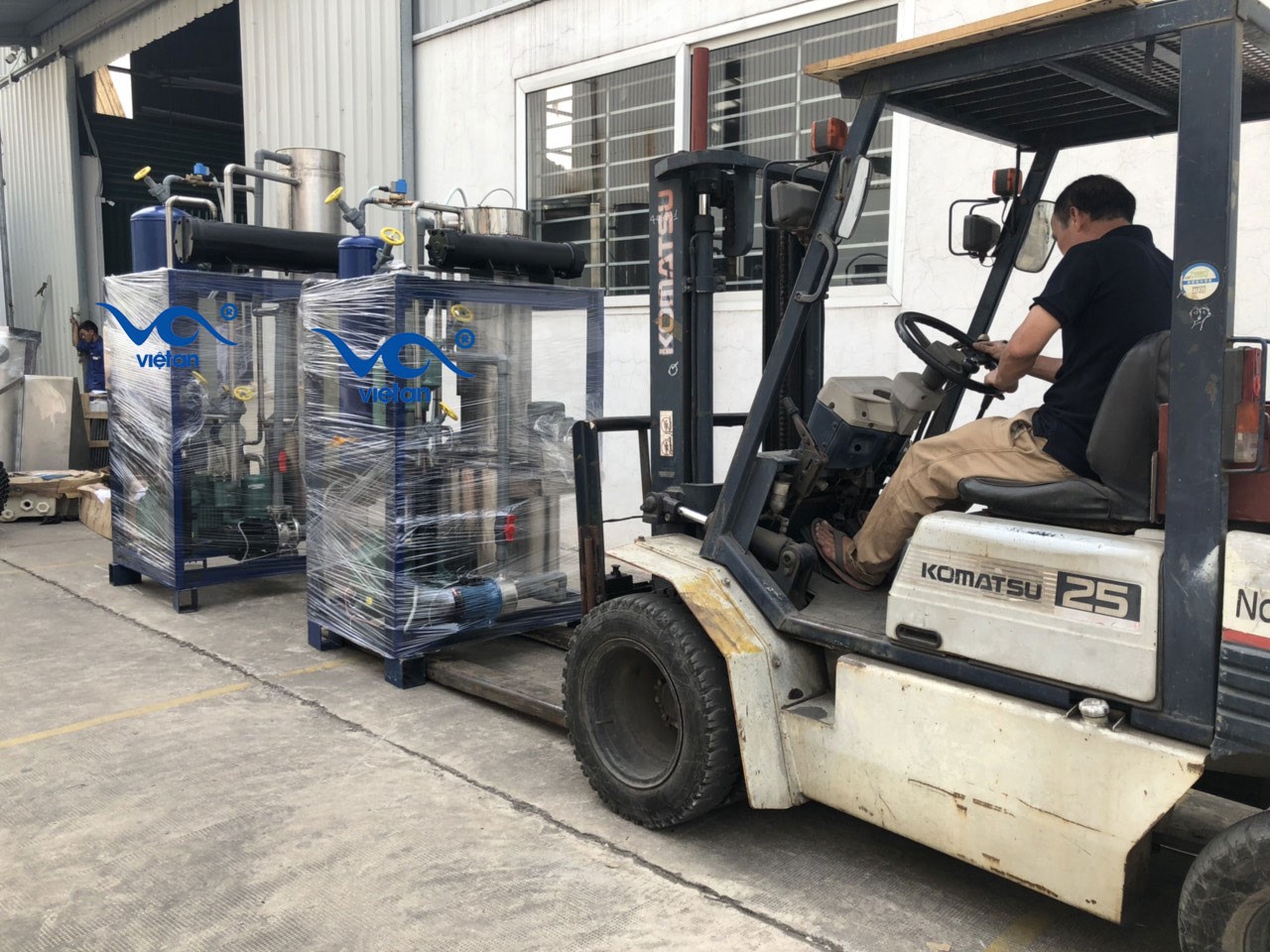 The operating principle of the ice making machine that Ms Dao chooses
Principle of operation of an ice making machine: Steam is drawn to the compressor in the form of low-pressure steam, which is compressed by the compressor to high pressure and high temperature. Through the oil separator to separate the oil dust from the vapor of the vapor to the condenser, then exchange heat and release heat into water to lower the temperature and pressure and condense into liquid form. The liquid medium is passed through a heat recovery device and reduces heat and the heat of the vapor after passing through the evaporator. The liquid is put into a high pressure container, the flow of fluid is through the throttle system to reduce the pressure to evaporation pressure. The refrigerant on the evaporator receives the heat of the ice and evaporates.
Products of pure ice making machine manufactured by Viet An Company, when put into operation, have high stability, durability and continuity. Components of the ice machine are imported from famous countries in the world such as Germany, Korea, Japan, ... During the production process, they are regularly inspected and assessed for quality strictly until export. With the water purification line and the cold storage system to preserve the finished ice products, when they come out, they achieve high criteria for food safety and hygiene systems. Does not contain substances harmful to consumer health, so users appreciate it.
The reason why she chose Viet An is the unit that installed the ice making machine
Viet An ice making machine is an international standard product with equipment production lines standardized by US technology, ISO 9001: 2015.
Therefore, Ms Dao used Viet An ice machine to provide ice cubes for restaurants, hotels, supermarkets, seafood stores or cafes, refreshments, bars, karaoke, and milk tea. ...
In particular, Viet An ice making machine takes an average of 35 to 45 minutes for a batch of finished ice thanks to a fully automatic mechanism under a closed process without any external intervention.
Viet An is one of the only units on the market today with a system of branches displaying and introducing products in Hanoi, Da Nang, Buon Ma Thuot, Ho Chi Minh, water filtration lines, ice making machines reach a large scale to provide customers with practical benefits when directly experiencing the product.
With customer-centric criteria for all brand development plans, besides product quality censorship, Viet An also pays great attention to the quality of after-sales service with highly qualified technical staff. , well-trained abroad to provide customers with the best maintenance and repair services.
The auxiliary equipment for ice making machine is for Ms Dao
VACC400 water filtration line has the ability to turn dirty, unsanitary water into clean, pure water to serve the needs of use, production and business, and contributes to protecting the health of children people. With a completely closed water filtration process, the components that make up the 400 liter bottled water filtration line are all imported from advanced countries like the US, UK, Japan, and South Korea. In the long run, the water purifier works stably.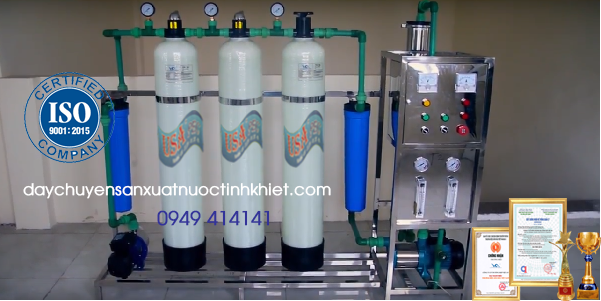 2. Cold storage (KL10c): This is necessary equipment to ensure that ice is still used in case of machine maintenance, power outages, ice storage at night or ice storage during rainy days.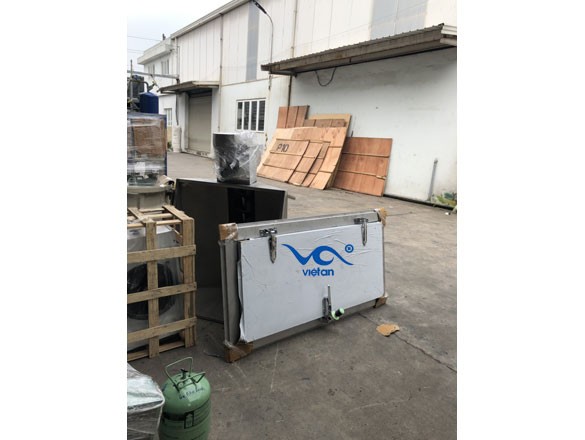 3. G5 packaging system: fast and convenient this is the advantage of the packaging system, so that the process of quick freezing, this is very necessary equipment. When buying ice making machine, Ms Dao will be given a packaging system, so there is not waste cost for this device.
4. VAMCB60 semi-automatic bottle filling machine: the capacity of 60 bottles / h has many outstanding advantages compared to similar products on the market, the details of the system are made entirely from stainless steel to help people fill with 2 to 3 times the normal efficiency, each extraction head has a valve to regulate the inlet water flow thus ensuring that all the bottles are extracted to the same water level, with this product for each worker will be filling 500 to 600 bottles of water.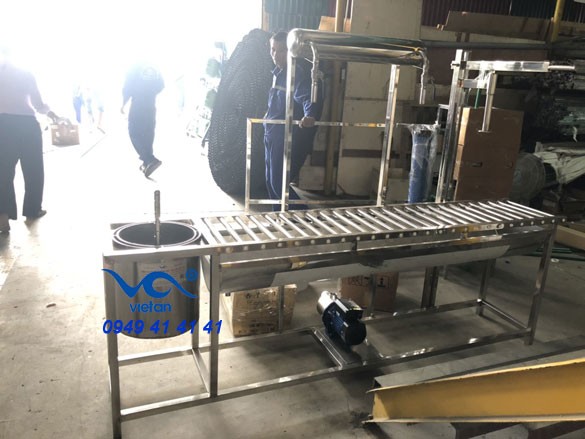 screw cap machine
VATDS test pen
Choosing Viet An is a perfect decision of Ms Dao, after signing the contract, she will enjoy many incentives and extremely attractive policies such as 12-month warranty, long-term maintenance. Free shipping and installation in Ninh Thuan.
If you are in need of buying ice cube making machine or have questions or need to find out details of Viet An ice making machine, customers can contact us directly via the hotline: 0949 41 41 41. Viet An sincerely thanks!