Exporting contracts for ice-making machines in Lam Dong
Not only focus on investing methodically and professionally in researching, producing and distributing product lines of high quality pure ice machine, in order to minimize the errors that may arise in the operation process of Viet An Company is also a pioneer in the market for after-sales services such as warranty, maintenance as well as repair of ice machine for customers.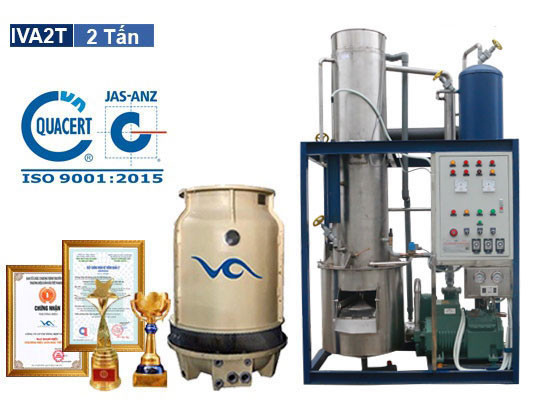 IVA2T stainless steel ice cube making machine
Formerly Viet An General Trading Co., Ltd,  after nearly 20 years of construction and growth, Viet An General Trading Joint Stock Company has been one of the leading enterprises in terms of import and distribution. RO pure water filtration line, filling machine, stainless steel ice maker machine Export brand VA, USApec, Vinaro No. 1 in Vietnam, achieved gold medal of high quality Vietnamese goods in 2009, cup Golden Lotus of Vietnam high-quality goods in 2009, the gold medal of the leading brand in Vietnam in 2015, Viet An brand certification achieved ISO9001: 2015 certification for the production process of water filtration lines and ice making machines, received the Certificate of Merit and Certificate of Membership of the Vietnam Association of Anti-counterfeiting and Trademark Protection VATAP in 2016 Best Performance in 3 regions in 2017, is one of 100 enterprises honored to meet with President Truong Tan Sang in 2016 and President Tran Dai Quang in 2017 and many other noble awards and certificates.

Viet An's Award is honored to be achieved
Mr Tin chooses 2 tons of quality ice making machines in Viet An
Through research on the media and the internet, Mr Tin realized that Viet An was a reputable enterprise in the field of manufacturing pure ice making machine, ... he arranged his time, He did not mind the way. He says that: "If you do not do it, do it, you have to go to the place to see and hear to be assured of cooperation. I was determined to invest but also afraid of difficulties, how can I find a trusted partner. Thankfully, I met Viet An, and I was able to give advice on everything from supplying machines, building factories, designing labels, completing legal documents and papers to announce products. not only other units they just sell, but other issues they do not support anymore. "
Lam Dong is a famous tourist destination with many historical and famous tourist sites, so it attracts many international delegations. when Mr Tin started working in the ice cube business, exploited this strong point to develop his pure ice production enterprise.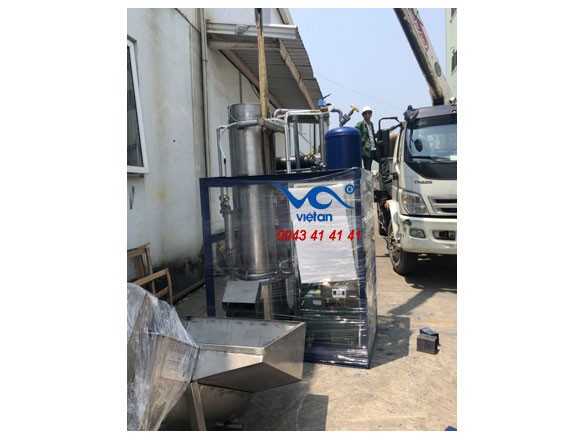 2 ton ice cube making machine prepares to export for Mr Tin
According to the signed contract No 191/2019, on 17/05/2019, Viet An General Trading Joint Stock Company proceeded to export IVA2T ice making machine - 2 tons of ice / 24h, ice size 18x30mm for Mr Tin in Lam Dong.
Advantages of Viet An 2 tons ice cube making machine
- Superior cooling system, producing ice in the shortest time to save time and cost. The machine is used in combination with an advanced line of water filtration that is safe for health and has an automatic alarm system.
- The material of stainless steel heat treatment ensures the best heat transfer performance.
- 2-ton ice making machine is designed to compact, quality, stable and durable operation to bring high performance, save energy, easy to operate.
The industrial ice cube making machine produces the following types of ice cubes:
Large ice: 47 x 80 mm. Often used for beer, soft drinks, etc.
Medium large ice: 38 x 45 mm. Usually used to drink ice tea, ...
Medium small ice: 34 x 40 mm. Usually used to drink ice tea, ...
Small ice: 18 x 23 mm. Often use to drink coffee, juice, mixing water .
2 tons ice making machine is a series of machines made from high quality iNox 304 material with all components imported from advanced countries, components imported and new 100%.
The process of installing ice machine for Mr Tin of Viet An
The process of installing ice making machine for Mr. Tin of Viet An is an important and complicated stage so we always arrange highly skilled employees. The installation and handover steps will be conducted as follows:
Step 1: After signing the contract and preparing everything necessary, Viet An's staff will transfer machinery and equipment to the place that Mr Tin has signed in the contract and conduct ice making machine installation and accessories such as, cooling tower, charging bucket, water filtration lines ..., quickly and effectively so your business can soon go into production.
Step 2: when finish installation, Viet An's staff will give specific instructions for the person in charge of this ice machine to understand the production process and promptly reflect the problems encountered when running the machine.
Step 3: Boot to test the machine, to the machine works stably. After that, Viet An will hand it over to Mr Tin directly.
Step 4: After the installation process, we also carry out maintenance and maintenance of the machine to make the ice cube production process safe and effective.
After completing the installation and handing over the ice machine to Mr. Tin, Viet An also assisted him with related issues such as applying for licenses, designing labels, testing water samples, etc.
Thank you for choosing and trusting Viet An, we are confident that 2-ton ice cube making machine of his business will reach out further. Thank you for believing in using Viet An products!