Exporting contracts of 15 and 5-ton ice making machines to Mr Hao in Ha Nam
Recently, Mr Hao had a chance to visit Viet An's factory at Lot 43 D1, H2-G2 Street, Quang Minh Industrial Zone - Me Linh - Hanoi. With an area of thousands of square meters here, we have a full range of ice machine products with a capacity of from 1 ton to 100 tons, bottling filling line, jar filling line, bottle blowing machine, jar blowing machine, pure water filtration lines ... etc.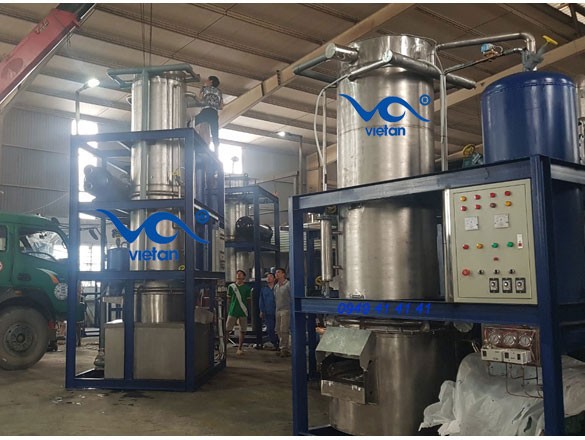 Ice making machine IVA15T and IVA5T prepare for Mr Hao
After being directly visited and consulted on the ice cube making machine, Mr Hao decided to sign the contract of MĐ2019HNm 1006 IVA15T and IVA5T with the output of ice machine produced every day, the ice produced is completely pure to ensure. Food hygiene and safety requirements of the Ministry of Health. Mr Hao can be completely assured about the competitiveness in the market with the quality and confidence of consumers always guaranteed. On May 28, 2019, Viet An has exported ice machine for Mr Hao to keep up the installation progress and put into operation of his facility.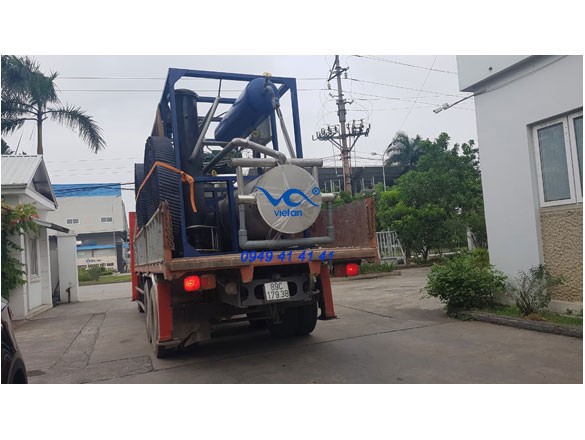 Highlights of IVA Viet An's ice cube making machine
Model IVA is a series of machines manufactured with the most modern technology according to the international standard of ISO9001: 2015 with components imported from developed countries and 100% new.
Specifically, the pure ice making machine is manufactured by Viet An Company to ensure good quality and with clear origin of components. Satisfying the required quality criteria such as 40 criteria for heavy metals, ice products reach 22 criteria and including up to 6 criteria for bacteria and microorganisms. You can be completely assured of the quality as well as consulting services, care, warranty or maintenance of machinery during the purchase to purchase process.
304 stainless steel components should increase machine life, at least 20 years and not subject to oxidation or rust. Therefore suitable use in severe weather in Vietnam.
IVA ice machine uses R22 refrigerant imported directly to ensure safety for users' health. The refrigeration method is of international standard so it is safe for the finished ice to be used in daily living and eating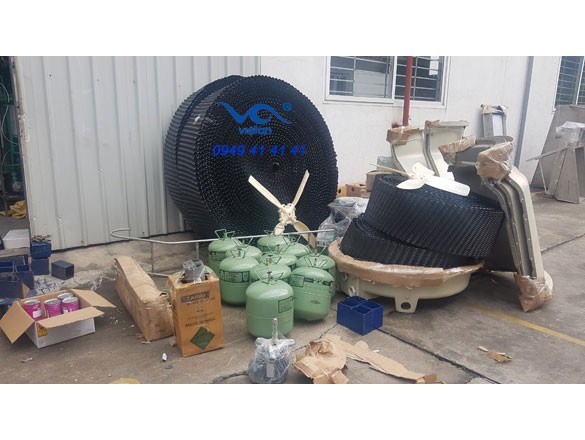 R22 Gas  is used for ice making machine
Thanks to a good silencer system, Viet An ice making machine has small noise, less affected by people around.
The automatic electrical system helps the machine, automatically disconnects when something goes wrong or adjusts the time so that it can make stones of different widths and operate the machine easily and simply.
Ice cube making machine produces tube ice depending on the size selected by Mr. Hao. Specialized applications to the market, in the fields of seafood processing, restaurants or supermarkets, cafes and fast food stores, etc.
See more: Water filtration line for ice making machine
To produce hygienic ice, Mr Hao needs to pay attention
Step 1: Prepare the clean water source: This is the most important step in the process of making ice because the new clean water source creates clean ice. Wanting products that are transparent and lasting, Mr Hao needs to prepare clean water for ice-making machine.
Step 2: Choose a quality ice making machine: Choosing a clean ice making machine is not easy when there are many products of many different companies on the market as well as fake machine lines make consumers very confused. However, when he chose Viet An, Mr Hao could feel completely confident about the quality of the ice making machine. After selecting the device, you need to clean the device before operating and place it in a spacious place to avoid heat or sunlight affecting the quality of the product.
Step 3: During the manufacturing process, pay attention to the temperature and quality of the ice cubes: During production, regular attention should be paid to the temperature and transparency of the product to make appropriate adjustments.
Step 4: Packaging must comply with hygiene and safety rules such as protective gear, gloves ... .etc. Packing workers need to adhere to hygiene and safety such as wearing protective gear, masks, etc. Having an isolated packaging room and good cold room temperature to prevent the product from melting when not yet distributed.
The accessories come with ice making machine for Mr Hao
Cold storage (KL18): The specialized cold storage for ice making machine is very important equipment in industrial ice making systems. Cold storage is created by assembling insulation panels, using compressor assemblies, blower cooling fans and some other specialized components.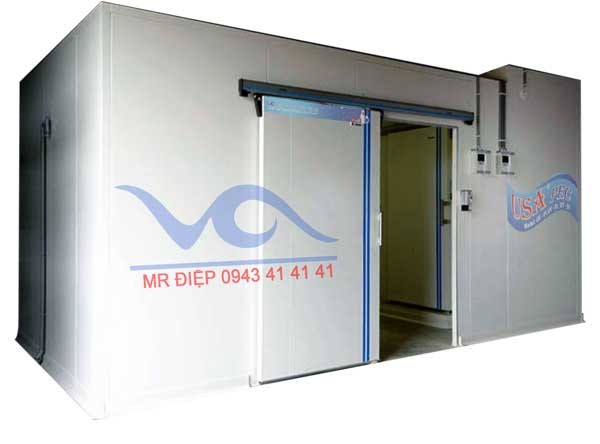 Specialized cold storage for ice machine
Cooling tower: Based on the principle of drawing heat from water through the cooling plate and then discharging, thereby reducing the temperature of the water to cool machines in the factory. The equipment is often installed in factories to cool engines, generators in power plants, etc. The machine is used effectively for these plants because the water circulates in a closed system so the surface Heat exchangers will not be scaled, sedimented, corroded or wasted due to evaporation, do not discharge causing environmental pollution, saving the maximum amount of water needed.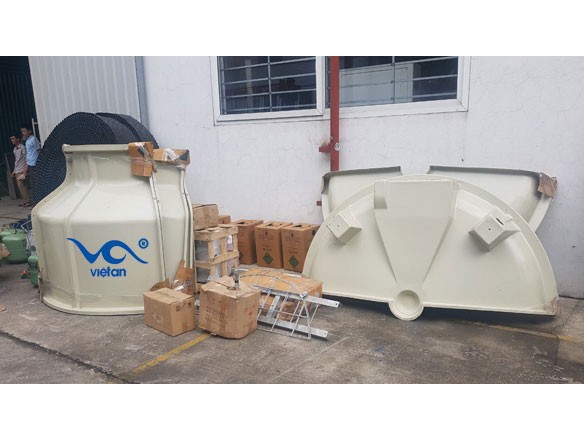 charging bucket (G15-G3): The application of automatic packaging machine in the ice cube production line will be the most optimal, safe and economical solution for Mr Hao's business to improve production the more developed. Introducing and manufacturing an automated packaging system helps businesses gain the benefits of flexibility and low cost. And especially improve the modernization of your manufacturing process.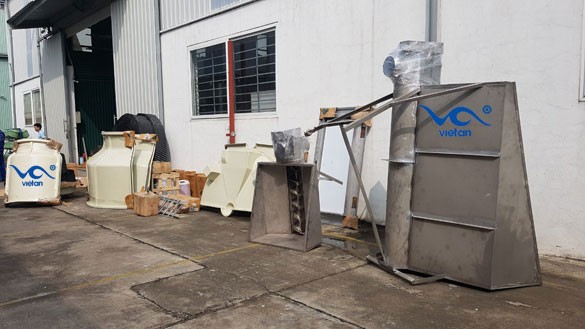 Hopefully, with the information we have just shared, Viet An is really an important necessary partner of Mr Hao as well as all customers. To have the opportunity to own a line of high quality, genuine ice machine, good price and special warranty, long-term maintenance, please contact Viet An today.
Thank Mr Hao for trusting in choosing IVA 15T and IVA5T Viet An ice cube making machine, hope that his business will soon develop and have more opportunities to cooperate with him.