Exporting ice making machine 5 ton to Mr. Thuan in Lang Son
With years of supplying ice making machines, combined with the ice cubes making machine line. Viet An has received important certificates from the Ministry of Health for quality - which will help Mr Thuan to be completely assured when installing our equipment.
Export Contract No. 240 IVA5T ice making machine to Mr Thuan - Lang Son
Mr Thuan chose to buy a quality 5-ton ice cube making machine
Before investing a large amount of money in buying equipment to serve the ice production business, Mr Thuan had studied and considered what is a reputable, quality-assured and popular ice maker. market today.
Besides, Mr Thuan has compared the prices between ice maker firms to optimize the cost of purchasing machines to the lowest possible level.
And finally, he found out about the warranty of the company supplying ice machine as well as the accompanying services such as transportation, installation, repair, ...
Finally, Mr Thuan decided to choose Viet An as a unit to supply ice cubes making machine for his facility.
Benefits when choosing 5 ton Viet An ice making machine
The clean ice making machine is designed according to American technology and has been imported and assembled by Viet An Gentra Joint Stock Company in Vietnam.
With a compact design, fully automatic running ensures clean ice machines produce regular ice, fast saving labour and safety for producers.
Clean ice making machine takes pure water as a material for ice making, making sure that the ice is made of clean ice meeting food safety standard 6-1- 2010 / BYT.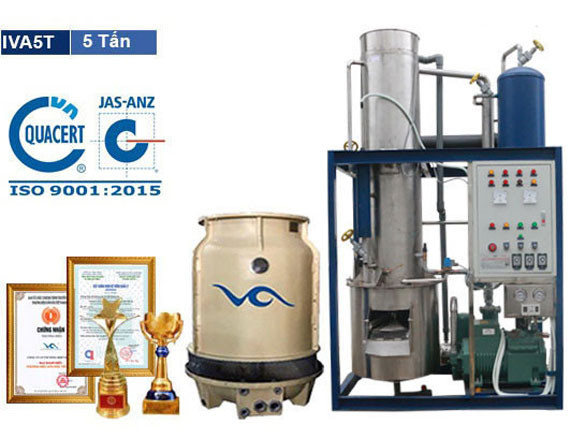 ice making machine is designed with a simple technique. The size of the machine is compact, aesthetic, operating without requiring skilled workers.
Durable. Maintenance costs, low maintenance, energy saving.
The equipment is fully replaced, easy to find, the 5-ton ice cube machine runs smoothly without hearing the noise.
The mould ice tube of ice machine IVA5T is made of high-quality stainless steel 304, which prevents the machine from being corroded because of oxidation, the system of components is coated with 2-layer anti-rust epoxy which helps the stone machine to withstand the harsh weather of Vietnam.
Policy for Mr Thuan when buying Viet An ice making machine
In order to best serve customers, Viet An receives deliveries and installs products in place nationwide. We are confident with our products and are a rare unit to receive lifetime maintenance of industrial ice machine products.
Every year, Viet An will assist you to change oil, change of refrigerant sloven at extremely preferential prices.
For every customer when buying the device, our company will give us a "free" instruction package.
The only special thing, only in Viet An company - that is the discount up to 15% - when buying more equipment related to the ice making machine - that is: automatic packaging system, system Water filter system, cold storage system (all these systems will help your ice production process, become more perfect).
The auxiliary equipment accompanied by Viet An ice making machine
G5 packaging system: Manufactured in stainless steel at Viet An's factory, the system supports users to quickly, neatly and effectively manipulate stone into bags, each big bag to distribute to customers.
Pure water filter line: thanks to this system, 100% output ice ensures the standard of "food safety and hygiene" of the Ministry of Health. The structure of the water filtration line includes: debris filter tank - discolourer tank, deodorant and toxins - water softener, remove limestone and magnesium in water - water purification system according to osmosis principle reverse - finally UV germicidal lamp system, also known as an ultraviolet germicidal lamp.
With a device that applies modern and advanced technology such as 5 tons Viet An ice cube machine, there is no reason for you to hesitate to buy them to serve your business. Above is the basic information about the Viet An ice maker for Mr Thuan in Lang Son. If you have any questions, please call us - via our hotline: 0949.41.41.41, or visit Viet An branches in Vietnam. Thank you very much and see you again!