Exporting ice making machine in Hue
IVA 3T ice making machine - 3 tons of ice cubes / 24h of Viet An was born, which gives Mr Tue satisfaction and trust in excellent quality by energy saving, high productivity, pure ice products. 100% purity ensure food safety and hygiene requirements. Knowing these great advantages, Mr Tue decided to sign a contract of MĐ2019H 090 IVA3T with Viet An General Trading Joint Stock Company.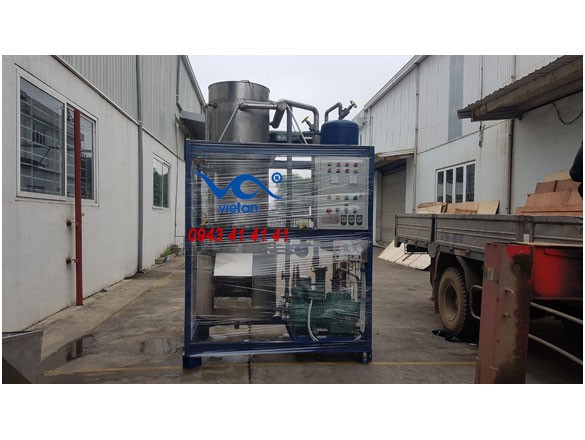 3-ton ice making machine for Mr Tue
Structure and features of 3 ton ice making machine
The machine is composed:
Air compressor ensures 100% new.
Condensers imported 100%.
The block valve, using the type of valve imported from (Valve 22).
Exhaust valves fitted with Piston valves
Danfoss (Denmark) genuine solenoid valves have an expected size larger than the required flow.
The mortar shell is 8mm thick stainless steel mortar with high pressure, super durability, 1.5mm thick ice pipe, 100% imported casting tube
The gas used by Viet An is India's R22 / R404A type 1 Gas
Modern silencer system, no noise.
Before leaving the factory, all machines must go through the testing process of the authorities, ensuring the safety parameters and quality criteria. In order to give customers peace of mind when using Viet An products that have been tested, unlike other units that do not have a product safety inspection.
All devices and components of the machine are made of high-quality stainless steel so heat transfer is very good, the device possesses a shiny outer shell, easy to clean, not afraid of wear and tear over time.
Salient features:
Power-saving features: With a capacity of 3 tons of ice per day - but Viet An's 3-ton ice-making machine consumes very little power, far more than other ice machines on the market and helps you save a lot of expenses. Equipped with an energy-saving system, especially with a protective outer shell from stainless steel, the ability to keep heat-stable, cooling is faster.
The machine is applied cooling technology combining wind and water. The cooling system of the 3-ton ice making machine is of international standard, high durability: All day long operation with such a large amount of ice will certainly cause the machine to heat up a lot, but thanks to the cooling system by wind, so the engine cooler increase working efficiency. On the other hand, thanks to the optimal cleaning technology, it will help completely eliminate bacteria as well as toxins that are harmful to users' health.
The auxiliary equipment of the 3-ton ice machine is exported to Mr Tue
Cold storage (KL18): Using white foam material covered with two layers of corrugated iron, the common panel is the best panel, the safety lock system ensures the temperature of ice storage is always stable between -4 to -9 degrees C, with this temperature ice becomes soft, not sticky when delivery to customers.
Packing system (G5): Produced by stainless steel at Viet An's factory, the system supports users to manipulate quickly, neatly and effectively in making ice into bags for distribution to customers.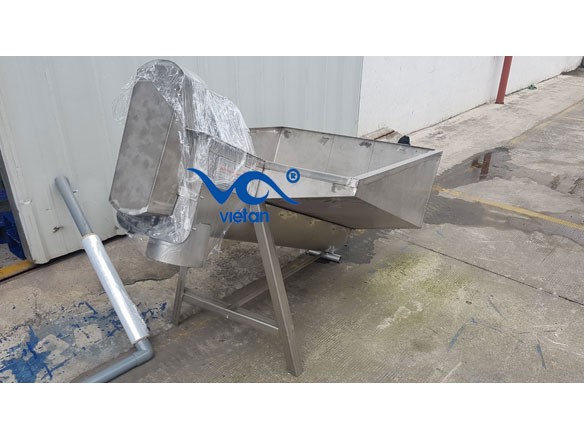 Charging bucket(G5)
Cooling tower: An ice production line in a workshop is a combination of many types of machines working together, and so it will produce a large source of heat, operating machinery parts must more friction, the faster engine is hotter ... Since then, the machine quickly degraded, reduced work efficiency and maybe damaged so must use water cooling tower to help equipment in the factory work. More durable stability.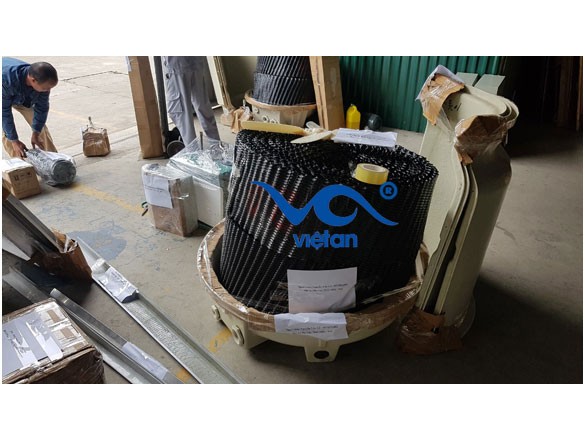 The cooling tower comes with 3-ton ice machine
Policies for Mr Tue when buying Viet An's ice making machine
To best serve all customers, Viet An takes delivery and installs products nationwide. We are confident of our products and we are a rare unit of lifetime maintenance of industrial ice machines.
Every year Viet An will support Mr Tue with services on oil change, refrigerant replacement with extremely preferential prices.
 When buying a machine, Mr Tue will be given a separate package of "free" manuals for our company until they have a proficient operation.
The special thing, only at Viet An company - that is the discount up to 15% - when buying more equipment related to the ice making machine - This is automatic packaging system, water purifier system, the cold storage system (all these systems will help your ice production process, become more perfect).
Products of 3-ton ice machine provided by Viet An Company, when put into operation, have high stability, durability and continuity. Components of the ice machine are imported from well-known countries in the world. During the production process, they are regularly inspected for quality control until they are shipped. Together with the water purification line and the cold storage system to preserve the finished ice products, when they come out, they achieve high criteria for food safety and hygiene systems.
Viet An is a reliable choice for customers who want to use the new 100-ton iNox ice cube making machine.