Exporting ice making machine to Mr. Cong in Da Nang
Viet An General Trading Joint Stock Company is one of the leading enterprises in the field of manufacturing and supplying water filtration lines, ice making machines, ... Viet An products always get the The support and positive reviews from customers all over the country. Understanding the needs of consumers, Viet An always puts the interests and health of consumers on top and takes that to build an image for the Company during the past 20 years.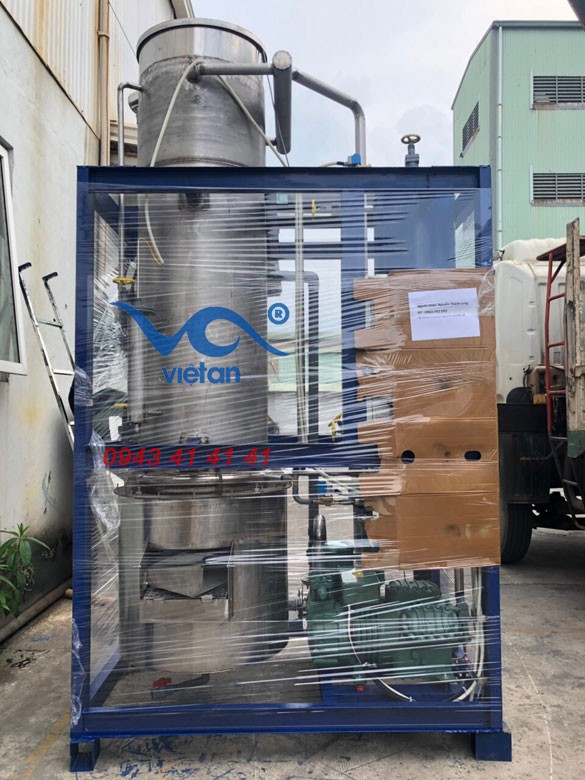 Da Nang is one of the 5 cities directly under the Central Government in Vietnam and is the most important city in the Central Region - Central Highlands, Danang is known as the most livable city in the country when having an economy, political, cultural - social, tourism, technology, ... develop in the direction of modernization.
Due to the urgent need for clean ice cubes of the people, the pure ice industry in Da Nang has been strongly developed. However, compared to the demand, the supply is not enough, so the market for producing ice cubes is "very fertile".
Viet An exported a 3-ton ice making machine contract to Mr Cong
On June 6, 2019, Viet An exported IVA3T ice cube making machine - 3 tons under the contract of 123/2019 for Mr Cong in Da Nang so that he could proceed to open ice production factory as planned.
The advantages of the 3-ton ice cube making machine that he chooses
Water filtration line comes with ice machine VAMD750 purifying pure water according to RO technology to make ice cubes, giving water quality up to the standards of direct drinking water of the Ministry of Health, ensuring the water source is clean and not contains bacteria, toxic substances for health.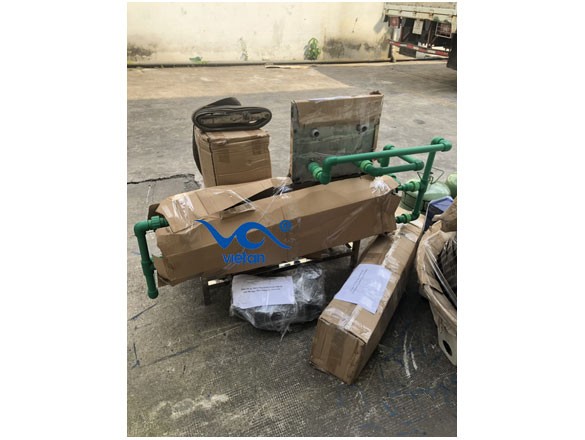 VAMĐ750 water filtration line is ready for export to Mr Cong
compressor imported 100% new, running smoothly, making no noise.
Ice cube making machine is made of components imported from advanced countries - Mr. Cong can be assured that this material will help the machine achieve durability up to 20 years.
In terms of price, the price of our products, which is always 15% lower than that of other ice making machine companies - the reason for this is that we optimize our Ice making processes to suit climatic conditions in Vietnam.
3-ton ice making machine is made of stainless steel 304 - thereby resisting oxidation, easy to clean and clean.
Viet An ice machine can produce many sizes of ice (depending on the needs and purposes of customers using beer, coffee, ice tea, etc.).
Viet An uses only R22 and R404A refrigerants as a catalyst, which are absolutely safe for the human body (all approved by the Vietnam Pharmaceutical Department).
Offering a bucket system worth tens of millions of dollars when buying ice making machine Viet An.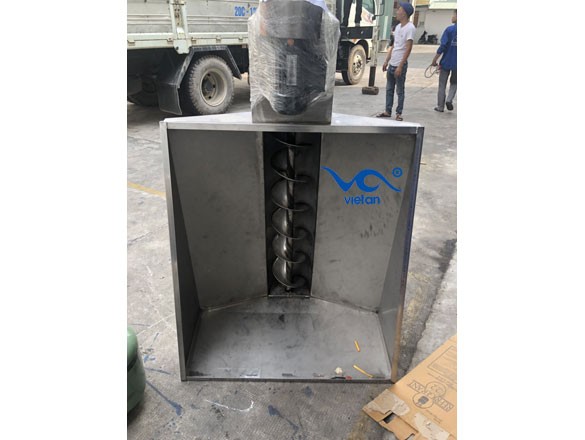 The charging bucket comes with an ice cube making machine exported to Mr Cong
The process of installing an ice making machine for Mr Cong in Da Nang
Based on the content of the contract that Mr Cong signed with Viet An, the Company carried out transportation of IVA3T ice machine to the installation address in Da Nang. Every stage of transporting, installing, checking the technical operation of the machine before using and handing over to Mr Cong are fully responsible for Viet An company. We will send our professional technical staff to show you how to operate the machine properly and accurately.
The process of installing an ice making machine for Mr Cong is as follows:
Put the ice making machine and associated equipment into the correct position.
Install cold water tanks, water filters, ice charging bucket, cooling towers.
Install water pipes from the pump, take the water line to the water components of the ice making machine.
Electrical connection for electric equipment: water pump, bucket, cooling tower fan.
Charging gas for ice making machines
To facilitate the installation process, Mr Cong needs to prepare in advance:
3-phase power source - 380V
Source of water inlet
Water tank
Factory premises ground
Plumbing to the machine installation location
After complete installation and clean water inlet, every stage is completely automatic. Mr Cong only needs to press the start button to operate and wait for the finished products to be pure ice. The control panel is also very easy to use and simple with an indicator light system to help Mr Cong easily operate and monitor the working status of the machine.
Warranty, preferential conditions when installing ice making machine - Viet An
Warranty: 12 months and long-term maintenance. When handing over the products, Viet An will provide all papers, machines, equipment, and accessories to facilitate the needs of Mr Cong such as: Checking the machines, operating and testing, then when the machine is stable, we carry out the instructions and transfer it to Mr Cong, so that he can rest assured our products.
Preferential mode: Periodic maintenance check, free of charge for all warranty and repair expenses for him during the warranty period.
3-ton ice making machine provided and installed by Viet An Company is a quality product. Depending on the locality, the environment that our staff conduct to design different installation locations.
Thank Mr Cong for choosing to be a partner with Viet An - We will certainly do as committed, to bring our customers quality products as well as after-sales service.
Customers want to buy ice cube making machines of Viet An just need to contact via hotline: 0949 41 41 41. Our technician will advise and answer all customer questions as quickly as possible.