Exporting IVA2T 2-ton ice cube making machine to Tuyen Quang
2 ton ice making machine with compact design, modern standards and European design, the machine uses high-strength materials, can withstand 24/24 working pressure without errors about operate or control the latest fuel-saving technology. Ice making machine is manufactured on modern technological line with international standards with components and accessories imported from many countries around the world.
Viet An ice making machine is the type of machine that currently dominates the market. This is a specialized machine used to produce pure stones, industrial stones, with many different sizes, serving many purposes of the user. Therefore, on June 29, 2019, Viet An conducted a 2-ton ice cube making machine for Mr. Sy in Tuyen Quang to timely install and operate in accordance with his requirements in the signed contract of 153/2019 with Viet An.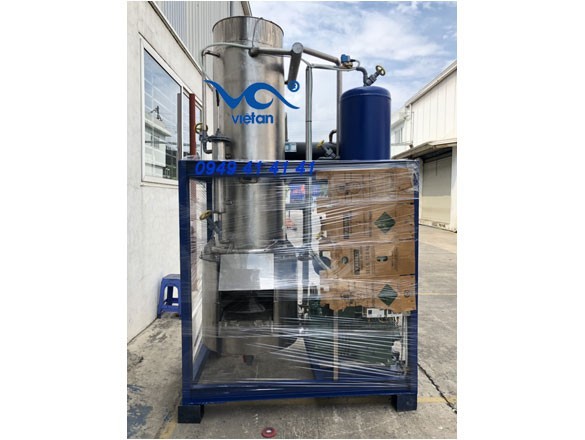 IVA2T ice cube making machine - 2 tons
Viet An Company with full name is Viet An General Trading Joint Stock Company equitized from August 2019. With 2 factories and 4 representative offices in the country at Hanoi, Ho Chi Minh, Da Danang, Buon Ma Thuot and overseas branches such as Laos, Cambodia, Thailand ... After nearly 20 years of construction and development, Viet An has affirmed its No. 1 position in Vietnam and the 4th in Southeast Asia in field of importing, distributing, installing filling machines, water filtration lines and producing ice machines.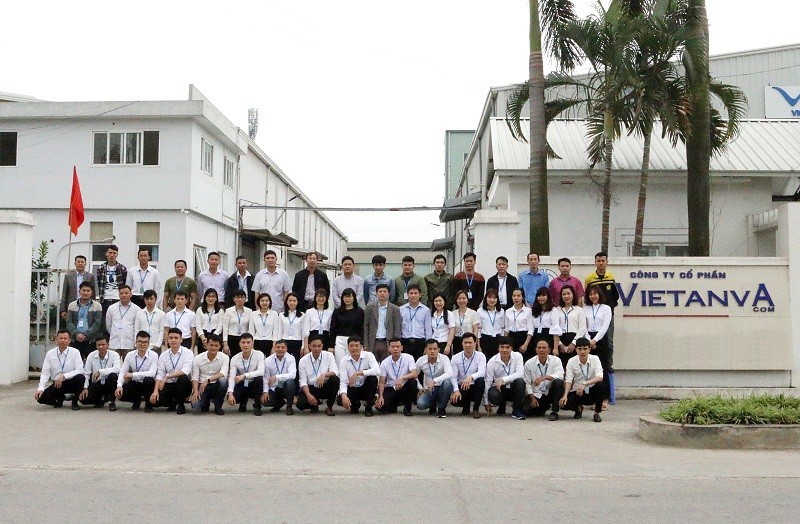 All products are applied to the latest and most advanced technology. With many years of experience in the profession, we always get the absolute trust from users. Not only that but professional warranty service and the ability to take care of customers, enthusiastic advice. All of the above things have contributed to the development of Viet An company.
Not only that, Viet An company received the gold medal of high quality Vietnamese goods in 2009, the Golden Lotus Cup of high quality Vietnamese goods in 2009, the gold medal of the leading brand in Vietnam in 2015, and the certification of brand. Viet An achieved ISO9001-2015 certification for the production process of water filtration lines and ice making machines, and especially, representatives of the Vietnam Association of Small and Medium Enterprises met with the press and congratulated President Truong Tan Sang on January 12, 2016 and many other high-ranking awards.
Why did you choose Viet An ice making machine?
Although there are many facilities supplying ice machine on the market, Mr Sy decided to choose to cooperate with Viet An, sharing his opinion, he said "Viet An has a clear factory address. Obviously not as vague as some other units, the production process is also strict, the ice cube making machine is diversified, the eye-catching design makes me attracted after visiting the factory. production process of a quality ice machine, thank Viet An for bringing me such a great product. "
2 tons of ice making machine applies new technology to save energy 45% compared to other types of ice machines on the market
2 ton stainless steel ice cube machine also has a very compact, handy and modern design according to US standards. When installing without the use of brackets should be suitable for many locations ice machine clean. The machine is a safe, clean and hygienic export iNox series. With the air cooling method, using R22 solvent imported from India with international standards to ensure safety for human health. The process of making ice cubes by an automatic, self-contained machine without human intervention should achieve clean and pure ice. The performance is quite stable, meeting all business needs of Mr. Sy when using.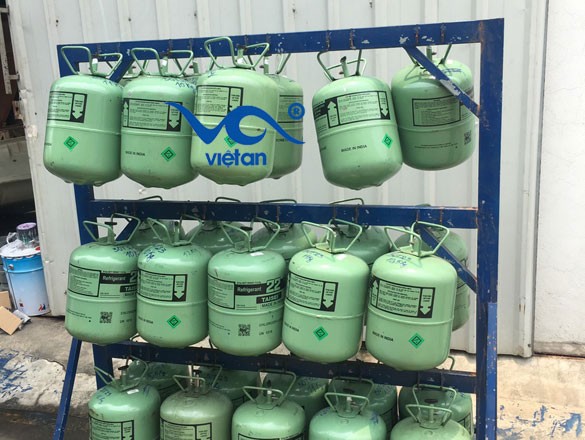 Gas R22 used in ice making machine
Thanks to the application of the latest American advanced energy-saving technology, the device can save up to electricity compared to other types of ice-making machines on the market. Especially, the 2-ton ice making machine is also equipped with the latest air separation system - the only technology available in Viet An. With the advantage of helping the process of creating ice go quickly and protect the compressor from infection. Thanks to this technology, the pipe of the ice cube making machine is also designed more neatly and more modernly.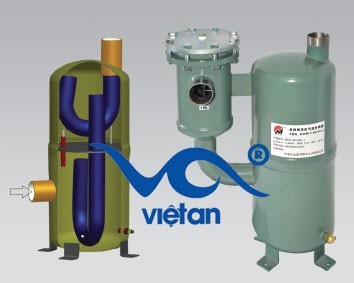 Air and liquid separation system
New compressor technology is completely applied only to Viet An 2-ton ice making machine - this is a product specially ordered by Viet An with the latest technology to help the machine operate stably to achieve the longest service life. Produced on fully automatic CNC system, automatic cutting, stamping, and molding. It is then transferred to the high pressure testing section of the compressor. This unit uses the best high pressure testing technology in the world imported from Germany.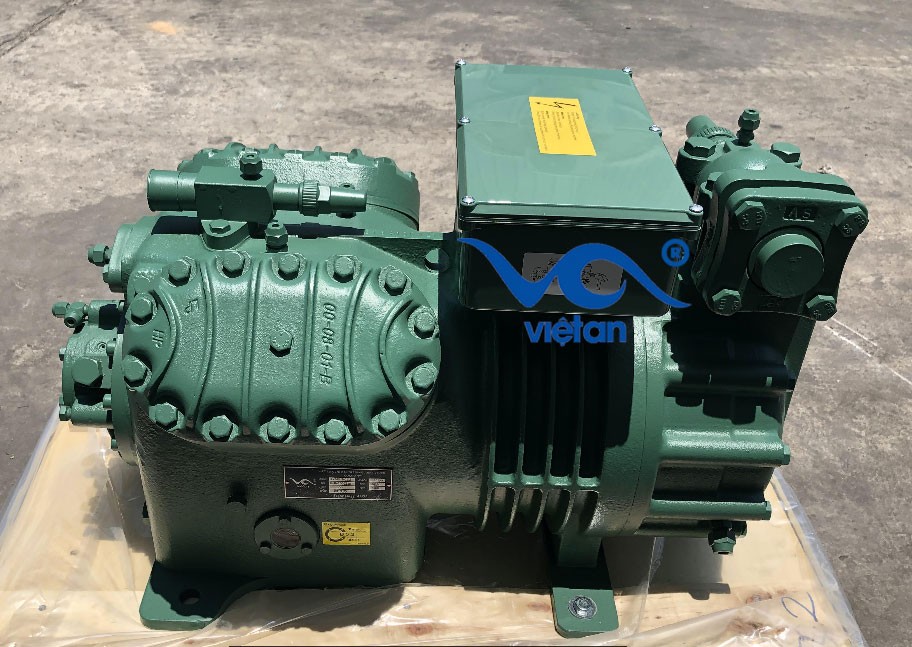 The air compressor is 100% new 
The block valve, using imported valves - Not the processed valve made in Vietnam as some other units often do.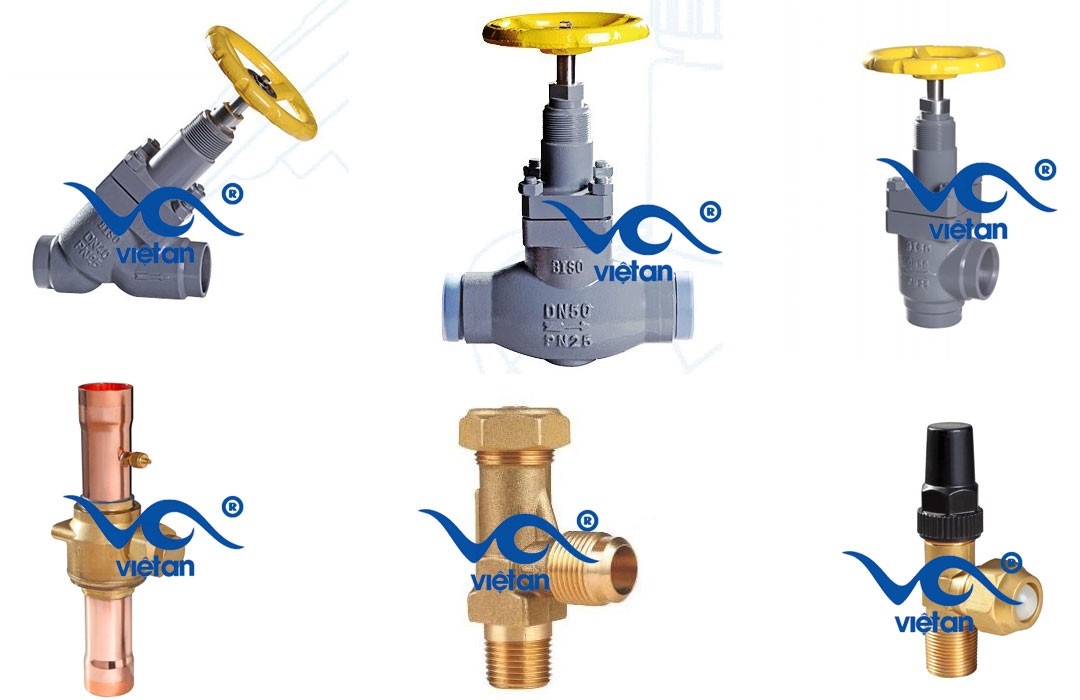 The cooling tower is one of the specialized equipment used to reduce water temperature. Used in ice making machines to reduce the temperature by extracting heat from the water and starting to release it into the atmosphere.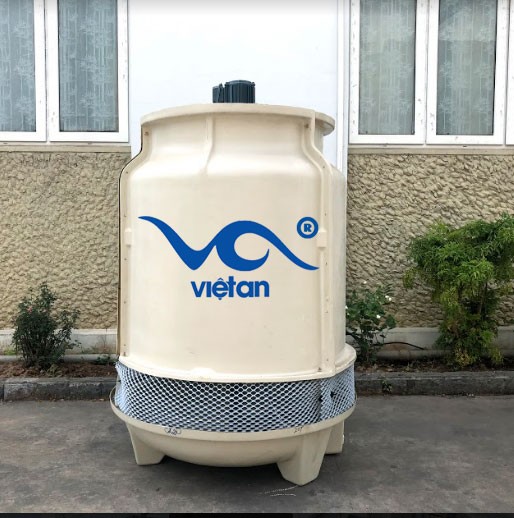 condenser imported 100% new, which condenses the overheating gas behind the compressor into a liquid-state refrigerant. The operation of a condenser has a decisive effect on the pressure and temperature of the condenser and thus affects the efficiency and safety of the entire refrigeration system in the ice making machine.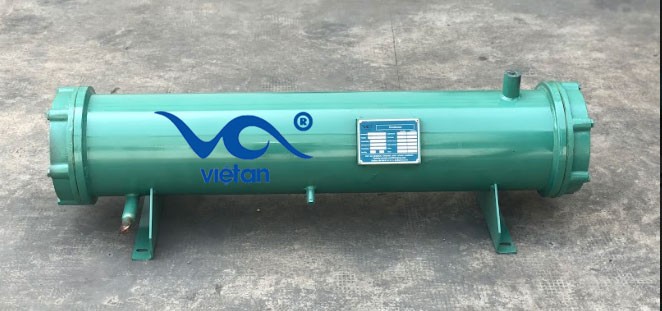 Automatic ice making machine electrical system, automatic protection relay system, automatic time relay system, etc. help ice making machines, self defrost and automatically disconnect in any event of trouble electrical. The operator only has to do one simple task of selling the ice without having to touch the ice directly like traditional bock ice so there will be no worry about osteoarthritis disease.
2 tons iNox ice cube making machine is manufactured at Viet An factory in Quang Minh Industrial Zone, Me Linh, Hanoi. Managing quality according to the strictest international standards of ISO9001-2015, being distributed at Viet An branches in Hanoi, Ho Chi Minh, Hue, Da Nang and Exported to ASEAN countries. Ensuring Vietnam's number 1 quality for 5 consecutive years and ensuring the best price.
Viet An provides advice on how to effectively use the 2 ton ice making machine for Mr Sy
Viet An technical staff gave instructions and attention to Mr. Sy a number of issues:
Read the manufacturer's instructions carefully. When having problems, please contact Viet An immediately to get support from a technician team immediately.
Maintenance and cleaning of IVA2T ice cube machine components should be done periodically - 2 tons at least once every 3 months.
The device should be placed close to the water, to make the production of ice cubes easier and easier.
Warranty policy for 2 ton ice machine
During the use period of 12 months from the time Mr Sy buys the machine, if there is any problem with the machine related to the technology produced by the manufacturer, Viet An will give you a free warranty.
After a 12-month warranty period, Viet An has a regime of maintenance, machine testing, and periodic water quality for Mr Sy completely free.
Offering shipping costs package is free installation of products, to take place. Comes with bucket system when you buy IVA2T ice machine.
See more: Viet An water filtration line
In order to install an ice making machine conveniently, Mr Sy needs to prepare:
Inlet water tanks and water pipes to the location to install the ice maker for the products of Mr Sy need to be prepared in advance
Provide 03 phases (380V) power to the machine.
Water sources meeting the living standards for the production of pure ice cubes under the provisions of the Ministry of Health as well as the means of conveying the above sources are always stable in accordance with the initial conditions at the foot of the works in order to create conditions in during installation and operation of the machine.
The sections related to building factory, Mr Syneed to do as follows:
Factory installed ice making machine system
Place of water tanks
Location of cooling tower
Location of cold storage (if any)
Viet An will support you with issues such as:
Support the design of stamps, labels and labels for businesses.
You will be provided free of charge for shipping, installation and operation instructions using the 2 ton ice machine.
We will also advise you on a business strategy to make it easier for you to capture the market.
Whenever the machine has a problem, just contact the hotline 1900 6013 we will send a technician to support and repair in the fastest time.
In order to make the ice machine work well and achieve the highest quality, Mr Sy also needs to regularly clean the machinery of water pipes to avoid bacteria from intruding. This will also help the ice machine to achieve long life and reduce unexpected breakdowns affecting the manufacturing process.
Viet An thanks you and all our customers for nearly 20 years for always supporting us. Viet An Company is committed to bringing the most prestigious and quality industrial ice machine products to all customers.