Exporting IVA7T ice cube making machine contract to Mr. Ha
IVA7T ice making machine - 7 tons of ice / day is one of the high quality industrial ice machines using the most advanced technology today, with ISO 9001-2015. IVA7T is not only manufactured by businesses. - Provide satisfied ice cubes but also be exported to Asean countries and receive positive reviews.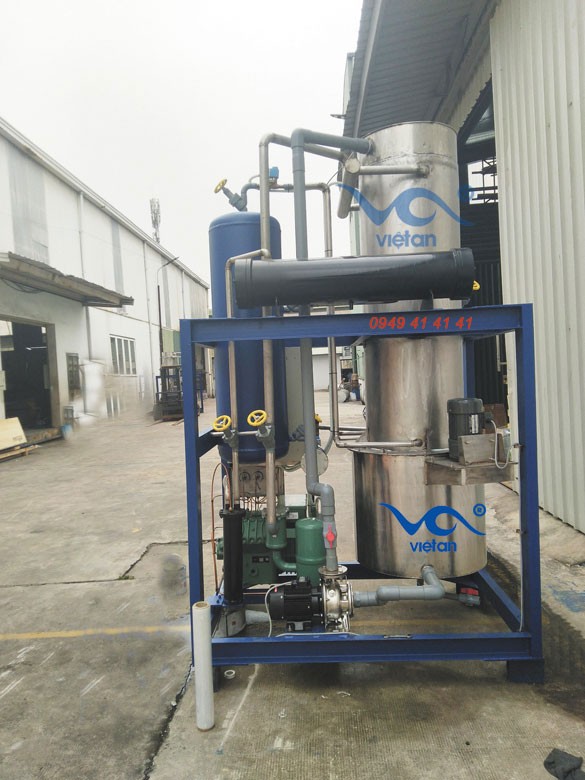 Viet An prepares to export IVA7T ice making machine for Mr Ha
Viet An General Trading Joint Stock Company with 20 years of construction and growth with a team of professional engineers, we always try to improve continuously so that by 2028, it will be one of the 10 largest ASEAN units in the business field, has strong financial potential, deeply integrates into Southeast Asia market.
Viet An exported IVA7T ice cube machine contract to Mr. Ha
Recently, Mr. Ha had a chance to visit Viet An's factory at: Lot 43 D1, H2-G2 Street, Quang Minh Industrial Zone - Me Linh - Hanoi. With an area of ​​thousands of square meters here, we have a full range of ice machine products with a capacity of from 1 ton to 100 tons, bottling filling line, bottling machine, bottle blowing machine, pure water filtration lines ... etc.
After being directly visited and consulted on IVA7T ice cube making machine, Mr. Ha decided to sign a contract of MĐ2019QB 050 IVA7T with an output of up to 7 tons per day, the ice cubes produced are completely pure to ensure the trust food safety and hygiene requirements of the Ministry of Health. Mr. Ha can be completely assured about the competitiveness in the market that the quality and confidence of consumers are always guaranteed.
IVA7T ice making machine is not only large output but also has many outstanding advantages such as:
- The machine has an exclusive certificate of brand VA No. 250969, manufactured according to new technology of the United States.
- The machine meets ISO 9001-2015 is the only international standard granted in Vietnam
- IVA7T ice making machine follows the latest technology in 2018 to save maximum power
- The machine for making pure ice meets QCVN 10: 2011 / BYT standards for ice water to be used directly
- The self-contained mechanism, without human interaction, runs completely automatically with just one on/off button.
- The whole system under high pressure is made of iNox to ensure a life of over 15 years
- Delicate design and neat makes the machine installation simple and convenient.
- Machine warranty 12 months and long-term maintenance
- The best customer service with a network of branches from North to South, professional staff 24/7
- All 100% new genuine components meet export standards to Asean countries
- Free 100% installation and transport fees nationwide (excluding the cost to the islands).
Structure of IVA7T ice cube machine installed for Mr Ha
- Ice mold of IVA7T ice cube machine has a tube made of stainless steel.
- Water splitter: made of elastic, creating a durable outer gasket for the connection between ice mold and water splitter.
- Stone cutting knife: Made of stainless steel controlled by a gear motor specially designed for the production of cylindrical ice or crushed ice by reversing the cutting motor and using switches to control this function.
- ice cutting motor: Designed to take on the heavy function of cutting ice in standard size
- Water pump: The type of centrifugal pump is cast in cast iron, big enough to circulate the water which will be frozen many times and create a transparent crystal ice film.
- ice charging bucket: made of stainless steel (304 stainless steel) to ensure hygiene.
- Gas supply valve and defrost valve: used in 7 ton ice making machine imported from Denmark or Japan with stable operation and long life.
Some issues that Mr Ha should keep in mind when installing IVA7T ice making machine of Viet An
In order to facilitate the installation of IVA7T ice machine, Mr Ha needs to prepare the following:
Input water tank and finished product you need to prepare water pipes to place the ice making machine
Supply 03 phase (380V) power to the machine,
Water sources meeting the living standards for the production of pure ice cubes as prescribed by the Ministry of Health as well as the means of conveying the above sources are always stable in accordance with the initial conditions at the foot of the works to create conditions in during installation and operation of the machine.
Parts related to building Mr Ha's factory should be carried out as follows:
+ Workshop to place ice machine system
+ Place for storing water tanks
+ Location for cooling tower
+ Location for cold storage.
IVA7T ice machine costs VND 489,000,000. This price does not include 10% VAT and does not include other costs incurred if Mr Ha request. Viet An's price mentioned above includes the following expenses: labor costs for travel, installation, repair and maintenance of the system, and the cost of transporting materials and equipment to the place of installation for Mr Ha.
In addition, when Mr Ha buys the IVA7T ice cube making machine, he will enjoy many promotions, with many attractive gifts, hoping that his ice production unit will grow more and more.