Exporting pupil drinking water tables for guests in Hue
Viet An General Trading Joint Stock Company is a leader in the field of providing ice cube making machine, water filtration line, pupils drinking water table, and prestige is top quality in Vietnam. On January 24, 2019, Viet An Company exported 40 sets of student drinking tables under Contract 985/2018 to Mr Ho Xuan Diep - Director of Ngoc Vien Dong Technology Joint Stock Company to contribute to protecting the health of pupils.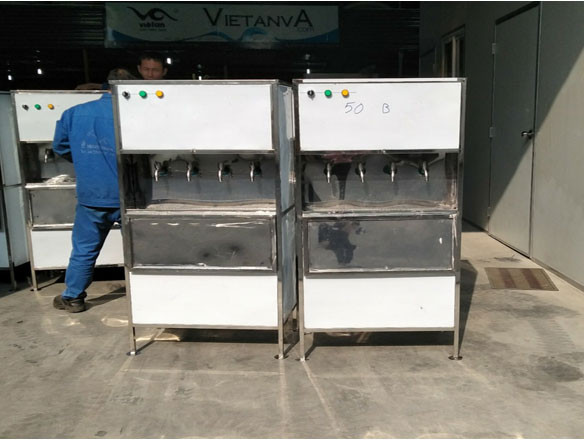 Reasons for using pupil drinking tables at preschools
Ngoc Vien Dong Technology Joint Stock Company was operated on February 14, 2008, at the address: 37 Le Minh, An Dong ward, Thua Thien Hue. The main activity of the company is to install industrial machinery and equipment; Educational support services; wholesale electronic and telecommunication equipment and components; Job education; organizing introduction and trade promotion; Tour operator;...
Mr. Diep - Director of the company shared: "With a large number of pupils to hundreds of children are in extremely active age, like to play, mischievous and growing age, the body needs a lot of water so During recess, after the sport activities, the children have a high demand for drinking water.
However, the water source that many schools in Hue provide pupils with is not stable and has not really ensured hygiene requirements.
For children, this is the most vulnerable age range from environmental pollutants due to weak resistance. If drinking unsafe water may lead to symptoms such as diarrhea, intestinal disorders that seriously affect their health and development so my decision to invest in a machine Water purification to serve the needs of clean water for schools is essential ".
Structure of the pupil drinking water table selected by Mr Diep
Include the following main stages:
- Metal reduction treatment: Effect of removing impurities, suspended residues simultaneously by the function of activated carbon and manganese particles will adsorb heavy metal ions such as iron, Mn in the source water and remove the toxic gases, organic impurities and residual chlorine in the water.
- Water softening treatment: Using imported Cation granules absorbs 99% of the residual calcium. Cation filter particles have the effect of softening water, improving the life of RO membranes.
- RO reverse osmosis system: Using RO membrane imported directly from the US. This is the most important device that decides the quality of pure water after filtering. Thanks to reverse osmosis filtration technology with extremely small RO membrane gap size of 0.0001 microns (many times smaller than the size of 0.5 - 5 micron), it will completely remove metal ions with water at the same time. treat up to 90% of harmful bacteria, make the water high purity.
Advantages of drinking water tables
Ability to purify sediment, suspended solids, odour, colour and chemicals, heavy metals in water. Solve all the problems of water pollution thoroughly.
The system with a high-quality filter, imported from the United States ensures high durability and optimum filtration capabilities.
High-quality water filtration technology works fully automatically.
The finished water after filtering ensures that pure water meets the Ministry of Health's standards.
Viet An - Machine supplier is trusted by schools
It is not sudden that Viet An is so believable by schools and Diep, a few reasons why schools believe in choosing Viet An:
There have been many similar projects, so the experience in the industry is very much.
There is a team of highly skilled engineers who can carry out any project, no matter how difficult it is.
Viet An's products are imported directly from foreign countries and American technology.
The products granted by the Ministry of Industry and Trade of Vietnam grant certificate about quality and efficiency.
Have a lifetime warranty policy for customers.
Double compensation for customers if the products do not meet the announced quality standards.
There is a 24-hour customer care system.
There are all types of machines suitable for many customer requirements.
There are incentives for customers when using the product.
Free design and installation for customers nationwide.
The most competitive price on the market today.
Using pupil drinking water tables for preschool not only brings safety for pupils and teachers but also is quite convenient and more economical for the school and parents.